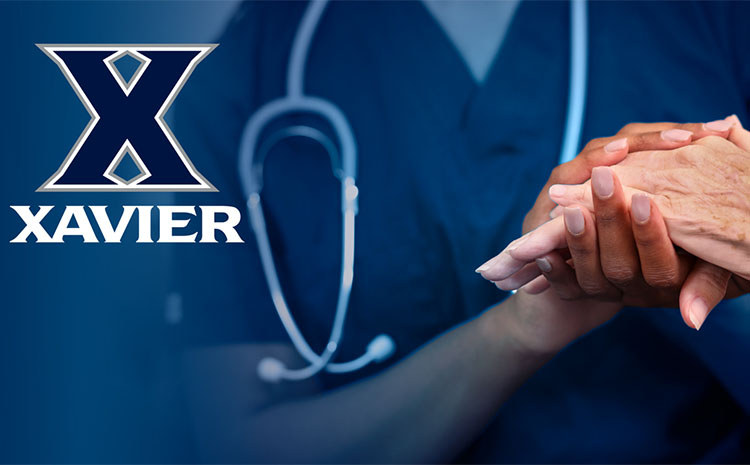 Alumni Healthcare Hero Appreciation
Jun 1, 2021
In March of 2020, COVID-19 was just the name of a mysterious virus that most of us didn't fully understand. It quickly went from virus to villain, threatening not only our lives, but our entire way of life.
As the first line of defense, everyday healthcare workers transformed into Healthcare Heroes with a seemingly never-ending mission to save lives. Many of those heroes across the country just so happen to be Xavier alumni. So, we decided to enlist the help of their fellow Musketeers to let them know just how appreciated they truly are.
From April 6-19 (during National Public Health Week) we invited Xavier alumni to nominate fellow alums working in the healthcare field in any capacity. Each person who was nominated then received a small care package from Xavier including a handwritten thank you note from a student or volunteer and a few small XU swag items (a badge reel, Blue Blob Post-it notes and hand sanitizer).
In total, 241 nominations were submitted with nominees spanning across 28 states, representing graduation classes from 1982 all the way up to 2021. Although their experiences of holding the line in the midst of a pandemic have all been different, their responses to the Xavier community's immense gratitude seem to be the same.
"I was completely caught off guard. It actually brought tears to my eyes. It just so happened to arrive on a very rough day at work so the timing was just perfect. We go and we go without stopping, but this letter made me stop. I haven't had a chance to think about what I've actually accomplished because there's always something else to get done. It was such a thoughtful gesture."
-Christa Hyson
The Health Collaborative
Asst. Director, Emergency Response & PIO
Nominated by Nicole Jones Weber, '97 and Gina Regan, '09
The last 18 months have been difficult for so many professions, but the healthcare field took an incredibly hard hit. Our Healthcare Heroes all agree that when working during a pandemic, there is no typical day at the office
"It's been very hectic. It's tough to say any day has been like the day before it. There's been a lot of learning on the fly and there's been a lot of speaking with partners throughout our community in regard to keeping staff, employees and patients safe. It's difficult navigating how to be a resource that ensures the city doesn't fall into a hole while also focusing on safety, but it's also been rewarding to see the community pull together around these issues."
-Edward Johnson
Columbus Public Health Department
Director of Public Health Policy
Nominated by Meredith Ring,'08 and Kevin Hoggatt, '08
Before our nominees were the Healthcare Heroes they are today, they were Musketeers. We were proud to learn that their Xavier educations have played such important roles in the work they do, especially over the last year and a half. 
"One of the cornerstones of Xavier's nursing program was to give holistic care to a person. I learned how not to only focus on the physical ailments, but also their mental, spiritual and emotional needs as well. I go into work every day with the mindset that these are more than patients, they're people. They're humans."
-Joseph Fiorelli, '17
Saint Elizabeth Healthcare
Registered Nurse
Nominated by Brian McLaughin, '15 and Stephanie Fiorelli, '15
When being men and women for and with others is not only what you stand for as a person, but also your job as a professional, it's easy to forget to think about yourself. Moments like these are when community matters most.
"My gifts from Xavier made me feel so special. Over the course of everything with the pandemic, I noticed that kindness from strangers really started to mean a lot to me. I've had random care packages show up from people I've never even met. And this made me feel the same way, like people out there really appreciate what I've been through and had to do the last year. So, I think it's a really nice thing you all are doing and it makes me proud to be an alum."
-Sally Caldwell, '09
Lenox Hill Hospital
CRNA
Nominated by Marnie Castleberry, '12
Our goal with the Healthcare Hero Appreciation Campaign was to not only show our appreciation for our heroes as a community, but to offer the community an opportunity to show their support. Being a Musketeer comes with an unwavering spirit of unity and COVID-19 reminded us all of that.
To all our Musketeer Healthcare Heroes, we stand with you in solidarity and we stand behind you with our support. Thank you for all you do, all you've sacrificed and for who you are. 
All For One
By Laurent Che, Content Producer in the Office of Marketing and Communications