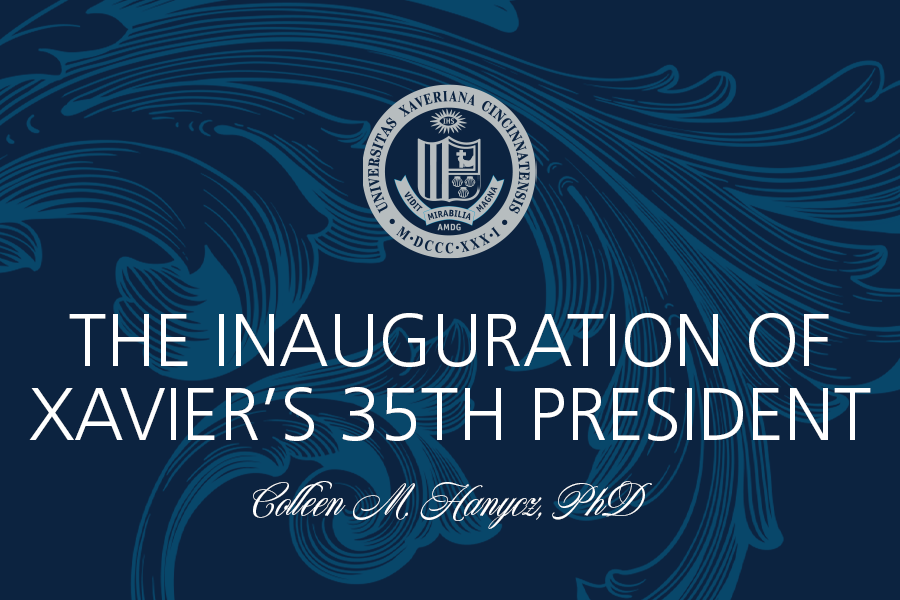 Xavier Presidential Inauguration Preview
Oct 20, 2021
RSVP For Events | Meet Dr. Hanycz
For the first time in more than two decades, the Xavier community is preparing to celebrate the President's Inauguration Week, which kicks off Saturday with a Day of Service and Solidarity and concludes Thursday at the Cintas Center with the installation of the university's 35th president, Colleen M. Hanycz, PhD.

A great deal of discernment and hard work has gone into organizing this weeklong commemoration, which will feature a slate of events highlighting Xavier's Jesuit tradition of cultivating lives of reflection, compassion and informed action. For a sneak peek at what's to come and the importance the week carries for the community, check out this Q&A with Debra Mooney, PhD, Inauguration co-chair and Xavier's Vice President for Mission and Identity.

Q: What do you think is the importance of the Inauguration itself, and why do universities do this?

Debra Mooney: Certainly, it's a way to recognize a new president. But also, it's a time for an institution or a university to reaffirm its commitments and values. I've been inviting everybody who's going to really think about it almost as an Ignatian Examen, a time when we're invited to reflect and think about our place within the history of the university.

What does that mean for all of us? What does it mean for us in recognizing and being inspired by and for a new leader? What does it mean for the 190 years of the institution, but also what does it mean to us and our careers? Whether it's three days or 30 years, it has a special personal meaning. I'm hoping the events highlight that for everyone as well.

Q: How long has the committee been at work planning the Inauguration, and how many people have been involved?

DM: Before Dr. Hanycz even officially started in July, she invited us to start thinking about the Inauguration. … I would say there are about 30 people that have been meeting intensely. Our structure is we have co-chairs for each of the events, plus support from groups such as Marketing and Communications, Physical Plant and the Cintas Center, and then each of those groups has its own subcommittees.

The installation itself will probably have 100 people helping out on that day, and a couple hundred people in total are actually helping to put this on.

Q: Why is the Presidential Inauguration taking place in October rather than in the summer, when Dr. Hanycz officially assumed her new title?

DM: It was important to Dr. Hanycz to have it in October, which many universities consider to be Inauguration season, and she still wanted it to happen early in her tenure to celebrate the beginning of her leadership at Xavier.

We also wanted the timing of these events to match Dr. Hanycz's preferences and personality. For example, with the National Day of Service and Solidarity that will kick everything off Saturday, people that have been planning it are so excited about it that they think it might be a tradition under Dr. Hanycz's leadership. She's the one that thought of having the event, and she came up with adding "and Solidarity" to the name.

Now, I will say, there will be some surprises for her and for everyone. Even she doesn't know everything that will be happening. While we are certainly looking at her preferences, we think of this as a way to celebrate the university and her leadership for the university; it's us hosting it for her.

And it does take a bit of time to plan, because we're all doing this in the midst of the start of a regular school year, and we're still in the midst of a pandemic.

Q: How did the Inauguration's theme of the Ignatian Year and the theme's motto – "to see all things new in Christ" – factor into the planning of the week's events?

DM: It's very Ignatian, very university-like to notice what words mean. Even the word "Inauguration" comes from the Latin word "inauguratio," which means consecration, or in other words, setting someone aside for a sacred purpose. I think that is a very special way of thinking about our leader at Xavier, especially at a faith-based, Catholic, Christian university. We're celebrating her work in a sacred purpose.

I would extend that notion to everyone, in that it's a time for all of us to pause and think about our work and that sacred purpose, which in many ways is the theme of the whole Inauguration: the Ignatian Year, to see all things new in Christ and from profession to purpose. 

Q: What do you hope the student community ultimately gains from Inauguration Week?

DM: I hope they're inspired. They all chose Xavier for a reason, and just as I hope for faculty and staff and the community that Inauguration is a time for us to reflect on our commitments and reaffirm those commitments and values, I hope it's the same for our students, that it's a time to think about why they chose Xavier, what they want to get out of their education and their future.

And there's also the network element. I really hope people reconnect to the Xavier family.
SCHEDULE OF EVENTS

NATIONAL DAY OF SERVICE AND SOLIDARITY
We invite you to join our Xavier family and friends across the United States as we mark the 530th anniversary of the birth of St. Ignatius Loyola through participation in the National Day of Service and Solidarity.

Saturday, October 23
9:00 a.m. to 2:00 p.m.
---
PRESIDENT AND JESUIT COMMUNITY CONTINENTAL BREAKFAST WITH FAMILIES
As we wrap up our celebration of Family Weekend 2021, President Hanycz and members of our Jesuit Community look forward to hosting a continental breakfast for Xavier students and their families on campus. All are welcome.

Sunday, October 24
10:00 a.m. to 11:15 a.m.
James and Caroline Duff Banquet Center, Cintas Center
---
ACADEMIC SHOWCASE AND RECEPTION
Faculty members from each of Xavier's four academic colleges–Arts and Sciences, Business, Professional Sciences and Nursing–will present work on the various ways in which the experiences of our students are influenced by the Universal Apostolic Preferences, animated on our campus.

Monday, October 25 
3:00 p.m. to 4:30 p.m.
James and Caroline Duff Banquet Center, Cintas Center
---
CAMPUS RECEPTION FOR STUDENTS
President Hanycz is excited to enjoy some time with our students, over pizza, discussing vocation, purpose and life after Xavier. All are welcome.

Tuesday, October 26
4:00 p.m. to 6:00 p.m.
Gallagher Student Center
---
MISSIONING MASS AND RECEPTION WITH MEMBERS OF THE BOARD
Our Xavier community will gather with friends and the Cincinnati Catholic community to mark President Hanycz's Inauguration with a special liturgy celebrated at Xavier's iconic Bellarmine Chapel. We invite you to join us as we come together in this historic setting, thankful for the many blessings that Xavier University has received and hopeful in the continued blessings that the future will hold.

Wednesday, October 27
3:00 p.m.
Bellarmine Chapel, Xavier University Campus
---
INSTALLATION CEREMONY AND RECEPTION
Finally, we invite you to join the entire Xavier University community as we formally install our 35th president, Colleen M. Hanycz, PhD. This culminating ceremony will begin promptly at 1:30 p.m., with all classes suspended between 12:45 - 3:45 p.m. so that all may participate in this celebration.

Thursday, October 28
Installation at 1:30 p.m. with a reception to follow
Cintas Center Arena 
David Hamilton
Public Relations and Communications Specialist
Xavier University Office of Marketing and Communications