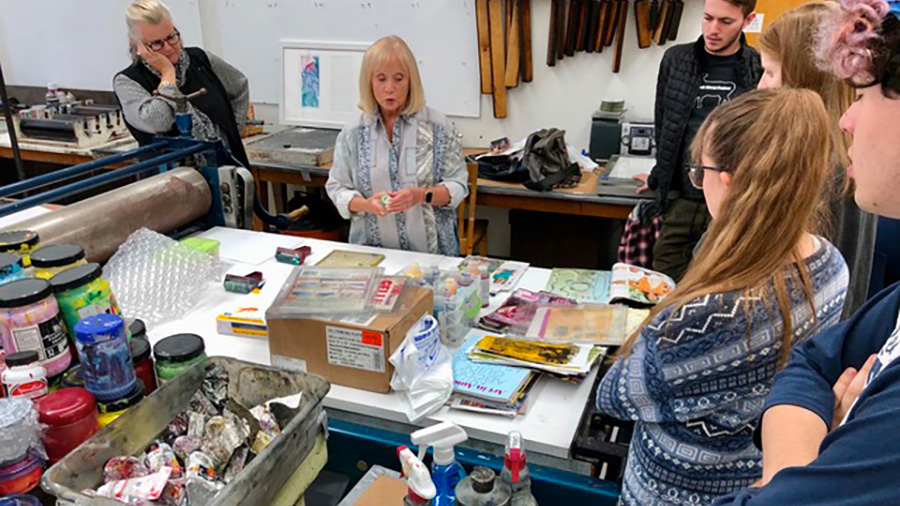 Xavier alumna helps students make a difference through art project
Aug 5, 2021
Hospitals can mean something different to each person.
For some, hospitals are a place of hope. To others, a place of grief. A hospital can be filled with tears of joy, sadness and everything else in between. 
Xavier alumna Susan Mahan ('85 MEd), understands the nature of hospitals as well as anyone. Mahan has created more than 30 original art pieces for Cincinnati Children's Hospital Medical Center. Mahan's work is distinctively abstract, usually composed of bright colors and floral patterns. Her approach to art, specifically pieces for hospitals, is rooted in compassion and sincerity.
"When people come to hospitals, they are usually stressed beyond belief, especially children and their parents who are involved in long hospital stays," Mahan said. "My mission is to create artwork that is upbeat and uplifting. I believe artwork can provide a nice distraction to those children and their families."
In 2019, Cincinnati Children's entered into the interior design planning phase for their new critical care building, which is set to open in the fall of 2021. Cincinnati Children's contracted with Kolar Design to oversee the building's general art direction and Kolar Design in turn chose Mahan as one of several artists to commission pieces for the new facility.
Mahan was tasked with creating more than 60 of her signature mixed-media art pieces to display throughout the new hospital building. Mahan chose to work with Xavier art students to complete the project as the project would allow them to apply their skills to make a difference in the lives of those around them. 
"I feel blessed to be able to create artwork for Cincinnati Children's," Mahan said. "It is quite an honor for me as an artist. To be able to work with my alma mater to create this project just made me feel extremely proud and grateful."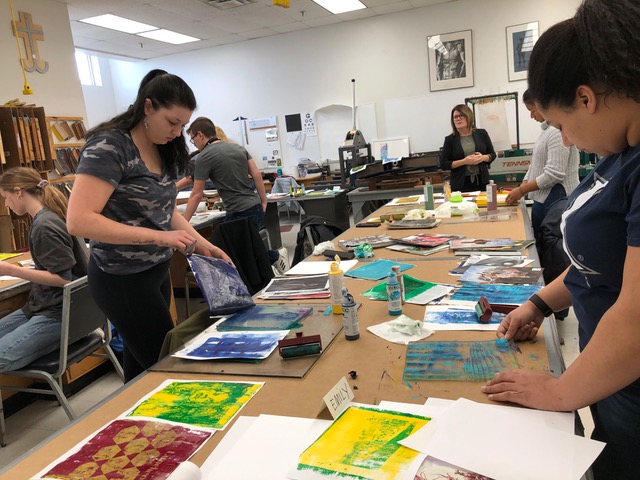 Upon receiving approval to work with Xavier students, Mahan reached out to Xavier Art Department Chair Suzanne Chouteau. Mahan's vision for the project involved creating her signature floral art pieces through a mixed-media process involving both painting and printmaking. Chouteau, who teaches entry-level and advanced printmaking at Xavier, said she was happy to volunteer her students to assist with the project. 
"The project was particularly compelling because our students got to meet a professional artist who has been making art for probably 40 years," Chouteau said. "It was what I would call a service learning activity and that really fit our mission. The experience was invaluable, something that I've never gotten to do on that scale before, really." 
Mahan and Chouteau agreed to collaborate and have Chouteau's printmaking students help create mixed-media paintings for the new hospital building. They named their endeavor "Project Kaleidoscope" in reference to Mahan's stylistic floral pieces.
Chouteau modified her curriculum to ensure her students would learn about monotype printmaking ahead of Mahan's regular visits to their classroom. Mahan, a Xavier adjunct professor in her own right, also had her class contribute. Mahan organized a trip to Cincinnati Children's to have her students gain a deeper sense for the importance of artwork in public spaces. She said working with the students proved to be extremely gratifying. 
"The students at Xavier are some of the greatest I've ever worked with," Mahan said. "They are eager to do something extraordinary. At the children's hospital, they witnessed patients and were even more motivated to make their artwork the best that it could be. They worked hard and efficiently."
Mahan chose sunflowers in nature as the project's theme. Using a combination of paints and prints, each student involved in Project Kaleidoscope created a 22-inch by 30-inch image of a sunflower portrait. Students were given flexibility within the confines of the theme to customize their pieces accordingly.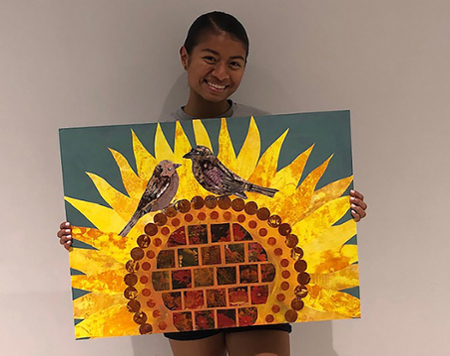 Then-Xavier junior, Mio Kamioka, chose to add mockingbirds to a mixed-media piece she worked on with Chouteau. As Chouteau recalled, Kamioka went as far as borrowing binoculars from Xavier Associate Professor George Farnsworth to observe mockingbirds around campus for her painting. No detail in her piece was too small to ignore.
"We were all really cognizant that people can spend a lot of time in a hospital," Chouteau said. "Especially the parents and children there for overnight stays. Giving them wonderful little details – surprising details – to see in the artworks was part of what we hoped for too."
Within an eight-week period, Xavier students nearly finished about half of the 64 mixed-media pieces for Mahan's commission before the pandemic caused the university to suspend in-person operations in the spring of 2020. Chouteau and Mahan delivered art materials to students as Mahan collaborated with students remotely to finalize the remaining pieces.
"We just did everything we needed to do to get this done," she added. 
When the Cincinnati Children's Critical Care Building opens in a few months, the art pieces that Mahan and the Xavier art students created will be on full display throughout the hospital.
Mahan called the opportunity to work with students from her alma mater a dream come true, noting that she takes pride in any joy or distraction the pieces may bring.
"It was very fulfilling for me as an educator," she said. "It was a dream of mine and I'm very grateful for the opportunity."
Chike Erokwu
Content Producer
Xavier University Office of Marketing and Communications