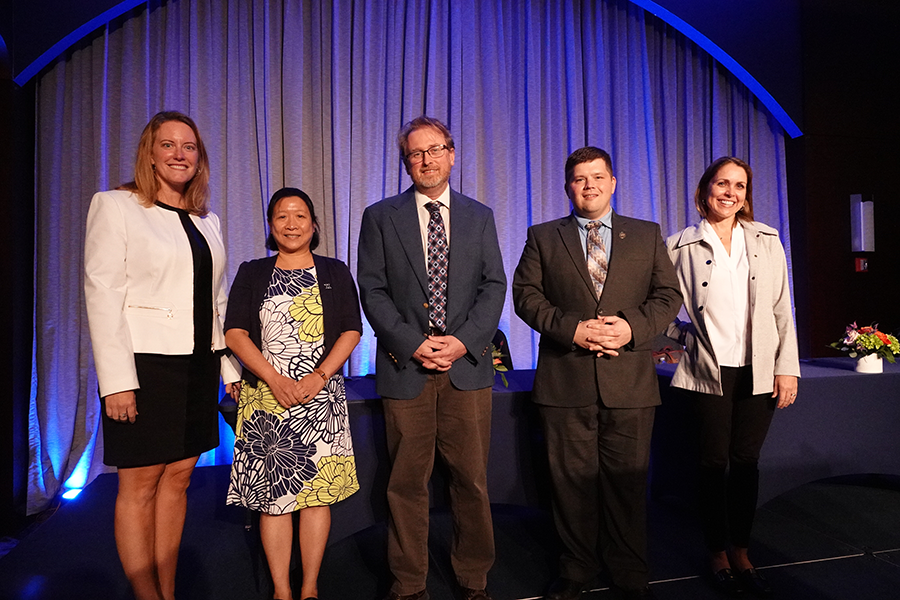 Academic Showcase Highlights Transformative Programs
Oct 26, 2021
From uplifting the marginalized to protecting the environment, Xavier's curriculum carries an emphasis on making a global impact, as highlighted during an Academic Showcase on Monday at the James and Caroline Duff Banquet Center.

During the event, faculty members from each of the University's four colleges – Arts and Sciences, Business, Nursing, and Professional Sciences – presented on projects undertaken in their respective fields and how they connect to the Universal Apostolic Preferences (UAPs), the four overarching priorities of the Jesuits through 2029.

As part of this week's slate of events leading up to President Colleen Hanycz's official installation on Thursday, the showcase provided an opportunity to demonstrate how Xavier uniquely prepares students to go out and make a difference in the world while opening the door for future collaboration and idea generation between faculty members.

"It was really nice to include this in the Inauguration Week events, because it allowed us to hear from our colleagues, and we don't do that enough," said Tom Strunk, PhD, Director of Faculty Programming for Mission and Identity.

Through both in-person and video presentations, faculty members described how their work serves Xavier's mission of educating students not only intellectually, but also morally and spiritually. 

For example, Xavier students collaborate with the United States Department of Agriculture to develop traps for pests that are harmful to the environment, as noted by Ann Ray, PhD, a professor in the Department of Biology. 

Meanwhile, students of marketing professor Karen Eutsler, MBA, learn about the importance of economic inclusion and how they can help create an environment in which more groups can prosper, with a particular focus on helping the marginalized.

Ultimately, the University's gamut of programs caters to the key Jesuit mission of accompanying youth in creating a brighter future.
"We are all, in some way, accompanying our young people to create a hope-filled society and future," said Supaporn Kradtap Hartwell, PhD, a Chemistry Department professor who presented at the Academic Showcase.

In the broader context of Inaugural Week, the showcase celebrated Hanycz's appointment as president in a way that encouraged reflection on the work being done at the University and ways to perform even more transformative work in the future.

"This was really a chance for us to think about how does our work fit into some of these broader things, because there is a sense of how it ties into the Universal Apostolic Preferences, but also how does it tie into Xavier's history and the work that we've been doing and will do going forward," Strunk said.

Hanycz's official installation as Xavier's 35th President will take place Thursday at 1:30 p.m. at Cintas Center Arena. Read more about Inaugural Week.
David Hamilton
Public Relations and Communications Specialist
Xavier University Office of Marketing and Communications