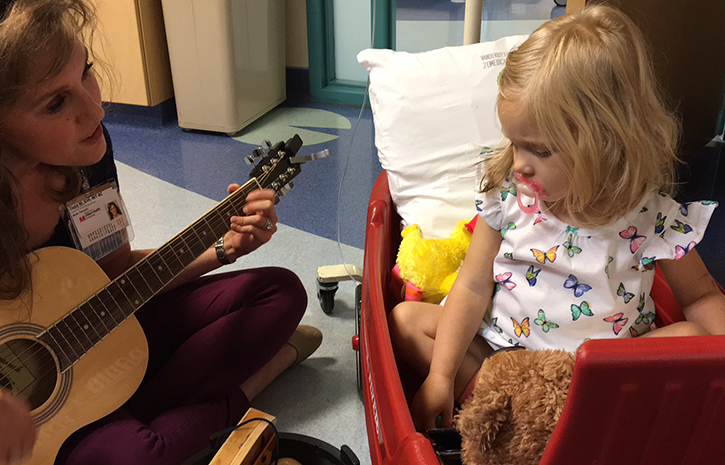 'Combining Music and Creativity'
Sep 29, 2020
Kids' Music Therapy Needed More than Ever During COVID-19
When Dana Kim was a Music major at Xavier, she loved performing and she loved helping people. She had no idea she would be able to combine the two into a career.
Further, she had no idea that one day there would be a COVID-19 pandemic, and that her services as a music therapist would be needed more than ever.
But that's exactly what happened.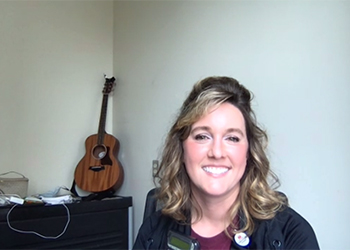 "The needs, we've found, have really intensified," said Kim, a 2007 Xavier graduate. "We were just as busy, if not busier, given the intense stressors these families are experiencing."
For the last four years, Kim has worked as a board-certified music therapist at Monroe Carell Jr. Children's Hospital at Vanderbilt University in Nashville. She has also served as an adjunct professor at Belmont University.
After graduating from Xavier, she received guidance from Kaleel Skeirik, PhD, professor in the music program. He was able to help guide her to grad school, and she went on to earn a master's in Music Therapy, which included five years of education, clinicals and an internship. Now, as a professional, she is able to provide care for patients of all ages and their caregivers in pediatric intensive care, hematology/oncology, cardiology, behavioral health, surgery, and burn units.
"Music therapists address specific goals such as reducing anxiety, procedural support, emotional expression, and neurological rehabilitation," Kim explained.  
And it turns out that during a pandemic, things like anxiety are at an all-time high.
"Families are here with a child who has cancer, or they're waiting for a new heart," Kim said. "Juggling all of these stressors, they have just really intensified and made it really difficult to be here."
Even if the patients themselves are not suffering from COVID-19, the rules instituted because of the disease still trickle down, which means some children are now only able to have one parent with them in the hospital. No siblings. No friends.
"Those families are in really difficult situations," Kim said. "It made our job even more important."
Enter the music therapists. Kim says they have gotten creative with the use of technology, incorporating things like Zoom to connect children to loved ones. And they can incorporate music to make everyone feel better.
Training to become a music therapist includes understanding the physical elements of patients, but also the mental and emotional aspects as well. Counseling is important to know, but so is the affect music can have on our bodies. Therapists work in hospitals, schools and nursing homes, among other places.
And as part of the health care team, therapists can receive consults from all types of health-care workers, from physicians to chaplains.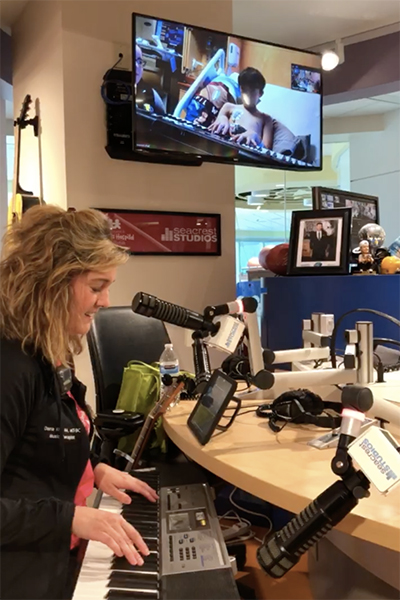 "We do a full assessment," Kim said. "If a child is really anxious in a hospital, or during a procedure, we do an in-person assessment of what their needs are and how we can use music to help them in that moment."
They will create an individualized treatment plan, because music and therapy can differ from patient to patient. For instance, Kim said she wrote a song and performed it for one recent young patient who was nervous about getting an IV. "We always try to use music that they enjoy, or instruments that they enjoy," she said. "We're very flexible in terms of manipulating the music to meet their needs."
It has all added up to a very rewarding career, albeit one that has become increasingly important while providing challenges for her family. Kim's husband also works in health care, which means their 4-year-old daughter is having to be cared for by a former teacher during the day.
"Some days are good, and some days feel really hard," Kim said. "But it has been really rewarding to combine music and creativity to help families."


To learn more about music therapy visit:
American Music Therapy Association 
To find a board certified music therapist visit:
Certification Board for Music Therapists
By Ryan Clark, Office of Marketing and Communications