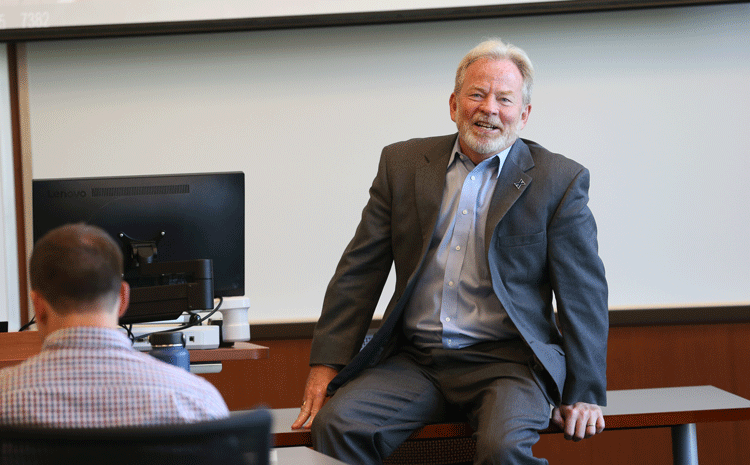 Xavier University Named Top 5 in Ohio for MBA Highest Starting Salaries
Jan 3, 2020
According to a December 2019 report from Columbus Business First, Xavier University ranks in the top five for highest starting salaries of MBA graduates in Ohio. At an average salary of $81,100, Xavier is comparable to only four other Ohio universities that can boast such success.
Two of the four universities, Ohio State and Miami, have an average MBA student debt of nearly $50,000 for each graduate, while Xavier's average debt is less than $35,000.
"At Xavier's Williams College of Business, we are dedicated to educating the present and future leaders in business, enabling them to improve their organizations and society within the Jesuit tradition," said Tom Hayes, Dean of the Williams College of Business. "These outcomes and rankings simply provide evidence that our education is truly unique in the Cincinnati region and beyond."
This ranking adds to an exceptional year for the Xavier University MBA program, which was also ranked as one of the Best Business Schools in the nation by The Princeton Review, and in the top 20 in the country by U.S. News & World Report for the Executive MBA program. According to the Cincinnati Business Courier, Xavier has the largest MBA enrollment of all greater Cincinnati area universities.
Xavier offers a wide variety of MBA options including on-campus, online, the Executive Weekend MBA program, and a location in West Chester. Learn more about all of the options at xavier.edu/mba. 
Jen Bush, Assistant Dean for Graduate Programs, said the variety of opportunities available to complete an MBA is why Xavier has become the most popular destination for an MBA in the region.
"Graduates have seen the value in our programs and share that with others in their field," she said.
Learn more about the MBA program in the Williams College of Business