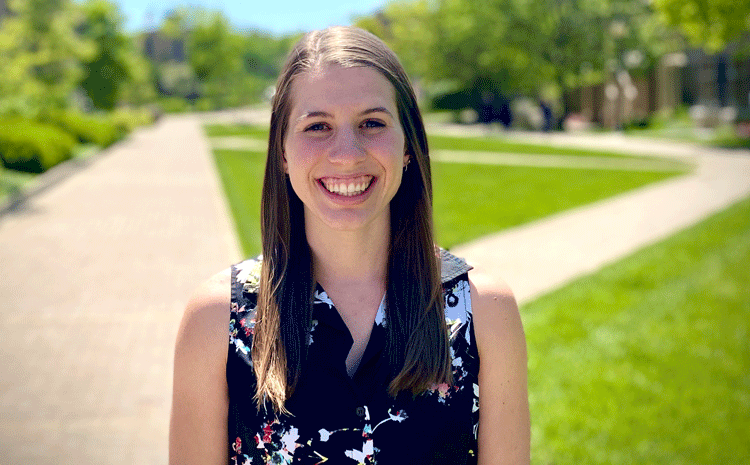 Grace Ludwig: Elet Scholar, 'Person for Others'
May 14, 2020
When Grace Ludwig gives her speech to the graduating Class of 2020 during their rescheduled commencement in August, she will tell them to remember the importance of being a "person for others." It's a mantra that has served her well at Xavier and  led to unexpected rewards—including being selected as the John A. Elet, S.J., Scholar for her class.
She just found out last week.
"I sobbed for like an hour when I got the letter," Ludwig said. "It was so exciting, I couldn't stop smiling. I feel I put so much work into my four years here that it is really validating to get the award. When I think of Xavier, I think of the relationships I have, so many relationships with friends, professors, mentees, mentors and students I tutored. I feel I constantly had people cheering me on."
Ludwig, from Toledo, wanted to study Nursing, and Xavier's direct admit program was a major factor in her decision to come here. But so was Xavier's sense of community and emphasis on caring for others. It all just fit. And now four years later, her 4.0 GPA, leadership roles and service efforts caught the attention of the deans, who chose her as the best student to represent the Class of 2020.
And what a unique class it is, scattered to the winds as they entered their final stretch during the COVID-19 pandemic, challenged to complete their classes and stay connected with each other over the digital airwaves.
Ludwig was one of the lucky ones. She was able to stay in Cincinnati in her University Station apartment with one of her three roommates because of her part-time job as a nurse's aide in the pediatric ICU at Cincinnati Children's Hospital. She will continue at Children's this summer as a full-time nurse on the same pediatric ICU floor.
Being a nurse, she said, involves the head, hands and heart, which is why she chose nursing over medical school.
"So much of it is service," she said. "You are constantly with patients. You know them best. It's so hands-on and is something I've always been attracted to. I also like the flexibility with nursing. There is a lot of room for advancement in nursing."
In their letter to Ludwig, the deans identified her "stellar record" that contributed to her success. First was her "perfect GPA." She chuckles about her grades.
"I was the same in high school," she said. "Sometimes I think I'm a little too hard on myself, but I strive to do as well as I can. My mom is the same way. Everything I do, I put everything into it. If I feel I deserved better, I would get upset. I did get some individual assignments where I got Bs and occasional Cs on. No way I got As on everything."
The deans also noted her leadership roles on campus. Ludwig was a tutor her sophomore year and a head tutor her junior year. She relished being able to help students improve their grades
"I feel I learned a lot about leadership at Xavier," she said. "I tutored most of the science classes in nursing, and I feel it allowed me to be a leader, someone others look up to, which is super rewarding to me. My first student I tutored in Anatomy and Physiology was really struggling and getting 50s on the tests, and later she came back and said, 'Grace, you won't believe it. I got the highest grade on the exam.' It's so rewarding to have them come back and share their excitement with you."
The deans' praise for her commitment to service reflected her choice of nursing as a profession, but she also did service projects at Xavier. The most transformative was a 10-day service trip to Malawi in southeastern Africa last summer where she was one of four Xavier nursing students in a group of 25 health-care professionals. They attended cultural events and medically treated over 5,000 villagers over three days, many for malaria but also a little girl whose toe was so infected it came off when they removed the bandage.
"It was a humbling experience, but at the same time they were the happiest people I'd ever met," she said. "They live with so little and yet they were so giving and accepting of us and welcoming, and it was like—you have been in my home, you are my family now."
Her interest in service and leadership will continue in her new position at Children's. Long-term she wants to work in pediatric oncology and earn an advanced nursing degree. But for now, she is keeping her options open and focusing on her full-time job. She knows working with very sick children is hard. Children die. But Ludwig tries to help them feel better, like a young girl she cared for with a terminal condition who cried in pain whenever she was awake. Ludwig would sing Disney songs to soothe her back to sleep.
"You see tough situations, but it's rewarding to hear later about kids who are doing well," she said. "Those kinds of stories are really cool."
By France Sloat, Office of Marketing and Communications