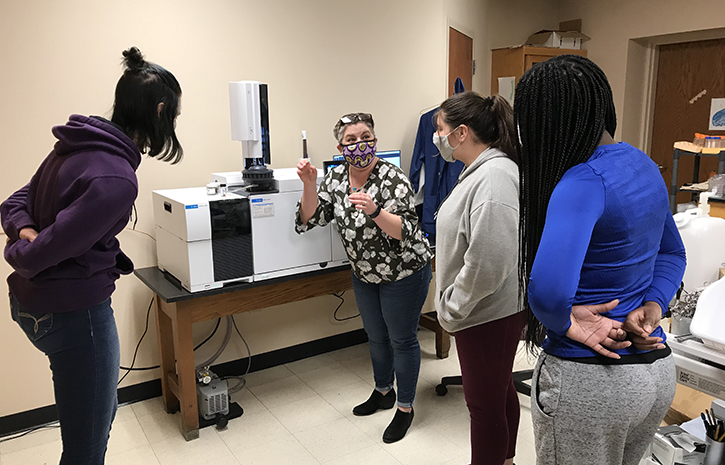 THE SCIENCE OF GIVING
Oct 23, 2020
TRANSFORMING LIVES WITH GIFTS TO SCIENCE
The chairs of the three science departments sat staring at David Mengel. They didn't know what to say. They were, simply, dumbfounded. 
"We just looked at him," said Barbara Hopkins, then chair of the Department of Chemistry.
At that meeting in February, 2019, Mengel, dean of the College of Arts and Sciences, told them a donor had given a multimillion-dollar gift to benefit Xavier's three science departments, the largest donation in the college's history. The annual interest—about $200,000 a year—would be available to purchase and maintain new science equipment.
It felt like Christmas every day. Like being handed a blank check. Like winning the lottery. But how long would it last?

"Forever, using the interest," Hopkins said. "In that sense, it's quite significant."
Indeed. Which is exactly what 1975 chemistry alumnus John Lechleiter intended. The retired chemist and Eli Lilly Chairman and CEO, and his wife, Sarah Lueke Lechleiter, a 1976 Edgecliff graduate, created their Endowment for the Sciences to ensure that future science majors will have the kind of transformative undergraduate research experience that inspired him to seek a doctorate, which led to a long and successful career as a professional scientist and corporate leader.
 "Sarah and I owe a debt of gratitude to Edgecliff and to Xavier for the first-rate educations we received," Lechleiter explained. "We are pleased to make this gift to further science education at Xavier and, in particular, to help strengthen the undergraduate research program. We want students to go from Xavier into workplaces or graduate studies and be able to say, 'Hey, I used that equipment or learned this technique at Xavier.'"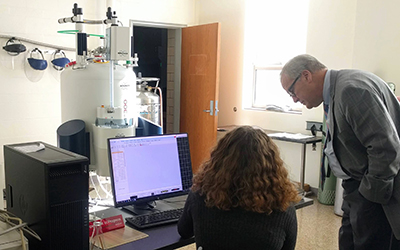 This is not the first time Lechleiter has given back to the chemistry department. In 2017 he funded the purchase of a new NMR—Nuclear Magnetic Resonance apparatus—which resembles a sizable robot that Hopkins likens to R2D2 of Star Wars. New NMRs can cost over $250,000 apiece and are used to analyze compounds made in the lab.
"Chemistry is definitely his passion," said Hopkins, who has gotten to know Lechleiter over the years. "He's pleased with his education here and always stresses the importance of liberal arts education. And he's passionate about Xavier in general and wants our students to have the best preparation for what they want to do."
Undergraduate research requires the best equipment, and that requires money. Acquiring and maintaining research equipment has always been a challenge, Hopkins observed. Until now, the science departments have sought funds from various sources to repair or replace aging and out-of-date instruments, or have just done without in many cases.
These instruments are essential. Xavier's science professors use them to conduct and publish original research, which—in keeping with Xavier's emphasis on teaching—they do together with their students. Students majoring in the sciences are required to do research with faculty, and so gain experience with equipment that many will use in their careers or graduate degrees.
Professor Rick Mullins, who succeeded Hopkins as chemistry chair, explained that the ability to acquire new high-quality instruments means Xavier can attract more students who are interested in becoming professional research scientists, as well as more faculty who want to do serious research alongside their teaching. That's already paying off: Xavier recruited two new biology professors this year whose lab equipment will be funded by the Lechleiter endowment.
"The beauty of this donation is that it will elevate the level of science our students are doing," Mullins said. "We do a great job in the sciences for pre-med students, but this opens us up to attract students who want research careers, who want to be chemists and biologists."
The gift means that now, they can plan to replace old and outdated equipment with newer models, acquiring new equipment they've never been able to afford, and keeping the instruments maintained on a regular basis. Chemistry, physics and biology are working together to coordinate their purchases and maintenance contracts.
Two major instruments have been purchased since the endowment fund was established. One of them, an Inductively Coupled Plasma (ICP) instrument was installed in the Logan Chemistry Building shortly before the COVID-19 pandemic, Mullins confirmed. Students will begin using the ICP during the spring 2021 semester, and it will prove especially helpful for undergraduate summer research projects—support for which remains a high fundraising priority for the college.
This $85,000 instrument analyzes for metals in environmental and chemical compounds and will be used by a biochemistry professor who studies metalloproteins. It also has analytical applications in chemistry courses, Mullins explained. The ICP is a first for the chemistry department, which has never had the funds in the budget to purchase one before now.
The fund also made possible the purchase of an $110,000 Gas Chromatography-Mass Spectrometer (GC-MS), which analyzes and identifies the chemical components of airborne odors. It will support research by Biology Professor Ann Ray, who specializes in chemical ecology and entomology. She studies invasive insect pests, including wood-boring beetles like the emerald ash borer. 
The GC-MS, installed in September, will support Dr. Ray's study of the pheromones that insects use to locate each other, and of other chemical compounds insects use to find their host plants. She hopes this instrument will allow her to branch out to explore chemical communication in non-pest insects as well. Students who conduct the research with her will learn how to use the GC-MS for the analysis of chemicals that mediate behaviors in insects.
Jen Robbins, professor and chair of biology, confirmed that the gift will alleviate short-term barriers to purchasing needed equipment.
"In the longer term, it will be a pilot light that fuels many new faculty-student projects across the science departments," Robbins said. "We are very excited about the possibilities for collaborative research that could, with decent preliminary data, attract grant funding."
Physics department faculty are equally excited about the gift. Marco Fatuzzo, who was physics department chair when the Lechleiter gift was announced, noted that it will have a huge impact on their students who are majoring in physics. Physics faculty have several instruments they would like to add to their research laboratories.
"What was once unimaginable in terms of offering our students some high-quality, hands-on experiences on state-of-the-art lab equipment has become a reality," he said. "The funds will allow us to upgrade our modern physics lab, which serves second-year physics majors."
While reflecting on Lechleiter's continuing relationship with Xavier chemistry, Dean Mengel praised him for finding a way to ensure the same kind of quality education he experienced at Xavier over 40 years ago continues well into the future for students he will never meet.
"Sarah and John Lechleiter have made a transformative gift to the university, one that will ensure that Xavier's science students and faculty will always have the equipment they need to conduct original research," Mengel said. "Many students, I know, will themselves be transformed by that experience."
Written by France Sloat