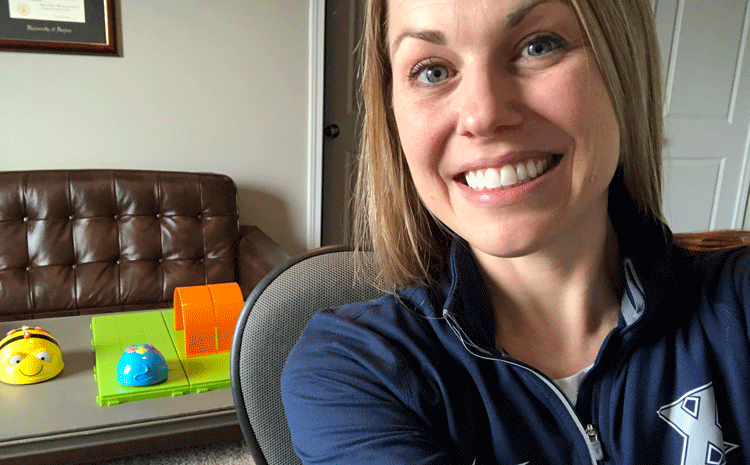 Education Students' Virtual Learning Projects Benefit Real School Teachers
May 15, 2020
Lauren Angelone, PhD, was better prepared than most college faculty to switch to all-remote teaching online. After all, her area of expertise IS teaching with technology. The assistant professor of education was all set teaching her education students about the best tools for remote teaching and how to use them.
But she knew there were elementary school teachers in the teaching world, including Xavier alums, who had never taught remotely before—or could just use some support. So she modified an assignment to be all-virtual, and now everyone benefits —her students, practicing teachers, and the children they're teaching.
The assignment for early childhood and middle childhood education majors in her Instructional Technology class required them to develop a lesson plan to teach a basic concept through either Seesaw for the younger children or EdPuzzle for older children. These online education platforms are online spaces where teachers and students interact with each other.
By posting the lesson plans to the platforms, actual teachers are able to see them and use them with their own students—saving them lots of time spent researching and planning new lessons.
"This assignment was different because usually, we go to the Academy of World Languages (elementary school) and teach a lesson using technology in person," Angelone said. "This time, we created a remote lesson as a service to a teacher teaching remotely and shared it with the teacher. We also used Seesaw as our tool because this tool supports remote learning in a way that some tools do not."
The students use video, audio, text and digital photography to convey the lesson to children, who sign into the online site to access it. They watch the video of Angelone's student explaining the lesson, read short instructions, and then complete a task at home using materials they find in the house or outside. Finally, they take a picture of their task and upload it to the online program for the teacher to see it.
First-year early childhood education major Sophie Foley created a math lesson about coins for first-graders. In the video on the Seesaw site, she explains the three basic coins and their values—pennies, nickels and dimes—and holds up a paper she created showing five equations using various combinations of the coins. The children are told to collect coins from their home or draw images of coins and create their own equations on paper, then take a photo and upload it to the Seesaw site.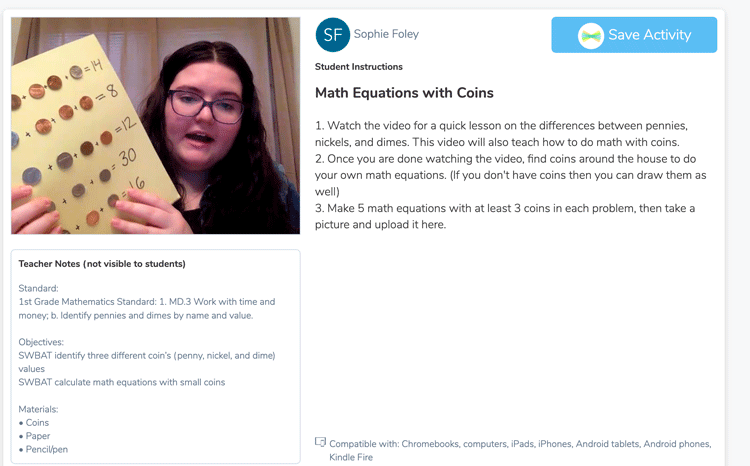 Adult guidance is needed, but the teacher would be online to help as well.
Angelone had reached out to several Xavier alumni who are currently teaching so her students could create lesson plans based on what the teachers actually needed. Sophie's lesson plan was shared with one of those teachers and also with a teacher with whom Sophie did student-teaching while in high school in Indianapolis.
"I was excited I could help her eliminate one math lesson she had to do to transfer to remote learning," Sophie said. "She said she loved the lesson plan and decided to send it out to her students. I love writing lesson plans and feel this was more rewarding because I saw the usability of it where teachers are actually sending it out, so I get to see how it works. It's so rewarding that I could help a teacher I know during this crazy time."
Rachel Richter, a 2018 BSBA alumna and current graduate education student, focused her lesson plan on teaching kindergarten children the difference between living and non-living things. In her video, she described the differences and asked the children to identify five body parts and how they help a body be alive. They were to take a photo of each part and add text to the photo identifying the body part and what it does.
A key part of the assignment was to incorporate technology into the lesson plan to give children a basic understanding of how technology works.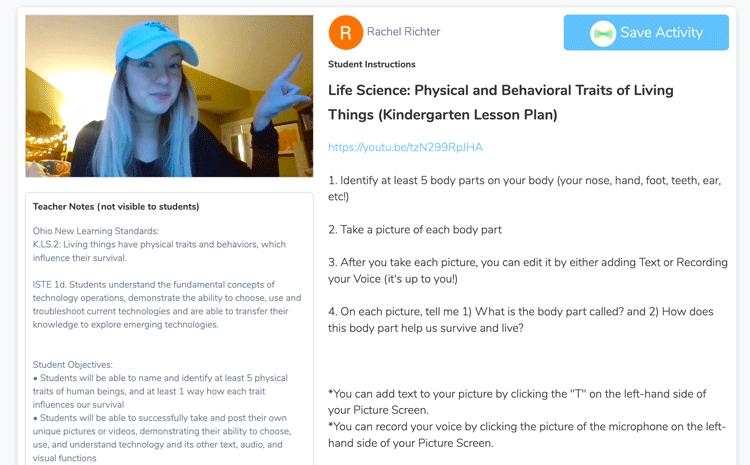 "The lesson forces them to utilize technology, and so we have to keep in mind whether they have access to technology to take pictures and type or record their voice," Richter said. "It helps students with presentation skills in a virtual setting as well as incorporating technological standards for kindergarten students to learn as well."
But she appreciated the benefit to herself as well. "It's not only relevant to society but also to myself as an aspiring educator because I need these tools and resources in my handbag that I will ultimately need to use if I'm in a situation where I need to teach virtually."
One of the alumni Angelone contacted was McKenna Gallagher, a 2019 education graduate now teaching kindergarten in St. Louis. She used lesson plans about living and non-living things to teach her class remotely about animals. The plans included links to videos about animals, including the life cycle of a butterfly highlighted in a video of a teacher reading the children's classic, The Very Hungry Caterpillar.
"These lessons provided my students with fun, interactive activities that they could do at home," said Gallagher, who also liked that they also required her students to read the lesson plan instructions—good practice for those just learning to read.
"My students loved having the opportunity to go out and explore their own environment while making connections to their environment and their learning. I loved having the opportunity to share these lessons created by Xavier students with my students. It was fun for the students to have a guest teacher through virtual learning and help out education majors from my alma mater learn how to be a teacher during this changing time!"
By France Sloat, Office of Marketing and Communications