Xavier Students, Kroger Partner to Create Unique 'Unicorn Swirl' Ice Cream
May 6, 2019
By Brendan Bergen
Xavier students in the Sedler Family Center for Experiential Learning in Business teamed up with Kroger this year to produce a unique treat as Unicorn Swirl ice cream has hit the shelves at Kroger retail locations nationwide.
As part of Xavier's Principles of Marketing (MKTG 300) class, students were placed in groups, analyzed Kroger's portfolio of ice cream flavors, researched industry trends and submitted flavor ideas to Kroger's Category Strategy Manager, Maggie Wilson.
"Personally, I find projects like this extremely rewarding," said Wilson. "I feel a connection with these students because, similar to them, my background is in business and marketing, and I was also heavily involved in experiential learning during my journey through college. I love that I have this amazing opportunity to interact with students who remind me so much of myself when I was in their shoes. Being involved in the community is something that has always been important to me, so when I was approached by Xavier to partner with their business and marketing students, I knew this was going to be the start of a great relationship."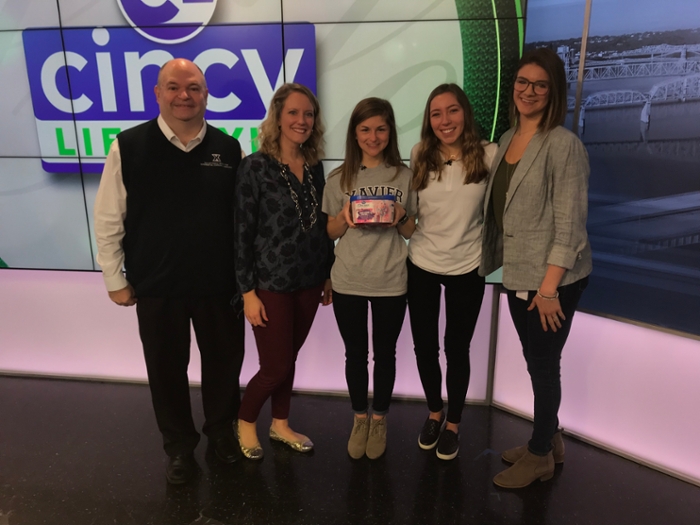 Following the semester-long project, the top five flavors were invited to the corporate offices of Kroger and the winning team of Lizzie McCarthy and Anna Engelman was selected in April of 2018. Their original prototype and name was called "Big Top Blast," but was modified slightly during the process to get the product to shelves.
"All the flavor concepts and presentations were inventive and unique, so choosing the winning team was not an easy task," said Wilson. "The decision to select "Big Top Blast" as the winning flavor was due to their creative idea to include iced animal crackers in their ice cream recipe. Coincidentally, the Kroger team already had a similar flavor to "Big Top Blast" in development. The difference between our flavor and "Big Top Blast" was that we had a different type of inclusion, and the name was "Unicorn Swirl." We thought the idea to include iced animal crackers would translate really well to Kroger customers, so we redeveloped our original recipe to create the flavor found on shelves today."
After its conception, the process of getting the product on the shelves lasted nearly a year with Unicorn Swirl becoming available to shoppers in the last three weeks.
"It feels absolutely surreal. The first time I saw it in stores, I was shocked. I took a picture with it to send to my family, who have been so supportive of the project," said McCarthy. "It is the most amazing feeling to walk down an aisle and see something on the shelf that you had a part in creating. One of my friends sent me the cutest picture of his grandma holding up a carton of it, and it made my day. I have been overwhelmed by the positive feedback Unicorn Swirl has gotten from my family, friends, and just genuine ice cream lovers."
The ice cream itself is pink and tastes like cake batter. It's packed with blue streaks and the key ingredient of frosted animal crackers, making it a super-sweet and visually appealing dessert.
"From our feedback and additional research, we found that people really enjoy inclusions, like cookies, in their ice cream. One of the only cookies not represented in any ice cream is the beloved frosted animal cookie. Once we established that, the idea just kind of took off. We wanted the flavor to be something kids would enjoy, adults would feel nostalgic about, and that you couldn't just get anywhere."
Both McCarthy and Engelman have been making the rounds with Cincinnati local media, showcasing the product and how they arrived at such a delicious creation.
The duo, alongside professor Karen Eutsler, were interviewed about their project on WCPO's Cincy Lifestyles program and have also been featured on WLWT.com.
Watch on Cincy Lifestyles Facebook
"The opportunity to be a part of this project and partnership with Kroger taught me a lot," said McCarthy. "It is hard work to go through coming up with a new product and bringing it to fruition. The process showed me that I would really love a future career in a field where I can be creative. It also gave me more confidence to share my creative ideas without worrying about failing. Presenting to Kroger executives helped me grow in professionalism by providing a platform for me to test presentation skills that I will use in future job interviews and in the workplace."
Early customer feedback has been positive, according to Wilson, who attended the Sedler Center to announce the 2020 project winners last week.
"A partnership like this is invaluable for both Kroger and Xavier students. Young professionals who participate in real-world projects like this are able to gain experience that they wouldn't find by simply showing up to class and reading a textbook. It's so important that students seek out experiences like this because they not only learn firsthand and make great connections in the industry, but also gain a competitive edge that sets them apart from their peers after graduation."
"Our customers love Unicorn Swirl! And what's not to love? The vibrant colors and birthday cake flavor, paired with the crunch of iced animal cracker pieces make this flavor a home run," said Wilson. "Since launch, this flavor has completely captivated our customers and it's really exciting to watch the enthusiasm continue to grow."
To find the treat on shelves near you, visit your local Kroger or shop Kroger.com.
ABOUT THE SEDLER FAMILY CENTER FOR EXPERIENTIAL LEARNING
The Sedler Family Center for Experiential Learning in Business is a hands-on learning hub that operates under the Xavier University Williams College of Business. Committed to furthering Jesuit values, the Xavier mission and transformative student learning, the Sedler Center creates learning opportunities that help students develop business skills and relations that lead to high-quality jobs.
WHAT IS EXPERIENTIAL LEARNING?
Experiential learning is a process through which students develop knowledge, skills, and values from direct experiences outside a traditional academic setting. Experiential learning encompasses a variety of activities where terms and concepts learned in the classroom are applied to real-world business scenarios including internships, service learning, student-run and student-owned businesses, undergraduate research, live case studies, domestic and international travel opportunities, and other creative and professional work experiences.