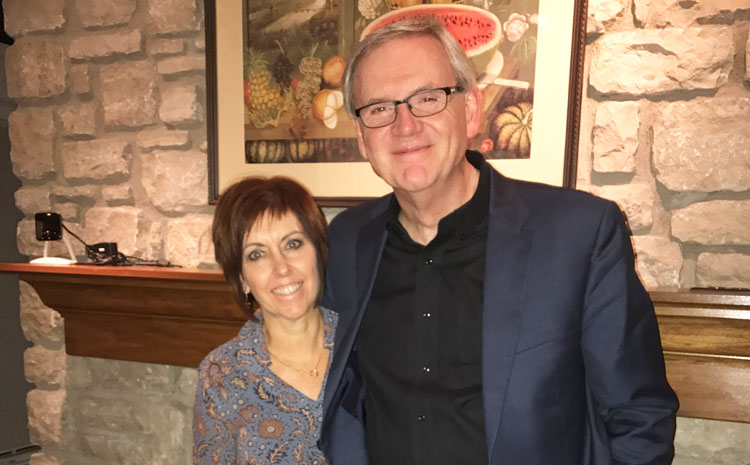 X Path: Parents' Donation Paves Way for Special Needs Students
Jan 31, 2019
The teachers' notes confirmed what Kevin and Barb Dougherty had been wondering about their little girl. The notes had nothing to do with her intelligence or ability to learn. Instead, they revealed a deep-seated difficulty relating to other people.
One teacher wrote that she would sometimes retreat to a corner in her preschool classroom and roll into a ball, arms folded above her head, overwhelmed by the noise and activity of her classmates.
So began a challenging journey for the Dougherty family of seeking resources to help their daughter navigate her social world. It would include a half-million dollar donation to Xavier University as seed money for a new program to provide support to students with similar social disabilities.
"We were interested in finding a way to give young people the opportunity to learn social skills as a foundation for independence in life," Kevin says. "Academics isn't the only answer. The ability to communicate with others is the foundation for a full life.
Because of the Dougherty's financial commitment and support, Xavier launched the X Path Program in fall 2018. This year already, five students are benefiting from the program, which as part of the Office of Disability Services provides support and coaching for students on the autism spectrum or with related disorders. They expect to welcome five more students this fall.
The students work with office staff and student assistants who are hired as peer coaches, who in turn develop their own leadership skills by helping the X Path students stay on top of their academics and get involved socially on campus. They invite them to eat together in the cafeteria, go to club meetings together or play basketball in the gym. Last semester the whole group went to the Cincinnati Observatory, and recently they went to Cincinnati's Over-the-Rhine neighborhood for an evening out.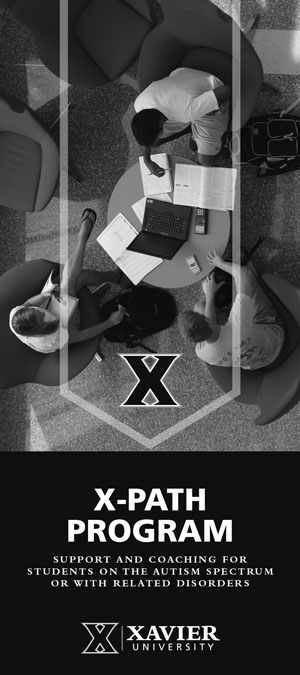 Students must apply to be admitted to the program and are assessed to be sure the program is an appropriate option for their needs. There is a fee, and financial assistance is available
"We are making sure they are connected to the community like any other student, because so often a student on the spectrum might not go to the cafeteria with others or may study by themselves or may not get involved in activities on campus," says X Path Director Cindy Steiby. "The biggest thing is we connect them to campus socially and give them that additional academic support so that when they leave Xavier, they'll be able to advocate for themselves."
Right now, the Doughertys are involved as program advisors, meeting with Steiby and Cassandra Jones, the director for disability services, every month. Eventually, Kevin says they would like to focus on fundraising. Their endowment is a four-year commitment to get the program operating, but additional funding will always be needed for it to continue.
For them, the idea of giving to something they know will help people like their daughter is the ultimate reward and motivation
"We're trying to help people for whom social situations are like a foreign language," says Barb.  "At times they often can't easily read facial or verbal clues and are challenged to engage in dialogue that is the foundation for communications and relationship building."
The Doughertys know what they're talking about. They've been helping their daughter her whole life. But it was frustrating, because for years, they didn't know what was wrong. Finally, they found a dedicated psychiatrist who gave them a diagnosis of a disorder on the autism spectrum. It helped them understand her challenges—but also her abilities.
She excelled academically but found it difficult to make friends. When it was time for college, they were thinking a small community college experience would be best. Then Kevin's boss at Kroger, a member of the Xavier Board of Trustees, suggested Xavier's caring community might be a good fit
When she not only got accepted but got an academic scholarship to boot, they knew she'd found her school. Soon after, another letter arrived for her, one she had written to herself in seventh grade in which she said she hoped by this time in her life, she was "going to Xavier."
"Father Graham called it a moment of grace," Kevin says.
Her path through Xavier was not typical nor was it easy, her parents said, but she received academic accommodations and exceptional support from the Office of Disability Services and her professors. She graduates in fall 2019 with a degree in English and plans on becoming a fiction novelist.
X Path came too late for the Dougherty's daughter, but they are comforted to know that other students like her now have a support system to help them navigate the challenges of life.
"We believe students can learn these skills," Kevin says. "If we're successful in doing that, we've changed lives. We can unleash the power trapped inside these young people so they can begin giving back."
Learn more about the X Path program at Xavier University.