Helping Healthy Moms and Babes
Feb 22, 2019
Nursing students tackle infant mortality

By Molly Duffey, Class of 2022

The bus was parked in a Spanish-speaking community. A young mother arrived carrying a little boy and stepped up into the bus. He'd been born with extra skin, known as a skin tag, by his ear, and it had become red and swollen with a little white spot in the middle.
The mother was worried that it was infected, but Cari Ravelo, a junior nursing student at Xavier, knew just what to do. She began by addressing the mother in Spanish.
"I told her that I thought she should show the nurses just so they'd know," Cari said. "She did, and they gave her the same consultation that we did—to take him to the doctor and have it looked at."
For the mother and toddler, the visit to the Healthy Moms and Babes van provided answers about how to treat the boy's skin infection. For Cari, it was a hands-on learning experience where she could practice her nursing skills while also helping real people with real health issues. She could tell the mother felt relieved.
Cari was volunteering at the van as part of Terri Enslein's nursing class, Families in Transitions Practicum. In 2015, alarmed by the high infant mortality rate in Hamilton County, Enslein, a teaching professor in the School of Nursing, created partnerships with Healthy Moms and Babes and Cradle Cincinnati, two non-profit organizations that provide free health services to residents of low-income communities.
Her students have been volunteering for the organizations ever since in an effort to give back to the community and help reduce the number of babies who die in their first year. Cradle Cincinnati reports that the county's rate has dropped 15 percent over the last five years—the largest decline ever. But it still remains stubbornly high at just under 9 deaths per 1,000 births, well above the national average of 5.7 deaths, and is among the worst 10 percent in the country.
"Learning while working and putting your knowledge to use is a truly wholesome experience," Enslein says. "It not only helps the students learn but also helps to immerse students into the environment."
Students take the nursing class during their obstetrics clinicals. On Tuesdays during the fall semester, Cari and her fellow nursing students went to a hospital to shadow professional OB nurses and help care for individual patients. But in the Healthy Moms and Babes van, the students were able to help someone new about every five minutes and experience a range of interactions with different people and health issues.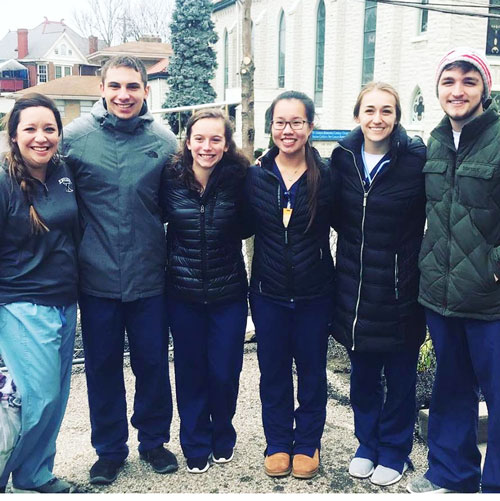 Cari's fluency in Spanish was an added benefit, since many of the mothers needing help are Hispanic. She was able to help almost every mother or soon-to-be mother get the medical care they were seeking as a part of her nursing class. "We were the teacher," Cari says.
The class visits the van for about four hours once each semester. During the rest of the semester, the students create educational videos and pamphlets to distribute to the women who visit the van. The students are assigned to groups and topics so they are able to answer questions for the new moms. Cari's topic was postpartum depression.
"They do a lot of education, which is one of the biggest things I want them out there doing—interacting with patients and teaching them," Enslein says. "Each group I send out has focused on one specific topic, like ​​What should I eat when I'm pregnant? What things should I avoid? What is a healthy nutrient when I'm pregnant?​​ So while patients are waiting to be seen, my students interact with them and do teaching and then of course care for them on the bus as well."
The Healthy Moms and Babes van ​ drives into different communities where anyone can be seen for services such as​ pregnancy testing, doctor referrals, screenings for blood pressure and blood sugar, help with insurance, and prenatal, postnatal and nutrition education. It's a perfect setting for students in Xavier's holistic nursing program, as it puts the University's beliefs into action to make a difference. For Cari, that meant helping the young mother determine how best to care for her toddler.
"We learn all the nursing skills, but we incorporate the holistic side into it as well: mind, body, spirit," Cari says.
Learn more about majoring in Nursing at Xavier.
Feature Image: Teaching Professor Terry Enslein in the simulation lab.
Group Image: Nursing instructor Christina Lahman, RN, far left, at the Moms and Babes van with Xavier students Dante Mastrangelo, Maggie Sullivan, Rebecca Co, Katlyn Fields and Matt Platz.