Sneak Peek Inside the Health United Building
Jun 19, 2019
Take a tour of the HUB, opening in eight weeks
Sporting a bright yellow vest, Bob Sheeran, Xavier University's vice president for facilities, led staff members of the Department of Recreational Sports on a hard hat tour of the Health United Building on Monday, June 17, to get an early glimpse of their new home, and we at Marketing and Communications tagged along.
Armed with notebooks, cameras and video equipment, we stepped around and over piles of rebar, aluminum air vents, chunks of concrete and wooden pallets, through puddles and mud from recent rains, and around and under scaffolding up and down four flights of stairs.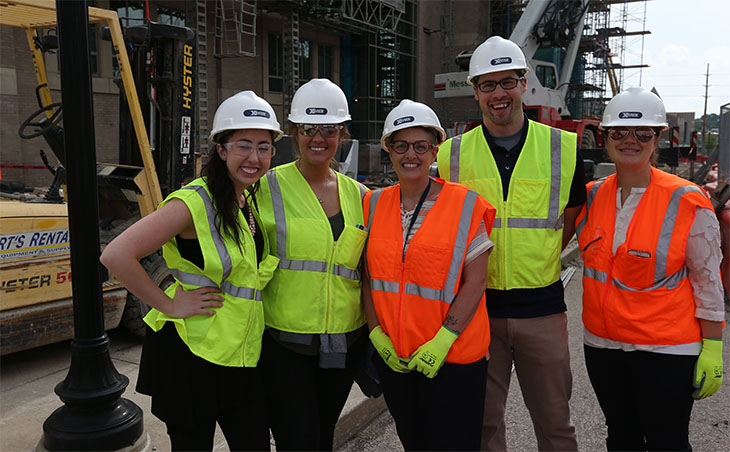 Since the gigantic crane was removed on June 1, Sheeran said, construction work is focused now on interior systems and finishes, final exterior surfaces, and the grounds and parking areas. The building's classrooms and Health and Counseling Services on the left side will be ready for students on Monday, Aug. 19, the first day of the semester, while the rec center on the other side opens in November. Faculty in nursing, occupational therapy, radiologic technology, and health services administration begin moving into their spaces starting Aug. 1, and the academic side of the building will be available for tours during move-in day on Thursday, Aug. 15.
But right now, there's not much separating the building from the great outdoors.
Grateful for our white hard hats and rubber gloves protecting us from dirt and low bars, we roamed the open spaces of what will become new athletic facilities and imagined how the concrete floors, cement block walls and window spaces now open to the elements will be transformed. In their place will emerge varnished wooden surfaces, sunlit glass, and blue and yellow painted walls surrounding basketball courts and fitness rooms with weights clanging and exercise equipment whirring under students' spinning feet.
The first and second-floor fitness areas gave way to a maze of locker room space, all concrete for the moment, emerging onto the decking of a four-lane 25-yard pool now filled with stacks of plastic-wrapped HVAC vents in muddy puddles. The decking's roughly grooved concrete surface, to be covered with pool tiles that will reflect the natural light coming in from the windows above, also lead to an enclosed multisport court on the back side of the building. A nearby "wet classroom" will be used to teach classes in CPR, first aid and lifeguard training that require trips to the pool and back.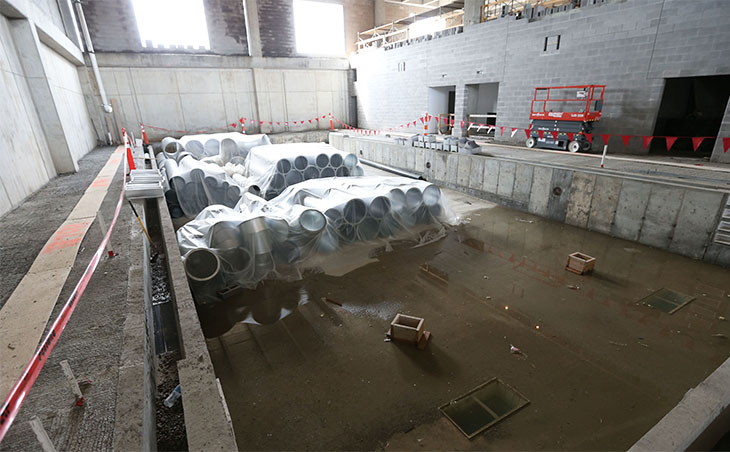 Up the stairs to the third floor, the recreation staff paused in the huge space of three basketball courts with a two-story ceiling. It's the highest point on campus, Sheeran said, and the views from the broad open windows are stunning. The floor's concrete surface will soon be covered with a gleaming wooden court, while above, the three-lane track stretching eight-tenths of a mile around the upper walls will support runners and walkers who will pass windows bathing them as well as those on the courts below in all-natural light.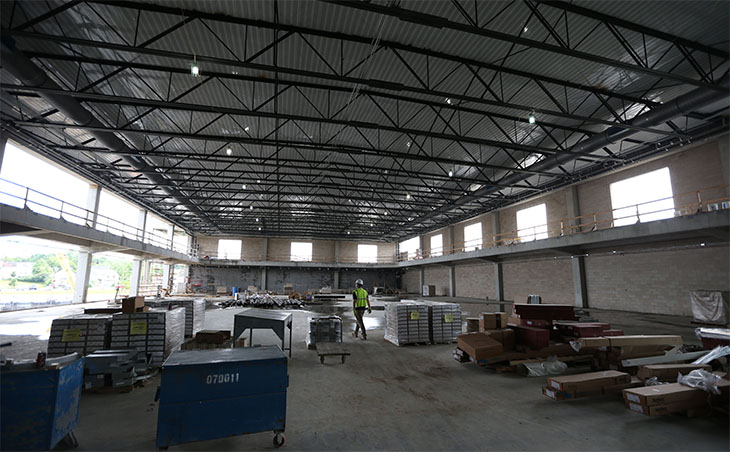 All told, Sheeran said, the new recreation center space will be about 2.5 times greater than the current space at the O'Connor Sports Center. And it will work seamlessly with those students studying athletics as a health profession. In an area set up for labs, including a whirlpool, Athletic Training Associate Professor Lisa Jutte explained how students will be videotaped while working at the treatment tables so their professors can assess their skills. The benefit for her students, she said, is the direct access to actual students using rec center equipment, whom they will be able to treat under the guidance of professors and a professional athletic trainer.
"Students will utilize this equipment in their careers," she said. "So they can go from class to using the equipment in the rec center then back to class. It will be much more efficient."
Sheeran noted they will be among about 1,500 students attending class every day in the HUB, along with about 1,000 a day working out in the rec center. "There will be 2,500 to 3,000 students every day in this building," he said. "That's significant." 
Passing by what will be a self-service café, Sheeran stopped at a wall of glass through which we could see to the other side of the building where the academic classrooms are housed. While access to each side is possible only from the first floor, the glass walls allow users to see across the "spine" or center of the building, creating a sense of connectedness between the two sides.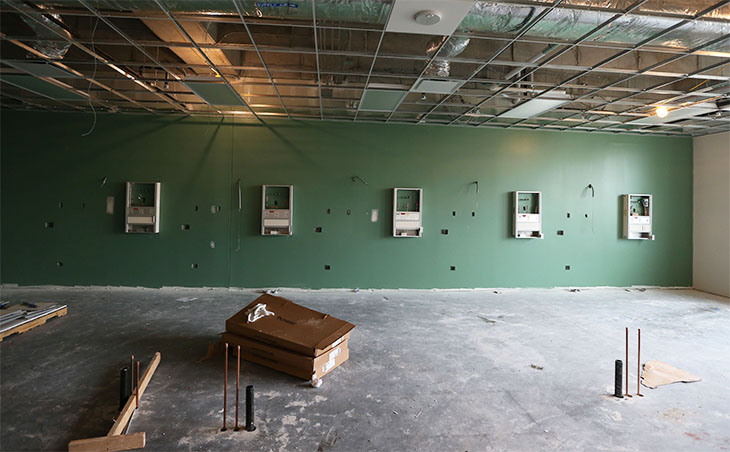 Down the "monumental" staircase and back up to the academic side, the group toured spacious classrooms, study rooms, faculty work rooms and labs for nursing, health services administration and occupational therapy students. With large floor-to-ceiling windows and olive-green walls, some classrooms already feel close to completion.
An area for occupational therapy mimics an actual residence with bathroom, kitchen and laundry for students to practice providing care in a patient's home. A computer lab is being set up for people with disabilities, and several sim labs will represent actual hospital management for health services administration students and hospital beds with automated patient mannequins for nursing students.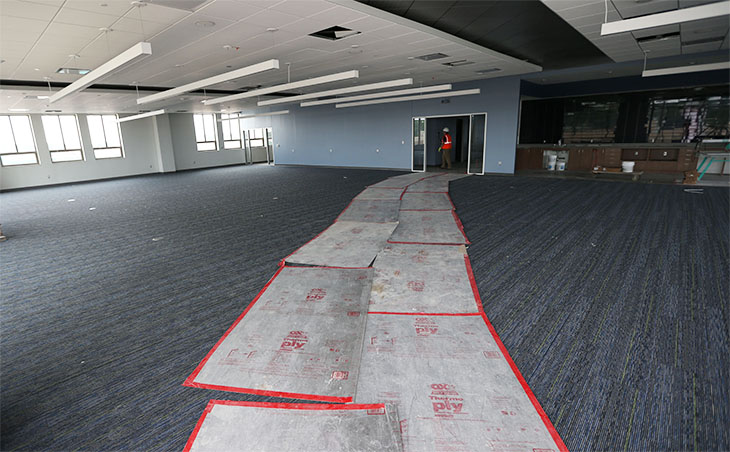 On the fourth floor, the large student commons gathering space with wall-to-wall windows now has blue carpet, and the doors opening to the sunlit deck outside are already installed.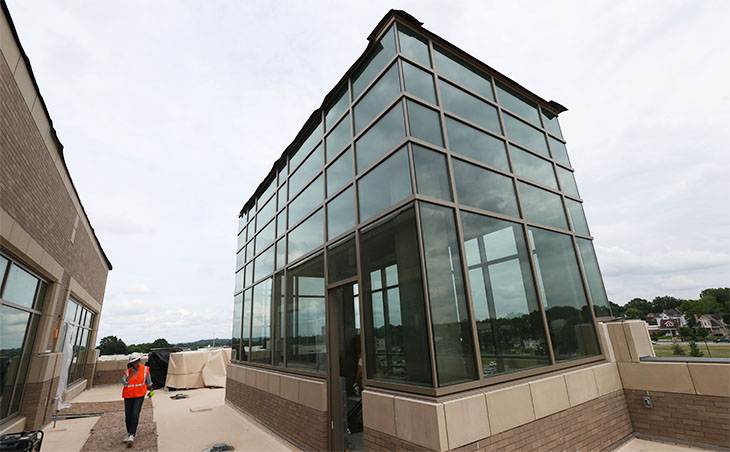 Sheeran ended the tour back on the first floor at Health and Counseling Services, where the TriHealth welcome desk for the health clinic is taking shape on the right, and Xavier's counseling center is on the left.
One of the highlights, said Leah Busam Klenowski, senior director for student affairs, is the increased level of care for students provided by many elements in the center, including the addition of group therapy rooms. "It's one of the biggest parts of how we provide services to students," she said. "We can see and care for more students when they are in a group."
By France Sloat, managing editor, Office of Marketing and Communications
Photos by Greg Rust, director for photography, Office of Marketing and Communications
Video by Brendan Bergen, content producer, Office of Marketing and Communications
Learn more and get updates about the Health United Building as we count down to opening day on Monday, Aug. 19.