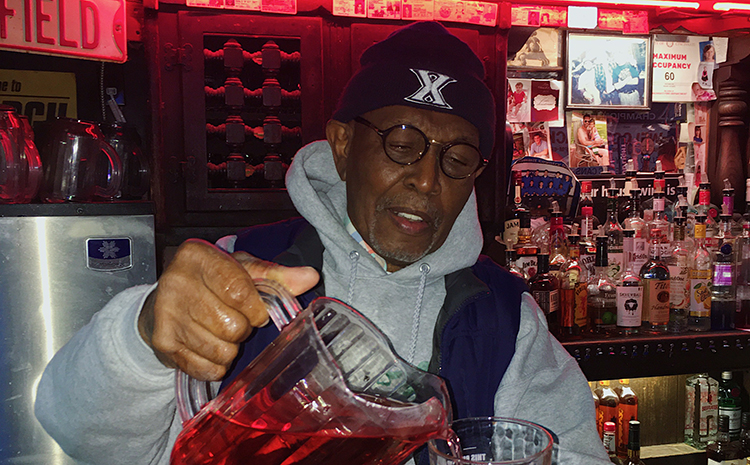 They Keep Coming Back For More
Dec 18, 2019
Meet Dana's Herschel: The Man Behind the Drink
Hiding in Evanston, Ohio, is a sneaky little secret, and the only way to uncover it depends on how thirsty you are.
Sitting quietly in Xavier's backyard is a tiny bar called Dana Gardens, which offers greasy french fries, good conversation, and a mysterious signature pink-drink called the "Hershel." Aside from being deliciously sweet, the Hershel ingredients have long been kept a secret… so much so, that the bartenders keep the beverage in separate, unmarked bottles.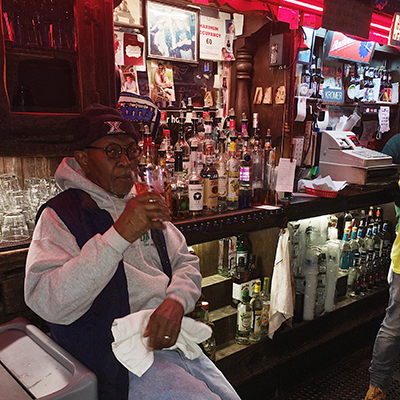 So what's the deal? Why is this on the hush-hush? The answer can be found in the man behind the drink.
Eighty-one year old Hershel Ware is a crowd favorite at Dana Gardens. Originally from Georgia, Hershel serves customers with southern charm and a dash of attitude. His appearance is full of carefully marketed glitz; circular glasses that rest upon his nose, a pair of diamond earrings and a gold chain harboring the letter "H." On a typical Thursday night, you can find Hershel dancing to Rhianna's "Wild Thoughts" or any song by Marvin Gaye on the jukebox.
"Working with Hersh is a different type of monster, the 'good' type," said his coworker, Michael Pierce.
Not only does Hershel create a fun environment for the bar, he also holds a deep connection with Xavier University.
Working at Dana's since 1996, Hershel has formed many relationships with alumni, faculty, and local residents. When students need to relax from their hectic lifestyles, Dana's is only a short walk away, and waiting to greet them at the bar is Hershel.
"They're my family," Hershel said. "Alumni still come by to visit me and I'm grateful, but I have a pleasure working with kids." With five children of his own, Hershel knows how to joke around with students and his goal is to make everyone's trip to Dana's worthwhile.
Xavier alumna Alli Phillips recalls a story from a Parents' Weekend, when Hershel told her mom to keep an eye out for Alli because he was worried. When Alli's mom asked why she should be concerned, Hershel was matter-of-fact.
"Because her dance moves are terrible," he said. "She might need some help."
Hershel will tell you his life hasn't always been this good. Living through an era of racism, Hershel relayed the struggles of how skin color can affect relationships. Although sensitive, the topic of race is important to Hershel who wishes there could be more conversation about it.
Being black during the early '40s and '50s was a difficult time, he says, yet he always stood up for what he believed in. Ultimately, it was a combination of poor management and racist views at a previous job that led him to a new home. He left the gig, told himself he would never let someone dictate his future based on skin color again, and ultimately landed at Dana's.
"How do you hate when you never get the chance to know?" he asked. "I treat everyone I serve with the same type of respect I would want — that's just how it should be."
Through his actions and relationships with customers, its clear why the bar would name a drink after him.
So what is really in a "Hershel," anyway?
Humility. A dash of humor. Maybe a few ounces of friendship.
Whatever it is, crowds of Xavier students and alumni keep coming back for more.
By Sarah Haney, '20, Office of Marketing and Communications