Jen Gibson's Students Teach—and Learn—in Local Classrooms
May 22, 2019
Jen Gibson, PhD, is an authority on school-based mental health and bullying prevention among schoolchildren. It was the subject of her dissertation and is the research topic that interests her the most—which explains why, at Xavier, she incorporates it into her teaching at every opportunity.
Gibson's undergraduate Child Psychology class is a prime example. Students in her class learn about psychological theories pertaining to childhood behavior and mental health in the classroom, including social-emotional learning (SEL) methods that Gibson argues go hand-in-hand with bullying prevention programs in elementary schools.
Other topics they cover include psychological theories of learning, risk and resilience factors, and identity development. Then, her students experience those theories in action with real schoolchildren every week at a local elementary school.
A member of the faculty in the Department of Psychology since 2011, Gibson is an associate professor who teaches graduate as well as undergraduate students and is associate director of clinical training responsible for coordinating clinical psychology graduate students' field placements.
She is one of a growing number of Xavier faculty who are incorporating immersive or engaged learning into their coursework. These experiences place students into unfamiliar communities where they learn to connect with and understand others through shared experience while applying what they're learning to real-life settings.
At Evanston Academy, a Cincinnati public school near campus, Gibson's Child Psychology students spend an hour each week applying what they've learned in class by delivering a social-emotional learning curriculum to children in eight classrooms of grades K-2.
When she started working with Evanston Academy seven years ago, Gibson's students provided one-on-one mentoring.   
"Now we are teaching structured lessons on social and emotional skills—how to be a good listener and how to calm yourself down when you're angry," Gibson says. "Our students also go to lunch with the children or help with academic activities as a way to reinforce both their relationships with the children and the social and emotional skills they have taught them."
Gibson and her students are supported by the school psychologist, who oriented the students to the SEL curriculum early in the semester. The students also write reflection papers about their experiences at the school and how they connect what they learn in class with what they teach the children.
"They need to take what they learn and apply it to their career later on, and they'll remember it better if they have a chance to apply it in real life now," Gibson says. "I think that they often find it incredibly challenging and rewarding, and they do engage the children."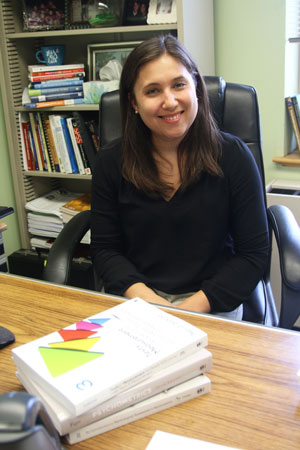 Ally Tsenekos, a senior psychology major who is graduating this year, found that teaching children helped reinforce the child psychology theories they covered in class.
"Every Friday, I had the opportunity to interact with and teach social-emotional learning skills to first graders," she says. "I cannot express how happy and excited these students were to learn valuable skills through games, stories and puppet shows. I could see how this material really stuck with them throughout their home and school life. This made me especially happy, because I knew that I made an impact with these students' lives, and they made an impact on mine."
Every time Ally went would be a different experience. Some days after teaching the lesson, she would help a child with a puzzle or a writing activity. Other times they would just talk. She could tell they felt that she and her fellow students cared about them and their education. She also appreciated knowing that the children were learning important skills to help them navigate a sometimes difficult world at both school and home.
Ally helped Gibson with her research on cyberbullying, which has helped her to see the connection between the SEL skills she is teaching at Evanston and bullying. 
"By teaching the students at Evanston important social emotional skills, the hope is to minimize the incidents of bullying seen in the classroom and online as we promote more compassion, empathy, and problem-solving skills," Ally says. "Many people turn a blind eye to cyberbullying, but our hope is that with new research and these new social emotional tools, students will be better equipped to resist cyberbullying and promote effective communication and problem-solving skills." 
Gibson also helps her students understand how one's environment shapes their development, and that children can overcome the difficulties of growing up in an environment of poverty through factors that promote resilience, such as good relationships with adults and strong self-regulation skills. Her students help the children in all these areas—which may also help to promote mental health and prevent bullying. 
"It's really satisfying for me," Gibson says. "It's my favorite course to teach. It feels like a lot of good is coming out of it, because the students are learning but also doing something useful for our community."
Learn more about Xavier's Psychology major.