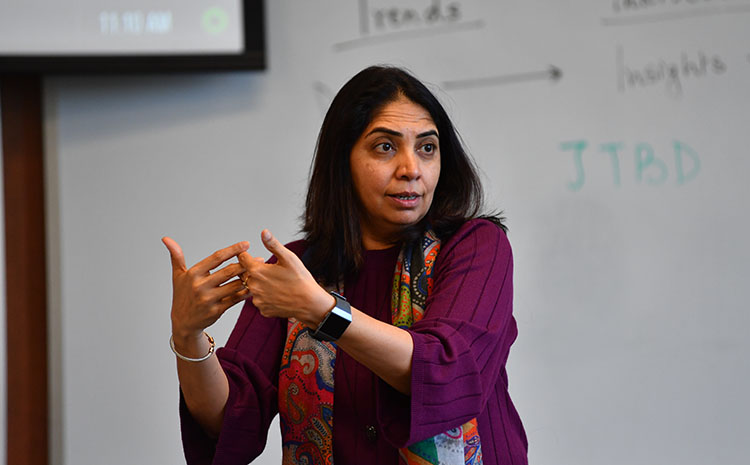 Faculty Spotlight: Rashmi Assudani, PhD
May 12, 2019
Professor Touches Minds with a Hands-on Approach to Teaching
Rashmi Assudani believes experience is the ultimate path to mastery.
"You can read a book about swimming," she said. "But you'll never learn how to swim until you get in the water."
As professor of Management and Entrepreneurship in the Williams College of Business, Assudani consistently strives to give her students the tools they need to navigate the entrepreneurial world.
Perhaps it's no coincidence she found her calling showing students how to shine in their own endeavors through the discipline of entrepreneurship. Her name means, "The first ray of sunlight."
Assudani was born to refugee immigrants who uprooted their lives in Pakistan for a fresh start in India. Her father was a bold entrepreneur who fearlessly ventured into uncharted territories of innovation that others in the country wouldn't even consider at the time. His go-against-the-grain mentality awakened his daughter's passion for innovation, which she now pours into her classes.
"My parents taught us that education is the only wealth you can earn," Assudani said. "They did everything they could to give us a solid foundation."
Much like her parents did for her, she goes above and beyond to ensure that her students have solid foundations upon which they can build their futures. Her classroom is where they practice laying the bricks.
The component that makes Assudani's course unique is the total submersion into the material through real-life projects.
Most recently, she began leading her students through a case study for Bridgetown Natural Foods, a company that specializes in providing natural, healthy and portable foods through innovation and operational excellence. In the study, students are challenged to design innovative products for a House Brand that excite consumers and stand out among other names on the shelves. Bridgetown is seeking products that consist of cold or baked bars with a variety of coating options, snack clusters and granolas.
The task demands that the students identify real-life obstacles, find creative, feasible solutions and develop tangible strategies that can be utilized to address them. Eventually each student will present an original product they've conceptualized, designed and engineered to meet a specific consumer need that will give the brand an advantage over industry competitors.
This is how Assudani instructs her students. She allows them to live out the lessons.
What does it feel like to fail when you were on the verge of something big? How do you bounce back from it? How do you learn from that failure to push yourself closer to an innovative breakthrough? How do you develop a concept that falls in line with the strategy required to achieve a desired result?
These are all fundamental principles for innovation, strategy and knowledge management that are only truly learned through experience.
Assudani doesn't merely teach her students.
She takes them swimming.
By Laurent Che, Content Producer in the Office of Marketing and Communications