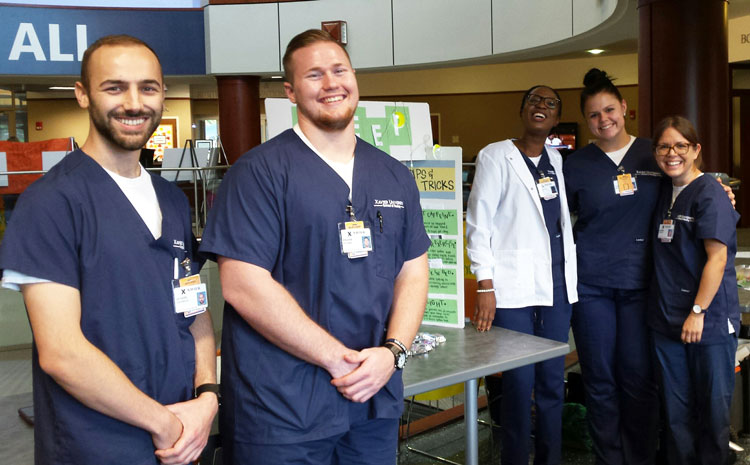 Xavier's School of Nursing Is Now a College
May 20, 2019
At its May meeting, the Xavier University Board of Trustees unanimously voted to establish an independent College of Nursing. It is Xavier's fourth college, joining the College of Arts and Sciences, the College of Professional Sciences and the Williams College of Business.
Xavier has offered nursing as an academic discipline since 1981 when it acquired Edgecliff College. In 1995, Xavier admitted the first group of students to a newly designed Bachelor of Science in Nursing program. In addition to its traditional undergraduate program, Xavier offers graduate nursing programs and a 16-month Accelerated Bachelor of Science in Nursing in Cincinnati and Columbus. Xavier has about 1,100 students in its nursing programs.
Nursing currently has the largest number of student majors among all programs in the College of Professional Sciences. The College of Nursing classrooms and simulation labs are now housed in the Health United Building's academic side, which opened in August at the same time that Nursing became a college.
"Xavier's College of Nursing offers robust and highly sought-after programming, and we're at full capacity," said Melissa Baumann, Provost and Chief Academic Officer. "A College of Nursing will enable us to educate more students in a holistic approach to health care that puts communication, coordination and care of the person, integral to our Jesuit tradition, at the forefront."
Members of Xavier's Integrated Student Success Committee and the Board believe "this decision is vital to position the University to better meet multiple opportunities to engage the changing nature of health care through the education of distinctively Jesuit-educated, holistic nurses," said Xavier President Michael Graham, S.J., in an announcement to the campus community.
According to the U.S. Bureau of Labor Statistics, employment opportunities for nurses are projected to grow at a faster rate (15 percent) than all other occupations from 2016 through 2026. And the Journal of Nursing Regulation reports that 1 million registered nurses will retire by 2030 resulting in a significant shortage and loss of nursing knowledge and expertise.
"The nursing shortage is very real, and I am thrilled that Xavier is taking this step to be part of the solution moving forward," said Debra VanKuiken, director of Xavier's College of Nursing. "The Xavier College of Nursing will increase our ability to educate more students in the art and science of nursing with a foundation in holistic and Jesuit principles. The work they do and the way they do it, with care and compassion, will make a lasting impact on generations to come."
Judith Lewis, PhD, was hired in July as interim dean for the College of Nursing to lead the planning and accreditation process. The founding dean of the College is expected to be in place by July 2021.