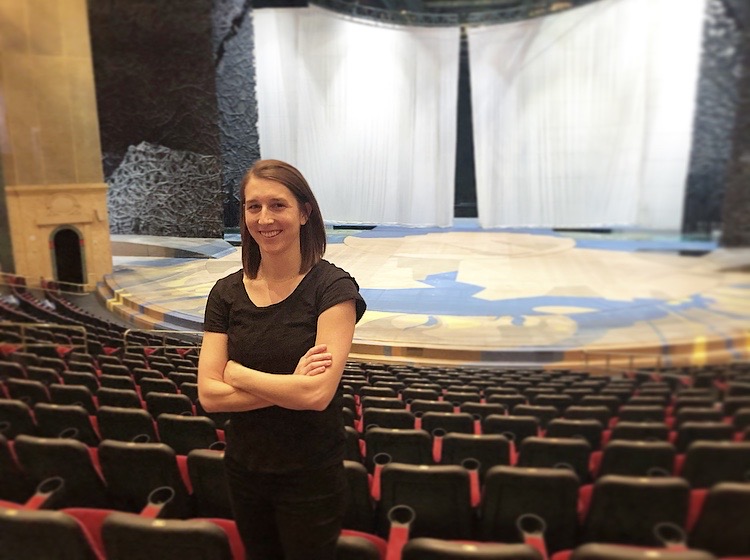 Athletic Training Alum Fulfilling Dream with Cirque du Soleil
Nov 26, 2019
'Every day is game day'
LAS VEGAS — Aylin Wheeler remembers traveling to Las Vegas when she was young to visit her grandfather. They'd go out and see shows like Cirque du Soleil and Aylin loved it.
"It always intrigued me seeing what the performers can do at the highest level," she says.
Later on in her life, when her grandfather passed away, her family decided they would never go back to Las Vegas. They had no reason. "They were kind of all over it because we came every year," she says.  
Then again, Aylin (pronounced "Eileen") never thought she'd get a job in the town — but that's exactly what happened.
Last summer, after stints as an athletic trainer, a physical therapist and a sports medicine therapist, the 31-year-old, 2010 Xavier graduate (B.S., Athletic Training) did, in fact, come back to Las Vegas to work for Cirque du Soleil — and she made the city her permanent home.
Now, of course, it gives her family a new reason to come back to the Entertainment Capital of the World.
"It's amazing. I love the environment," Aylin says. "At first, I was nervous because I came from an environment that I knew very well to something I don't know. I mean, I've never been a trapeze artist.
"But I'm definitely learning," she continued. "It's challenging and I'm learning about a lot of different types of skills and a lot of different types of techniques. And it's opening a lot more doors."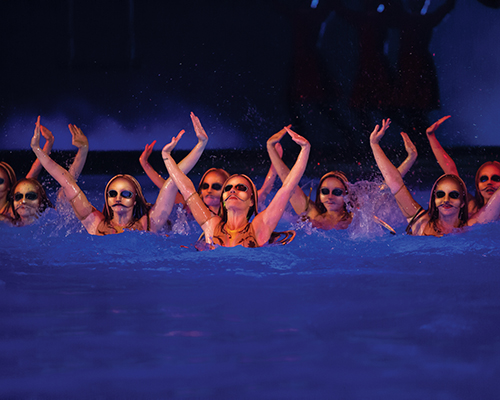 'A perfect combination'
Aylin Wheeler (formerly Seyalioglu) spent the first 10 years of her life in Turkey before coming to the U.S., where she played tennis, and earned a scholarship to Xavier.
"I was looking for a school that was still small but not tiny," says Aylin, who came to Xavier from South Carolina. "And one that challenged me academically. Also, I wanted to play tennis at the same time. I was also very persistent that I wanted to do athletic training and go on to physical therapy school.
"Xavier was a perfect combination for me," she continued. "The athletic training program challenged me, while supporting and encouraging, which is what I always wanted. Before working (at Cirque du Soleil), I always wanted to work in tennis. My department was very supportive of that."
Aylin played tennis for two years here at Xavier, but also served as an athletic trainer for the Musketeer baseball squad, as well as a local high school football team. It was those experiences, coupled with her classroom teaching, that enabled her to go to graduate school at Emory University, although she says she still uses her undergraduate skills every day, too.
"I still utilize a lot of the skills I learned in Xavier's athletic training department," she says. "I think the best experience at Xavier was working with multiple athletic disciplines. From baseball to high school football, I learned to treat a diverse range of athletes, and developed the resiliency it takes to handle both physical and emotional conditions that may occur."
After graduation, she got her first job as a physical therapist in Atlanta before landing a couple of major opportunities in 2016 — first she became a Sports Medicine Therapist for the United States Tennis Association. Then she traveled the world specifically working for two tennis players. They went to places like Australia and China. But in 2019, she saw the opportunity in Las Vegas.
Of course, working for Cirque du Soleil brought its own set of challenges. Based in Montreal, Canada, it is the largest contemporary circus producer in the world, starting with one show in 1984 but expanding in the 2000s to 19 shows in more than 270 cities around the world, performed on every continent except Antarctica. With 4,000 people working from more than 40 countries, Cirque makes about $800 million annually.
"One is, it's kind of like it's game day every day," she says. "In tennis and any other sport, you have trainings. You have days off. But we're preparing them for a show every night. In other sports, you usually do a lot after the show or after competition or after practice. And it's just a very different environment. Just picture it like you'd have a match or a game every single day. And you're preparing for that every day."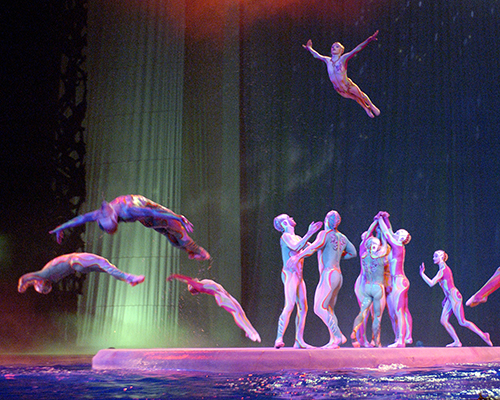 'Like a family for me'
The show that Aylin currently works for — the smash hit "O" at The Bellagio — involves a lot of water, which means she also has to know how to prepare for, and how to handle problems if people get hurt in wet conditions. Luckily, she says, she's scuba-certified, as is her new husband, who also works on the same show on the underwater team. An athletic trainer must be present during each of these performances, just in case a performer needs help. And eventually, Aylin will be trained to assist with other Cirque shows on the Vegas strip.
"I know (this job) was unexpected, but I'm so incredibly happy," she says. "I love the people I work with. There's so many different people with so many different backgrounds. And everyone is very friendly. Everyone says hello to you. And even though that sounds really minor, it's nice that every single person you pass, they make an effort to say hi."
Sounds a bit like Xavier and how everyone holds doors for everyone else. So what would Aylin say to someone who is considering Xavier's Athletic training program?
"The big thing I really liked about Xavier was I didn't know a soul in Cincinnati and I was very surprised how many people just took me in," she says. "Sometimes I couldn't get back home for Thanksgiving and families would offer me to come home with them for the weekend. I felt like people were very family-oriented. It was a family for me."
— Ryan Clark, Xavier Marketing and Communications