Holy Land Trip Helps Students See Why Israel Matters
Mar 29, 2019
Perhaps no place on earth provokes more passionate emotion and debate than the State of Israel. But Israel also is a beautiful land, rich in religious meaning and historical significance for Christians, Jews and Muslims alike. The best way to gain an appreciation for this country and all its complexities is to visit—which is exactly what Xavier students have been doing for the past five years.
Xavier's Study in Israel Program includes a semester course about the country's history and political realities, followed by a two-week trip during Winter Intersession. Initially the program attracted students seeking a traditional religious pilgrimage. But as more students from the Philosophy, Politics and the Public honors major joined, its scope has expanded.
Where faith and politics intersect
"These are students who are studying political philosophy and political science and want to be active in politics after graduation," says Professor of Philosophy Steven Frankel, PhD, who designed the program and leads the trip each year. "One of our objectives is to equip students to speak in a meaningful, respectful way with people from different faiths and political perspectives, without the expectation of changing their minds."
Throughout the fall semester course, students learn about the intersection of religion and politics in Israel. They examine the role of religious ceremonies and rituals in forming the identity of individuals and groups there. Guest speakers might include an imam from a local mosque or a representative from Xavier's Center for Faith and Justice.
Another component of the class involves visiting religious communities in Cincinnati, such as Catholic and Protestant churches, and the Hillel House at the University of Cincinnati.
Beyond the classroom
This year's Israel trip took place from Dec. 30-Jan. 11 and connected class lectures and readings with visits to archaeological sites in Jerusalem, Galilee, Bethlehem and the Judean Desert.
"It's one thing to sit in a classroom in Cincinnati and read stories, but standing on the spot where history happened forces you to think about it in a different way," Frankel says. "Students often say, 'I know I learned about this in Sunday school, but now I see why it matters.'"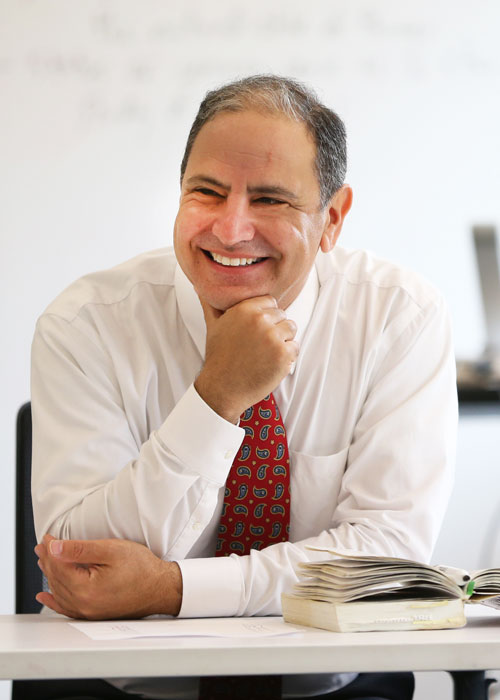 The Study in Israel Program is the result of an interfaith partnership that has grown over the years. The University is grateful to the Jewish Foundation for its support for this program, which is one example of Xavier's deep partnership with both the foundation and the Jewish community of Cincinnati itself. 
This year, program leaders from Xavier included Frankel (pictured right), Department of Philosophy Chair Timothy Quinn, PhD, and Rev. Abby King-Kaiser, associate director of the Dorothy Day Center for Faith and Justice. In Israel, a Jesuit priest from International Pontifical Biblical Institute's Jerusalem campus leads tours of sacred sites, as does a rabbi from Hebrew Union College's Jerusalem campus.
Students keep journals during the trip, and entries often reflect the program's emphasis on interfaith understanding and dialogue. Three excerpts from this year's journals include:
"I never truly appreciated the way the land highlights the narrative that Jesus tells. The words he spoke became more powerful and relatable when I got the chance to spend time where Jesus stood."
"Each person offers a unique perspective with a small piece of truth to share. Together, each voice weaves together a tapestry by which we can better understand (or at least ask better questions) about Israel and what it's like to live here."
"I think I've learned the importance of perspective. I had my own opinions about Israel before coming on this trip, and about the Bible. But being here has made me question a lot of those opinions. Not necessarily changed them completely, but certainly informed them. I've realized how easy it is to judge from afar, and how inserting yourself in those contexts can affect those judgments."
After returning home from Israel, students have lunch with Xavier President Michael J. Graham, S.J., and representatives of the Jewish Foundation of Cincinnati to talk about what they learned.
"On this year's trip, we had more experiences where students got to speak with people from different faith communities in Israel," Frankel says.
"This provided even more direct cross-cultural experience for them to process. Students mentioned finding deep insight in these presentations, and acknowledged that Israel is a complicated place that cannot be reduced to simple images or explanations. This program provides experiences and insights that they will be able to apply for the rest of their lives, no matter what field they pursue."
Feature Image: Students at the Western Wall in 2018.