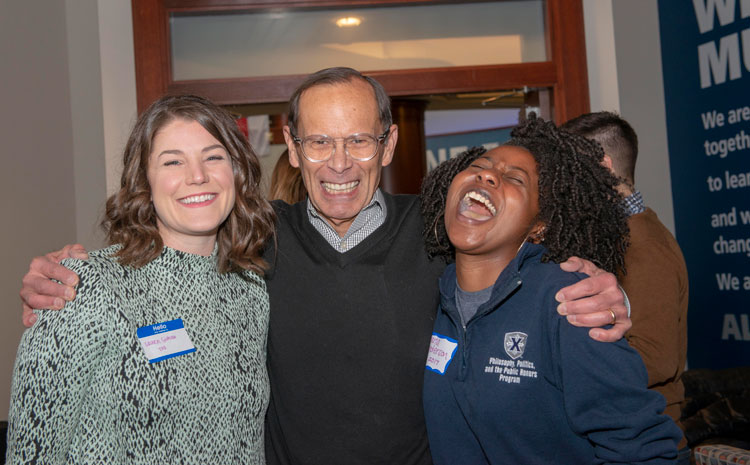 A Tribute to Gene Beaupré
Nov 15, 2018
About 100 people, most of them alumni and current students in the Philosophy, Politics and the Public (PPP) Honors Program, gathered at Reunion Weekend on Sunday, Nov. 11, to honor the distinguished career and contributions of Dr. Eugene Beaupré, who announced his retirement earlier this year.
Beaupré spent 44 years at Xavier as a beloved faculty member, PPP co-founder and mentor to hundreds of Xavier students who have dedicated their lives to public service.
He graduated from Xavier in 1969 with a bachelor's degree in philosophy. His senior year had been a contentious one for Beaupré, who served as student body president and tangled a time or two with University administration as a leader of student activism.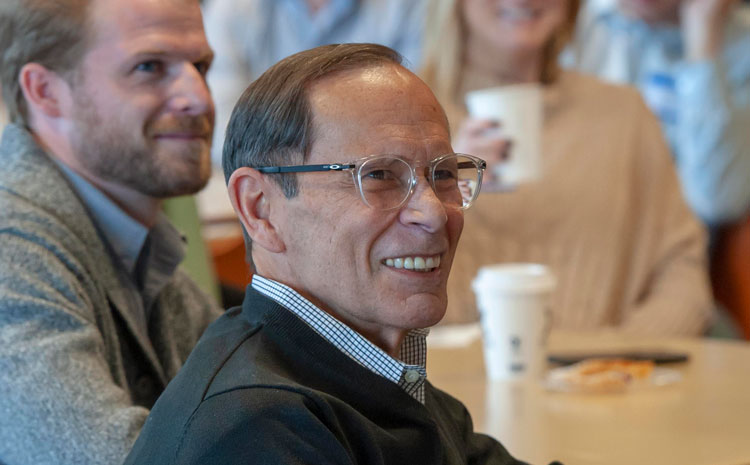 A native of Washington, D.C, Beaupré stayed in Cincinnati and made it his home. He became a founding member of the unofficial "Xavier Mafia" at Cincinnati City Hall; a group of young leaders working for the public good by advocating for political, community and social change. Beaupré ran political campaigns, served as chief of staff to three Cincinnati mayors, including Jerry Springer, and led the City's Department of Neighborhood Conservation. 
By 1974, he was still running campaigns and working for the City, but the one-time student activist returned to campus to start his five-decade affiliation with Xavier as a teacher and leader of the University's community and government relations efforts.
History Professor John Fairfield, who has taught alongside Beaupré for more than 30 years, pointed out that Beaupré helped start "just about everything at Xavier that's connected to community engagement. He started the Neighborhood Summit that brings together hundreds of neighborhood activists, he started the Community Building Institute that works with non-profits and the neighborhoods around us, he started the Service Learning Program in Over-the-Rhine, he started the Summer Service Internships and then PPP," said Fairfield. 
Paul Colella, professor of philosophy and the founding director of PPP, which graduated its first students in 2006, called PPP "Gene's program." Colella thanked Beaupré "from the bottom of my heart for what you taught me and helping to create a program that has brought all of these wonderful people together," referring to the roomful of PPP alumni, who traveled from throughout the country to celebrate Beaupré.
"Gene has been impacting students long before I was even born," said 32-year-old Kevin Hoggatt, PPP Class of 2008 and now State Director for Ohio U.S. Senator Rob Portman. Hogatt credits Beaupré with helping him get an internship in Portman's office while a student.
"He's kind of the master chess player moving the pieces sometimes behind the scenes, sometimes on the front line," Hoggatt said. "There are so many people doing wonderful things because of Gene's guidance and influence."
As Fairfield put it, "It's obvious Gene has inspired students to take public service and public affairs seriously, but I think what isn't always evident is that he has inspired hundreds of students to take themselves seriously and to take their education seriously. I don't know anyone else who is as selfless as Gene is. He never takes his eye off of the good, the greater good. Never asks anything for himself. He is always about the greater good."
Among his many gifts from the students, 2013 PPP graduate Rahiel Michael, director of legislative affairs for Cincinnati Mayor John Cranley, arranged for Beaupré to receive a key to the City of Cincinnati and a proclamation naming Sunday, Nov. 11, 2018 "Eugene L. Beaupré Day" in Cincinnati. 
Beaupré will retain an office on campus and hopes to continue to mentor students when he's not reading, listening to classical music, riding his bike, walking his dog and most important, spending time with his wife, Lynn Marmer, and their daughter, Emily.