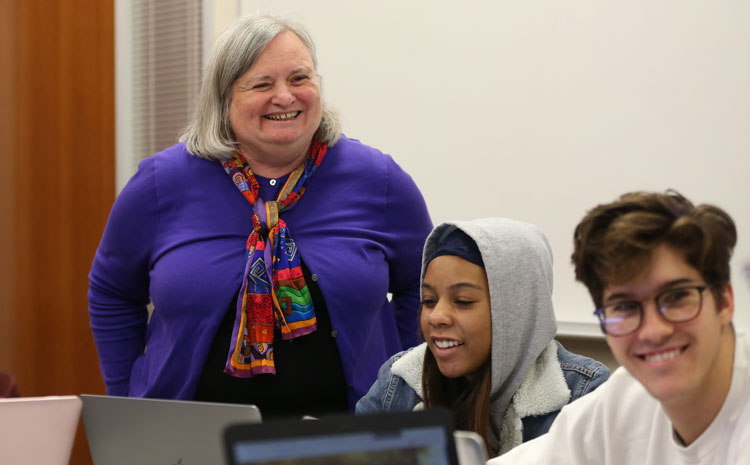 Kandi Stinson Leads Student Research into the Hidden Pockets of Hunger
Nov 8, 2018
"Learning by doing" fits well into Kandi Stinson's approach to teaching research methods. Her mandatory course for Sociology majors, Investigating Social Life, is also available to any student. And as chair of the Department of Sociology at Xavier, she makes sure to add "service" to the equation. As she puts it, "It's even better if actually doing research has not only practical implications, but is of service in the community."
The current subject of Stinson's own academic research is food insecurity in America. It's a surprising topic to many people, considering we live in the "land of plenty." The U.S. Department of Agriculture defines food insecurity as "a lack of consistent access to enough food for an active, healthy life." The Department also estimated that about 15 million U.S. households were food insecure at some time during 2017. 
She and her students set out together with the goal of discovering and understanding "hidden pockets" of food insecurity in our community.
In 2013, her student researchers began by working with a local St. Vincent DePaul Food Pantry. They went to the food pantry in person, observing and learning how the operation works. 
After reviewing previous food insecurity research, the students developed a survey. Then, over the course of three weeks, they returned to the food pantry and administered the survey to clients.  
Some of the results were enlightening, even to the professionals. While it wasn't surprising that the majority of clients were single women raising families, they also found a significant number of older, single men increasingly using the services.
Those results led Stinson to ask her next research methods class, "Could there be other hidden pockets of hunger even on Xavier's campus?" In 2016, her class administered a similar survey to Xavier students. The results revealed that 23 percent of those responding to the survey had experienced food insecurity to some degree. Nearly 11 percent were experiencing hunger. 
Stinson recalls their findings found a very receptive audience far beyond the classroom. "We presented the results in various venues, including to the student life staff at their retreat. The President of the University was there as well." 
The research also resulted in real action, including the opening of The Store—Xavier's campus food pantry. McGrath Health Center also added three food-anxiety screening questions on their intake form.
This October, Xavier held its first Food Insecurity Awareness Week, with the goal of collecting food for The Store and giving every person on campus the opportunity to learn how hunger impacts the world. 
Stinson and her student researchers aren't stopping there. They'll be sending out a new survey to measure if the incidences of food insecurity have changed. But even before the results are known, one conclusion is certain—that research that makes a real difference to the community is the best method of all.