Halloween Quotes and Stories
Top 10 Best Halloween Quotes and Stories:
Halloween Dreams
Kevin didn't have any trouble deciding on his Halloween identity. He loved animals, especially dogs, and dalmatians were in season. His bedroom had dalmatians on the walls, a spotted pillow on the bed, and plastic pawprints circling the room. Dalmatians were everywhere, and for a day Kevin got to be one...Click here for the complete story
- Story by Fr. Ed Schmidt S.J.
Maggie's Tale
Halloween wasn't always fun. To the ancient Gaels, who seem to have originated it, Halloween was deadly serious. By October's end, the dark came early, the cold never left and death dwelt nearby. Surviving the coming winter demanded attention...Click here for the complete story
- Story by Fr. Ed Schmidt S.J.
"As spirits roam the neighborhoods at night,
Let loose upon the Earth till it be light..."
- Nicholas Gordon

"Halloween wraps fear in innocence,
As though it were a slightly sour sweet.
Let terror, then, be turned into a treat..."
- Nicholas Gordon

"When witches go riding,
and black cats are seen,
the moon laughs and whispers,
'tis near Halloween."
- Author Unknown

"From ghoulies and ghosties
And long-leggedy beasties
And things that go bump in the night,
Good Lord, deliver us!"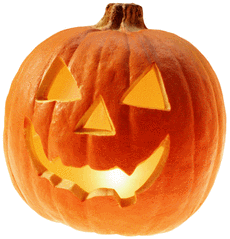 - Scottish Saying

"'Tis the night - the night
Of the grave's delight,
And the warlocks are at their play;
Ye think that without
The wild winds shout,
But no, it is they - it is they."
- Arthur Cleveland Coxe

"A gypsy fire is on the hearth,
Sign of the carnival of mirth;
Through the dun fields and from the glade
Flash merry folk in masquerade,
For this is Halloween!"
- Author Unknown

"Once in a young lifetime one should be allowed to have as much sweetness as one can possibly want and hold."
- Judith Olney

"October, tuck tiny candy bars in my pockets and carve my smile into a thousand pumpkins.... Merry October!"
- Rainbow Rowell
---
More Halloween Quotes and Stories:
"Shadows of a thousand years rise again unseen,
Voices whisper in the trees, 'Tonight is Halloween!'"
- Dexter Kozen

"When black cats prowl and pumpkins gleam, may luck be yours on Halloween."
- Author Unknown
"Halloween was confusing. All my life my parents said, 'Never take candy from strangers.' And then they dressed me up and said, 'Go beg for it.' I didn't know what to do! I'd knock on people's doors and go, 'Trick or treat.' 'No thank you.'"
- Rita Rudner
"Nothing on Earth so beautiful as the final haul on Halloween night."
- Steve Almond
"There are nights when the wolves are silent and only the moon howls."
- George Carlin
"The oldest and strongest emotion of mankind is fear, and the oldest and strongest kind of fear is fear of the unknown."
- H.P. Lovecraft
"I don't know that there are real ghosts and goblins, but there are always more trick-or-treaters than neighborhood kids."
- Robert Brault
"Clothes make a statement. Costumes tell a story."
- Mason Cooley
"I think if human beings had genuine courage, they'd wear their costumes every day of the year, not just Halloween. Wouldn't life be more interesting that way? And now that I think about it, why the heck don't they?"
- Douglas Coupland, The Gum Thief
"Halloween is an ancient druidic holiday, one the Celtic peoples have celebrated for millennia. It is the crack between the last golden rays of summer and the dark winter; the delicately balanced tweak of the year before it is given over entirely to the dark; a time for the souls of the departed to squint, to peek and perhaps to travel through the gap."
- Jenny Colgan, Welcome to Rosie Hopkins' Sweetshop of Dreams
"I'm so glad I live in a world where there are Octobers."
- M. Montgomery, Anne of green Gables
"A person should always choose a costume which is in direct contrast to her own personality."
- It's the Great Pumpkin, Charlie Brown (1966)
"It's all just a bunch of hocus pocus!"
- Hocus Pocus (1993)
---

To provide feedback, please email: jesuitresource@xavier.edu
Jesuitresource.org is developed by The Center for Mission and Identity at Xavier University with support from the Conway Institute for Jesuit Education. Learn more about Jesuit Resource.
---