Online Seminars
---

This series provides a brief overview about Jesuit heritage and education. Each section includes a two-minute video, selected readings and reflection questions. We hope that you find it useful for orienting faculty, staff and students.
---
Strengthening leadership skills and confidence through personal reflection, small group conversation on leadership findings, and peer support. See the adapted version for graduate student women.
---
An e-seminar series offering veteran faculty the opportunity to reflect, in an Ignatian way, on their vocation and personal life.
---
An e-seminar series providing insight to Catholic identity and traditions at a Jesuit university. The series contains seminars covering what it means to be a Catholic university and how Catholic traditions affect education.
---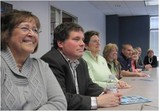 This seminar series will provide an in depth understanding of our Ignatian mission and identity as a Jesuit university. It includes a series of weekly readings, videos, and reflection questions that can be used for discussion over 4 academic semesters.
---

To provide feedback, please email: jesuitresource@xavier.edu
Jesuitresource.org is developed by The Center for Mission and Identity at Xavier University with support from the Conway Institute for Jesuit Education. Learn more about Jesuit Resource.
---