Christmas Quotes
"It is Christmas every time you let God love others through you."
- Mother Teresa of Calcutta
"Keep your Christmas-heart open all the year round."
- Jessica Archmint
"Christmas is the season for kindling the fire of hospitality in the hall, the genial flame of charity in the heart."
- Washington Irving
"As long as we know in our hearts what Christmas ought to be, Christmas is."
- Eric Sevareid
"I will honor Christmas in my heart, and try to keep it all the year."
- Charles Dickens
"Do not be afraid. I bring you good news that will cause great joy for all the people."
- Luke 2:10
"From now on all generations will call me blessed."
- Mary's Song
"Because of his boundless love, Jesus became what we are that he might make us to be what he is."
- Irenaeus
"Let us celebrate this day not because of the visible sun, but because of him who made this day."
- Augustine
"It is Christmas in the heart that puts Christmas in the air."
- W.T. Ellis
"Today the darkness begins to grow shorter and the light to lengthen, as the hours of night become fewer.... Realize that the true light is now here and, through the rays of the gospel, is illumining the whole earth."
- Gregory of Nyssa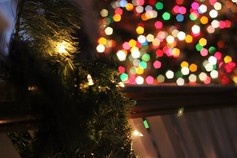 "God rescued us from the power of darkness and brought us into the kingdom of his beloved Son. Through him we have redemption, the forgiveness of our sins. He is the image of the invisible God, the first-born of all creatures."
- Colossians 1:13-15
"The gifts of God are multiplied, and we in our time experience all that the first believers did. For though the gospel account tells us only of the days when three men, untaught by prophetic preaching or the testimonies of the Law, came from the distant East in order to know God, yet we see the same thing happening now even more clearly and on a far larger scale in the enlightenment of all who are called."
- Leo the Great
"You keep us waiting. You, the God of all time, Want us to wait. For the right time in which to discover Who we are, where we are to go, Who will be be with us, and what we must do. So thank you ... for the waiting time."
- Iona Community
"Christmas Eve was a night of song that wrapped itself about you like a shawl. But it warmed more than your body. It warmed your heart… filled it, too, with melody that would last forever."
- Bess Streeter Aldrich, Song of Years
"To perceive Christmas through its wrapping becomes more difficult with every year."
- E.B. White, The Second Tree from the Corner
"Like snowflakes, my Christmas memories gather and dance – each beautiful, unique and too soon gone."
- Deborah Whipp
"Christmas is the day that holds all time together."
- Alexander Smith
"Christmas is not a time nor a season, but a state of mind. To cherish peace and goodwill, to be plenteous in mercy, is to have the real spirit of Christmas."
- Calvin Coolidge
"Let us keep Christmas beautiful without a thought of greed."
- Ann Garnett Schultz, My Christmas Wish
"The best way to spread Christmas cheer is singing loud for all to hear."
- Elf (2003)
"Oh, Christmas isn't just a day, it's a frame of mind."
- Miracle On 34th Street (1947)
"I never thought it was such a bad little tree. It's not bad at all, really. Maybe it just needs a little love."
- A Charlie Brown Christmas (1965)
"Look, Daddy. Teacher says, every time a bell rings an angel gets his wings."
- It's a Wonderful Life (1946)
"The thing I love most about Advent is the heartbreak. The utter and complete heartbreak."
- Jerusalem Jackson Greer

"Every year we celebrate the holy season of Advent, O God. Every year we pray those beautiful prayers of longing and waiting, and sing those lovely songs of hope and promise."
- Karl Rahner
"It is now, at Advent, that I am given the chance to suspend all expectation...and instead to revel in the mystery."
- Jerusalem Jackson Greer

A Christmas Blessing
"God grant you the light of Christmas,
which is faith;
the warmth of Christmas,
which is purity;
the righteousness of Christmas,
which is justice;
the belief in Christmas,
which is truth;
the all of Christmas,
which is Christ."
- Wilda English
Wide, Wide in the Rose's Side
"Wide, wide in the rose's side
Sleeps a child without sin,
And any man who loves in this world
Stands here on guard over him."
- Kenneth Patchen
The Word Became Flesh
"The Word is born this very night:
Hail, Mary, full of grace!
A hanging lantern sheds its light
On Joseph's anxious face.
The Word must come in human form,
In God's redemptive plan.
A Babe takes every heart by storm,
But who will heed the Man?
The Word is born this very night,
And humble is the place;
The world is dark, but hope is bright,
And sinners look for grace.
The Word has come to end the war
Which Adam first began.
O bless the Babe who sleeps on straw.
And listen to the Man!"
- Fred Pratt Green
"Christ is the Morning Star,
who, when the night of this world is past,
gives to his saints the promise of the light of life,
and opens everlasting day."
- Venerable Bede
---

To provide feedback, please email: jesuitresource@xavier.edu
Jesuitresource.org is developed by The Center for Mission and Identity at Xavier University with support from the Conway Institute for Jesuit Education. Learn more about Jesuit Resource.
---