Nursing
Teaching Nursing Using the Ignatian Principles
Kelly P. Beischel, RN, MSN, M.EDd, NCSN
Mentor: Cecile Walsh, MSN, RN, CNS (Nursing)
When I was asked if I would like to participate in the Ignatian mentoring program, it was with trepidation that I agreed. I am a full-time doctoral student as well as a full-time faculty member. I was not sure I could give it the time it deserved or even wanted to. However, I was afraid to pass up the opportunity to delve into the Ignatian principles with Cecile Walsh and Cathy Leahy. I am fortunate that I said yes.
We were asked to incorporate the Ignatian principles into a course we were teaching in the Spring semester. The decision to incorporate this project in the Senior Seminar class was an easy one. I believe nurses naturally manifest the Ignatian principles and I wanted the senior nursing students to express how they visualize themselves using these principles as nurses.
The Senior Seminar course description is as follows:
Course Description:
This seminar course, to be taken in the last semester, focuses on the student's transition to entrylevel practice. An inspection of personal transitions within the practice of nursing is examined. This capstone course allows the student to explore the educational transition of the program and to anticipate the professional transition into practice. Professional responsibilities of the holistic nurse are reviewed. Concepts emphasized relate to the nurse as an instrument of healing engaged in a transpersonal human caring process, self care, care of the environment and the global community.
This description lends itself to addressing the Ignatian principles. I believe that, as the senior nursing student transitions into the work place, it is an important time to, as Father Kolvenbach states, transmit "the distinctive mark of Jesuit education" (1989). This transition period proved to be a perfect time to elicit student expressions of how one would emulate the principles in nursing practice. I hoped that leaving Xavier with this fresh in their minds would imprint the mark of Jesuit education.
I created two components to this project. First, I assigned the senior students to journal weekly on a designated Ignatian principle. They were to reflect on either how they incorporated the principle in clinical, a time they witnessed a nurse using the principle or believed they would use it when they joined the work force. I graded this as a portion of the participation grade. I periodically assessed the journaling for completion and thoughtful reflection. The class met weekly on Wednesday afternoons. I found myself looking forward to this class as their reflections never ceased to amaze me.
The second component was a group presentation. I asked them to sign up in groups of 5-6 to present one of the Ignatian principles. They were asked to present an Ignatian principle that illustrates how the nurse in the workplace uses that principle. They were also challenged to express how this principle would guide their practice.
The following are a few reflections they shared in class and in their presentations:
While discussing "Finding God in All Things," Jackie told us that the following scripture guides her when she does not feel like giving it her all. Matthew 25:35-40: "For I was...ill and you cared for me....Amen, I say to you whatever you did for one of these least brothers of mine, you did for me. She said, "So, when I am tired and do not feel like giving my all, I think of this scripture and I ask myself is this how I would give care to the Lord?" One student asked if it was okay that she say, "Finding Good in All Things" instead of God because she was not sure she believed in God. When I told her that was fine and that I wanted her to feel comfortable in exploring her beliefs, she visibly relaxed. Another student stated, "Through prayer is where I find God. I can find Him in almost every situation." "Witnessing a birth," "Not everyone has the same spirituality. Respecting that as a nurse is most important." and "A nurse finds God when she works with the poor and suffering" are a few of the comments we heard in the presentation.
When discussing what Cura Personalis means to them, "Honesty with self and others," "Nurses caring for themselves to be able to provide holistic care to their patients," "Holism," "It is the ideal." were a few of their comments. During the presentation, one student expressed that "Balancing is what Cura Personalis is all about. This is not the same as juggling. When we juggle we are bound to drop something. That something may be very important..." Another stated, "Treating others as you would like them to treat you no longer works. Instead it should be 'treat people like they want to be treated'." While another commented that Cura Personalis means "involvement" to him. He believed in the importance of remembering that patients are involved in many activities that make up who they are outside of the hospital. They are not just an entity to be cared for as if they have nothing that concerns them outside of being a patient.
One student's reflection on Discernment was that seeing patients and friends making bad decisions with negative consequences has affected his decision-making. To another, Discernment is equivalent to "... the intuition that guides us". One student spoke of the vulnerability of patients making her emotional. She stated "Walking into a room seeing a patient making the decision to use an incentive spirometer after I taught him the importance of it makes me emotional. It makes me so happy." Still another expressed that Discernment meant making a difference by making the right decision.
The group who presented Magis expressed it with the mantra that "The Sky Is the Limit." They presented quotes from famous achievers who have strived and reached their goals. The students were not at a loss for words when we discussed this principle. They stated that "using evidenced based practice," "achieving goals," "staying curious," "challenging self," and "surrounding yourself by people with the same values and expectations from life" were their visualization of what Magis means.
The Service of Faith and Promotion of Social Justice provided lively discussion. There were moments I was dismayed by what I thought were 'hardened' comments. However, I applauded their honesty. I was thrilled that it allowed me into their world so that I could impart a bit of mine. Few times when our students present their perceptions of reality, can we afford the time to delve into important issues such as this one? I feel blessed that I had the luxury to discuss this important issue with them. Comments such as "providing holistic service to patients," "faith in self is important to growth," "It's important to see the patient as a person not defined by race or religion," "promoting patient spirituality," and "praying with patients is important to me" went a long way in restoring my faith. I believed this class was equipped to provide service of faith and to promote social justice, both on which a Jesuit education is based.
The discussion and presentation about Jesuit Pedagogy included comments such as the act of "learning independence teaches one to grow." They expressed, "we are all teachers" and "teaching is what a nurse does." I loved the proclamation, "teaching is an art" and Jesuit Pedagogy means "a love for learning."
Last, the discussion about Men and Women for Others included comments about serving coworkers, being a community, and team building. They saw this principle as guiding them to be advocates for their patients. They presented that paying it forward means serving others. One student discussed the importance of being open-minded if you are a man or woman for others. It was with unanimous agreement that this principle was the definition of nursing. They believed that nursing is a vocation, a calling. "You do not choose it, it chooses you." I had a student come to my office after class as she had something she wanted to add to the discussion of this principle and was too emotional to do so in class. She related a story about her uncle recently dying and her young cousin reminding his mother as she struggled to allow people to help her that it is important to be a receiver. This student emoted "The Jesuit ideal can be taken at face value as simply "doing" for others - being a servant - but isn't it just as important to allow others to do for us? This is at times "doing". Being a receiver can be just as valuable as being a giver."
As I reflect on the experience of being in the Ignatian Mentoring program, I am reminded of what I teach my novice nursing students. I teach them that they "Stand on holy ground" when they are afforded the privilege to care for the sick, the vulnerable. Equally, I have come to believe that as an educator I too stand on holy ground, as it is a privilege to be a part of my students' journeys. This experience has served to engrave that belief in my heart. I will forever remember my students' willingness to expose their vulnerability each Wednesday in our classroom discussions. Likewise, their thoughtful reflections regarding how the Ignatian principles will guide their nursing practice have influenced my own practice and will not soon be forgotten.
Integrating Ignatian Principles into ABSN Concepts of Mental Health Nursing (NURS 300)

Diana Boling, MSN, RN-BC, CNL
Mentor: Tammy L. Sonnentag, Ph.D. (Psychology)
In the Fall of 2019, I discovered the opportunity to do the Ignatian Mentoring Program (IMP) and have enjoyed being paired with a mentor to learn more about being a Xavier University Professor. I had been working for Xavier since 2017 as an adjunct in the now College of Nursing, and had graduated from XU's MIDAS program. I felt confident in my understanding of the culture of Xavier to be able to manage my new Teaching Professor role and welcomed the professional development mentorship would allow in my formative years of teaching. I had been teaching for five years as a clinical nursing adjunct in various programs at this point, and did not yet foresee the obstacles of new professorship when I had signed up to participate in IMP.
I am one of a Course Lead and teach in the Accelerated Bachelor of Science in Nursing (ABSN) Program. Students enter the ABSN program having already obtained a bachelor's degree in another area of study. The program is a full-time, fast-paced, four-semester immersion into nursing. Students complete the coursework (didactic) online and their clinical (practicum) work at local hospitals and healthcare agencies throughout Ohio. Students are expected to be highly self-motivated, organized, and driven to be successful in this hybrid program. Students must be willing to accept a large amount of responsibility for their own learning and seek support as needed. ABSN students have full-time course loads that occur in two eight-week sessions over the course of a semester. The pace is as fast for faculty as it is for students; dynamism, flexibility, and resilience are requisites for surviving the year-round cycle of new students each semester entering the program.
I am the Course Lead of Foundations of Concepts of Mental Health I & II, and the connected practicum components, Foundations of Concepts of Mental Health Practicum I & II, or NURS 300, 301, 302, and 303 respectively. Course Leads in the ABSN Program function as content expert for their course, manage adjunct faculty in didactic and clinical courses, review student performance and behaviors. The role includes duties ranging from teaching students, updating and improving curriculum in the course, collaborating with colleagues, advising students, and as of Spring Semester 2020, rolling out entirely remote clinical curriculum in three days.
My focus for this project was NURS 300 and 301. NURS 300 is a second-semester theory (didactic) course in ABSN and is the student's first exposure, in many cases, to the world of mental health. After having taught in the course for a couple of semesters, I had discerned that I wanted to bring more of what makes Xavier University Nurses "us" into the curriculum. What makes Xavier University Nurses "us," you ask? It is our Jesuit Values, the Gifts of Our Ignatian Heritage, the living application of our treasured pedagogy to nursing practice. It is the development of holistic critical thinking driven by Jesuit values, which is not replicated by other institutions in our region. Mental health nurses encounter situations in their practice that is driven by Jesuit values, making this a perfect match for integrating the gifts of our Ignatian heritage. NURS301 is the students' practicum or clinical course. In NURS 301, students were asked to reflect on Jesuit Values in a project completed with clients in the clinical setting.
Through reflection and discernment with my Ignatian mentor, it was identified that students share  similar learning barriers to understanding psychiatric-mental health concepts and that presentations would be a helpful tool to help students learn. Using voice-over PowerPoints to synthesize and deliver a variety of key components to students is an efficient delivery mode and was not used in NURS 300. My mentor's knowledge about remote learning, where to find resources, who to talk to if the resources were not apparent made the implementation of this project straight forward. As a bonus, I was given the best gift of mentorship: fellowship. My mentor and I held space for processing experiences and I was provided sage guidance on the dynamics of being a teaching novice and content expert over coffee.
NURS 300 is broken out into roughly seven to ten modules covering eight weeks of time. The course focuses on the foundational understanding of psychiatric-mental health nursing: Mental health spectrum through illness, ethical and legal issues, crisis intervention, violence, therapeutic relationships, treatment modalities, and suicide. The emotional burden of the course can be tremendous for students regardless of their experience or prior understanding of mental health issues.
In development of this project, I created a PowerPoint for each module, outlining the key points, just as one would do for an in-person lecture. Within the first three slides, I would present the Gifts of Our Ignatian Heritage and its relation to the module or challenge the student to reflect on specific ideas related to the topic. Connecting the values in each presentation became a powerful reflection process for me; it was an opportunity to express my love of psychiatric-mental health nursing and demonstrate how sacred nursing is to the healing and wellbeing of our clients.
One of the unexpected opportunities in applying Jesuit Pedagogy was the ability to address stigma of mental illness and how we, as nurses, can become agents of positive change. Each session guided students through the mindful practice of reflection and discernment. Highlighting the remaining values added context and depth to engage students in the process of critically thinking about nursing using the scope of the Jesuit education they were receiving.
In NURS 301, students were tasked to use their developing nursing skills to create an activity for their clients in a long-term care facility (LTC). Students had to assess their clients and the care environment, develop an activity based on their assessment, create a plan for carrying out the group with their clients, implement their activity, and evaluate the activity's effectiveness with the clients. Students then submitted a written reflection, which asked them to identify the Jesuit principle that was most helpful in the project.
At the end of the first term using this approach, I collected comments from student who were willing to share.  
"Please keep posting the Jesuit/Ignatian values at the beginning of each power point. I personally use them to guide my learning and practicing experience. They provide proper reflection of subject matter."
"I am not from a Jesuit background but I am glad I am able to learn and apply a different culture and value system in my nursing career to help others."
"The Jesuit principle I kept in my mind during this process was service rooted in justice and love. Providing this opportunity for the residents hopefully brought happiness and love to a group that is not always treated the best. During the activity I showed each resident I interacted with love and justice through treating them as an individual no matter their disability."
"I think creating an environment where the patient feels like they can express themselves allows the nurse to provide quality care based on what they are seeing about the patient is key to Cura Personalis."
"I felt that cura personalis and discernment both came into play for me. Knowing the individual needs of specific clients and making sure they felt that they were being included and at the same time, overall, feeling like what we were doing was for the good of everyone involved. I think we, as students, needed that group just as much as the clients did."
"I think the main point I am taking away from this experience is really considering my patients when I am planning care, interventions, or activities for them. There is no one size fits all, rather I must see each patient as an individual or group them by needs for activities. Throughout my future nursing career, I hope to ask myself, "How can I best serve my patients?" We have to meet people where they are at, developmentally, physically, and emotionally, not where we feel they should be."
"I thought most of the Jesuit value, "service rooted in justice and love" as we led this group activity. This principle emphasizes the idea that our lives can be used to benefit others, especially those who may suffer from inequality or injustice. In this situation, some of the residents are at a disadvantage with fewer family members or visitors to enhance mood and even cognition, so I viewed our group activity as providing stimulation and companionship to those who may be missing it in their lives."
In conclusion, combining voice-over PowerPoints, a practicum project, and reflective journaling created a cohesive learning experience. This allowed the students to use what they had learned and evaluate how Ignatian principles added value to their learning experience. One of the most fulfilling aspects was reading how the students connected Ignatian values to their projects with clients as acts of service, justice, and love, caring for each unique person, and providing a connection to each of the LTC residents. Without having woven the Jesuit values throughout NURS 300 and NURS 301, it would have been difficult to discern the effectiveness of my approach to applying Jesuit values to NURS 300 and NURS 301. Based on student feedback, the voice-over PowerPoints will continue in each module of the course and the project will be used again.
Mindful Minute as a Strategy for Self-Care
Jennifer Bradley, Ph.D, RN, AHN-BC
Mentor: Kathleen Winterman, Ed.D. (Education)
In the fall of 2015, I was a member of the Ignatian Mentoring Program. Based on the philosophy of the program, I planned to integrate one of the tenets of the Ignatian Mission into a nursing course in spring 2016. NURS 498 Senior Seminar is a course taken by the senior BSN students in their final semester at Xavier University. The class meets weekly throughout the semester. A strong emphasis within the course is to facilitate and guide the students as they transition from student to professional nurse.
The syllabus states that "An inspection of personal transitions within the practice of nursing are examined. This capstone course allows the student to explore the educational transition of the program and to anticipate the professional transition into practice. Leadership, management and delegation principles will be analyzed. Professional responsibilities of the holistic nurse are reviewed. Concepts emphasized relate to the nurse as an instrument of healing engaged in a transpersonal caring process, self-care, care of the environment and the global community."
Course objectives:
Evaluate nursing as a profession using professional attributes.
Develop a personal philosophy of nursing.
Debate legal and ethical issues that impact the profession and personal practice.
Demonstrate professional communication strategies within interdisciplinary teams.
Synthesize strategies in adopting a culture of safety in healthcare institutions.
Analyze effective leadership styles.
I chose to introduce a practice that consisted of ringing a chime at the beginning of each class. When the chime was struck, it signaled quiet time for the students to have 1 to 2 (timed) minutes to reflect on the present moment in which they found themselves. It gave each student the opportunity to quiet internally and to attend to what was occurring within them from a body- mind-spirit perspective at that moment. The Ignatian principle of Cura Personalis (care for the individual whole person) was the underlying influence of this practice. Cura Personalis and the holistic principle of self-care parallel each other and are emphasized throughout this course; this practice was aimed specifically at course objectives 1 and 2.
The purpose of the ringing of the chimes was to introduce and facilitate the senior nursing students to become more self-aware around the important concept of Cura Personalis. Review of the literature highlights that nurses tend to be good at taking care of others and often neglect self-care. Offering students' time for internal reflection was used to help them remember that in order to effectively care for another; they must care for themselves as well. This simple but powerful practice reinforces the importance of self-care and encourages the student to pause, breathe, and attend to what is occurring within their body-mind-spirit at that moment. A primary goal of consistently beginning class with a quiet mindful minute was to reinforce a reflective, self-care strategy.
Orem, a nursing theorist, describes self-care as the "practice of activities that individuals initiate and perform on their own behalf in maintaining life, health and well-being" (Core Curriculum for Holistic Nursing, p.373). Self-care includes self-reflection and attending to one's body/mind/spirit. Regular practices that include reflection, self-awareness and self-care are recommended to student nurses.
One of the class assignments throughout the semester is journaling. Below are some comments made during the journaling process:
"I truly appreciate the mindful minute initiated at the beginning of class. It is a great tool to restore a healthy mind and to become present with my classmates."
"At the beginning of class, Professor Bradley rings a bell in order to signal to us a minute of silence. This was the first time I have ever had a teacher do so. I find it very productive and helpful. I am able to stop thinking about my hectic life, and my to-do list and reorient to class. Therefore, I am able to take a minute to deep breathe, relax and be open to learning and participating in the class discussion."
"I like having a mindful minute at the beginning of every class. I think it helps (me) relax and get in the correct mindset to be able to focus for class. I also think it's helpful before exams because it helps you relax and control any anxiety/nervousness before the exam."
"I really enjoy Mindful Moment. I think it gives each student ample time to focus in on the class ahead, while ending conversation with other students, collecting individual thoughts, and putting away outside distractions, such as cell phones."
"I think the idea of the mindful minute has helped me improve my test taking abilities. When I get to a question that confuses me and I feel myself starting to panic, I remind myself to take a breath, pause, recenter myself, and then reread the question."
"I like the mindful minute because it is a great way to bring the class together and helps me focus on being present and attentive in class. I have actually started to use it in other classes before tests/exams to focus."
In conclusion, the opportunity to enhance the course by consistently offering a self-care strategy has been beneficial for both students and faculty. Cura Personalis (care of the whole person) is an important health care strategy for all students; it is essential for nursing students who will be caring for others in their professional roles. I will likely use this strategy in future courses as it was well-received by the students.
Cura Personalis: The Gift of the MIDAS Student (Nursing 565 - Art and Science of Nursing Practicum)
Barbara Harland R.N., M.S.N. M.Ed.
Mentor: Margaret King, R.N., Ph.D. (Nursing)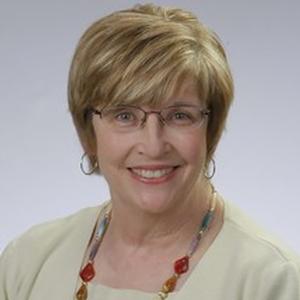 I joined the Xavier faculty family in the fall of 2005. This year marked a new venture for the Nursing program at Xavier. The nursing department launched their new nursing program called MIDAS. The program allows students who have an undergraduate degree in a non-nursing discipline to seek a graduate degree in nursing. I was assigned to teach the fundamentals nursing lab practicum, the second semester medical-surgical clinical, and to facilitate preceptor experiences in both the psychiatric and complex care clinical areas.
The MIDAS students come with a wide variety of backgrounds including but not limited to theology, social work, journalism, Spanish, physical education, early childhood education, social work, and geology. Both my concern and my challenge was to teach nursing fundamentals to students who had no background in nursing and to lay the foundation that would prepare them to fully accept the role of a professional nurse. A person might ask how is this program different from the traditional nursing program? The traditional program takes four years to complete.
The MIDAS student is a full-time student for only nineteen months, terminating with a master's degree in nursing science and developing the knowledge base that will allow them to sit for board licensure as a registered nurse.
In 2005, I was invited to participate in the faculty Manresa retreat. It was here that I began to understand the impact of Ignatian values and principles on my role as a professional educator and as a member of the Xavier community. During the discussion of cura personalis, my thoughts immediately jumped to the MIDAS students. It was at this time I made a conscious decision to focus on the gifts the MIDAS students brought from their initial degree discipline, and not on their lack of nursing knowledge.
In collaboration with my mentor, a discernment process took place. We met and discussed my observations of the class and how I thought Ignatian principles were being integrated. I thought back to the discussion of the gift of the person. As novice nursing students, the students tend to focus on what they do not know and forget what talents and knowledge they actually possess. My goal was to design a project that gave the students an opportunity to reflect on their gifts and not their deficits. My Ignatian project was incorporated into NURS 565.
One of the course assignments is a group project that promotes collaboration of the student nurse team with the manager of the hospital clinical unit. The students in collaboration with the manager identify a quality improvement issue. The students and manager with faculty approval, decide on the project focus. Within the assignment the students identify the purpose of their project, provide research to support their actions, present a plan to implement their intervention, and describe a mechanism to evaluate the effectiveness of their project.
To incorporate the cura personalis principle, the students were to submit a self reflection identifying what knowledge, talent, or gift they contributed to the project that was reflective of their initial degree or life experience. They are also asked to identify how this knowledge or talent would be complimentary with nursing process and/or the professional development of nursing.
The reflections were amazing and at times unexpected. The following are some of the personal reflections that I would like to share:
I really enjoyed working on this part of the project. It was terrific hearing what things my fellow classmates had done. I learned a lot about them as a person.
I liked working with other professionals. I am amazed at the talent in nursing.
I did not think anything I had done before had anything to do with nursing, now I know that is not true.
I am amazed that something I learned in geology could actually be appled to nursing process.
Nursing process is very similar to scientific process. I like that there is a logical way to solve problems.
My degree in journalism really helped with condensing information for the poster.
A background in education really helped with this. I was able to share that at the meeting with the manger when we talked about learning styles.
I was able to utilize my Spanish language education and develop a hand-out in Spanish.
I really enjoyed working with the second year MIDAS student. I can appreciate the program and it was good to speak with someone who went through the program and survived. I think I found a new friend.
This really made me stop and think. It was nice to think of something positive I did.
We all worked very well as a team and we all had something very positive to give. It was fun to see everyone step up and take charge of their part.
I learned a lot about my fellow classmates.
My research came in handy when teaching others about infection control.
I have presented to large groups, so I think that really helped me to present the staff education part of the project. I was very confident.
Overall evaluations of the self-reflection component were very positive, and I feel that the goal to recognize personal gifts as well as the gifts of others was met. This component will become a permanent part of the project assignment.
In conclusion, I would like to share my analogy of a gift box. The discipline of nursing provides the framework and knowledge base that forms the foundation of nursing practice. The Jesuit principles represented by the ribbon connect us to our students, our peers, our clients, and to the world in which we live. The students are represented by the multiple loops of the bow. Just as the loops go in multiple directions, represent different sizes, and appear at different levels, so do our students. However, the loop is continuous, leading back to the Jesuit principles that guide our interactions with others, and to our nursing heritage that provides direction for excellence in practice, making us nurses and nurse educators serving others for the greater glory of God, while recognizing the gifts each person adds to this package we call nursing education.
Journaling as a Strategy for Developing Reflective Practitioners
Families in Transition Practicum NURS 373
and Adult Transitions Practicum NURS 361
Cathy Leahy, MSN, M.Ed., RN
Mentor: Cecile Walsh, MSN, RN, CNS (Nursing)
The Ignatian Mentoring Program provided the opportunity in the fall of 2006 for me to spend dedicated time with my friend and colleague, Cecile Walsh. Because Cecile mentored two people, I was fortunate in that I was also able to share this experience with Kelly Beischel a friend from the College of Nursing. I gained an even greater appreciation of Ignatian spirituality through our discussions. As a result of this sharing I chose to incorporate Ignatian characteristics into the curriculum through journaling which would serve as a strategy for 60 junior year nursing students and six faculty members to reflect on how they incorporate Ignatian characteristics into their daily living.
Journaling is a method frequently discussed in nursing and educational literature as an "active learning technique that is meant to enhance reflective practice" (Blake, 2005). Reflective practice is a means of self-examination that involves looking back over what has happened in practice in an effort to improve, or encourage professional growth (Ruth-Sahd, 2003). Why is journaling important? The literature cites numerous reasons for utilizing journaling/reflective practice in the academic setting. According to Pinkstaff (1985), students find that ideas become clearer when they must write them down. Students get a better sense of the whole as they view their own actions embedded in the complex interactions between self and others (Cooper, 1991). Writing requires students not only to make connections, but to declare them in concrete form. Students are thereby involved actively in the process of their own teaching/learning (Pinkstaff).
Since the nursing students at Xavier already engage in reflective journaling in all of their practicum courses, it occurred to me to ask the question "could reflecting through journaling on Ignatian characteristics advance the integration of these spiritual characteristics into the everyday living"? It is from this platform that I included criteria in the syllabus for both NURS 373 and 361, in addition to the existing journaling framework, for weekly reflection on the personal application of Ignatian characteristics. During orientation to the course, each student was presented with two documents; Do You Speak Ignatian? and Student Life in the Jesuit Tradition. The objective of the weekly assignment was discussed by the faculty and students. The journaling activity was worth ten percent of the final grade for both courses.
I was hopeful that as discussed by Blake (2005) regarding the many advantages of journaling as a means of developing reflective practice that these students and faculty would experience a heightened awareness that includes the following:
Discovering meaning
Instilling values of the profession
Gaining perspectives of others
Developing affective skills
Caring for self (page 2)
Witherall (1991) states that journaling enables the writer to discover connections between self and other barriers to understanding, and to know more deeply about the meanings of one's own cultural narrative. Journaling provides a form of educational encounter that renders us human and frees the moral imagination.
Below are some of the quotes excerpted from over 500 journal entries. Student excerpts:
"Ignatian principles and characteristics work really well with holistic nursing"
"I've actually never been asked to include Ignatian principles/characteristics into my care and truthfully have never thought about it while I was caring for someone. But, I've always tried to keep a positive attitude about what I'm doing even though I'm nervous. I do my best to stay respectful of the patient and others on the unit by talking calmly in the hallways and addressing needs for the patient at the first available opportunity. If students need help, I assure them everything will be ok because we are all in this clinical journey together."
"The Ignatian principle that I witnessed today was seeing "good" in the universe and being grateful for the gift. The entire surgery staff seemed really aware of respecting the patient and wanting to provide the best care possible. They respected each other and the roles they each played in the surgery as well. When I went to the PACU, I also saw this respect for the patients. The nurses were with them the whole time, giving them support as they came out of anesthesia. It gave me a positive feeling to see this consistently happening."
"Discernment and 'magis' are two Ignatian principles I have been thinking about lately. As a nurse (and also just a person in general), I always hope to make good decisions. In the nursing profession, it is especially important to make decisions that are good for clients and staff. Making good choices is not always easy because of the number of factors to consider or the nature of the issue (legal/ethical dilemmas). The idea of "magis" has become a challenge for me. I try to push myself beyond basic expectations in the classroom, at clinical and also other areas of my life. I have found that the highest expectations I encounter are the ones I have for myself. My hope is that these expectations will help me to always strive for excellence, for more."
"I found God in all things with my patient. Although she was grumpy at first, I was able to be patient and help her have less pain. I did not become angry with her, but I understood and tried to put myself in her position."
"I told my patient everything that I was doing, held her hand, and sat with her in hopes that she would feel less anxious and more like an individual of importance. I did not yell at her like I heard someone else do, I really wanted her to feel like a respected human being. I see this as women and men for others not just doing what I am supposed to do as a student nurse."
"I feel that this clinical experience has opened my eyes wider to the Ignatian principle of being 'men and women for others.' Through my interactions with the nurses, my fellow classmates and Shannon, I have come to realize that this is our main purpose in life, to be 'men and women for others.' As a nurse, I will get this opportunity everyday."
Faculty response:
"I think the principle of "magis" can be a double-edge sword. In striving for more or excellence, it is sometimes hard to know when enough is enough. Over the last couple of weeks, I have had two students that have been very hard on themselves, in terms of grades on assessments, written in their journals or verbalizing frustrations that they were not more independent, functioning at a higher level or getting better grades. While I can certainly understand their striving for more or excellence (which I do encourage), I have tried to impart that this time in their education, is a time for learning and growing. It is unreasonable for them to expect to have mastered all those skills at this time. I don't want them concentrating only on the negative, I am trying to get them to acknowledge the significant advances they have made and will continue to make throughout the remainder of their education. I believe that I encouraged caring for self or 'Cura Personalis' through my reflections."
In conclusion, the assignment of weekly reflective journaling upon personal application of the Ignatian characteristics for many was a meaningful experience. I valued the opportunity to witness growth in awareness and understanding over time and most students agreed that the assignment should be included in subsequent years. As described by Cooper (1991) "these small, insignificant objects, filled with the simple words of our lives can serve to make us whole."
References
Blake, T. (2005). Journaling: An active learning technique. International Journal of Nursing Education Scholarship, 2 (1) (7), 1-13.
Cooper, J.E. (1991). Telling our own stories: The reading and writing of journals or diaries. In C. Witherell and N. Noddings (Eds.), Stories lives tell (pp.96-112). New York: Teachers College Press.
Pinkstaff, E. (1985). An experience in narrative writing to improve public health practice by students. Journal of Nursing Education, 24, 25-28.
Ruth-Sahd, L. (2003). Reflective practice: A critical analysis of data based studies and implications for nursing education. Journal of Nursing Education, 23 (11), 488-497.
Witherall, C. (1991). The self in narrative: A journey into paradox. In C. Witherall and N. Noddings (Eds.), Stories lives tell (pp. 83-95). New York: Teachers College Press.
Cura Personalis:  Teaching nurses to care for the whole "Patient"

Jondra Long, MS, BSN, RN (Nursing)
Julie Kugler-Ackley, M.Ed. (Montessori Education)
The Ignatius Mentorship program has been an amazing experience for me.   I joined Xavier University ABSN program in November 2018 in the middle of the semester.   I had been a nurse for over twenty-five years in a hospital setting in many areas of leadership, teaching and mentoring, but this was my first experience in academia.
I learned very quickly how the Xavier University Jesuit core values are a part of all areas of teaching within nursing.  My favorite core value was Cura Personalis.  I embraced the meaning of caring for the whole person, so I have adopted it into my course for nursing as caring for the whole "patient- body, mind and spirit".  I believe nursing is a calling, not just a profession. It takes a person with a heart for others to become a nurse.  If they go into nursing for any other reason it may not be as rewarding.  I now teach all of my students, starting on their first day of class at Xavier ABSN program, that we will be incorporating Cura Personalis into all we do. I believe in patient-center care, which also cares for the entire person and their family as well.  
As I began this journey in the mentorship program, I began to think about how to incorporate the Cura Personalis into my curriculum as care of the entire patient.  I begin each new cohort's first day of class with reading the core values and emphasizing patient centered care is Cura Personalis.  Each student receives the brochure A Best Practice Checklist for Jesuit Education and Online Learning. I share with them the connections of our Jesuit values and nursing.  I share that at Xavier Cura Personalis means we all care for the entire patient body, mind and spirit. I attempt to inspire my students to look at the patient's body affected by illness.  Sickness can affect the mind because of the body malfunction and one's mental health affects the healing of one's physical changes or disabilities.   Finally, the patient's spirit can be lost or hidden after the announcement of stage four cancer. Nurses must look at the whole person when caring for them.  I am now tailoring my simulations to incorporate the body, mind and spirit in each scenario.   After simulations, we have a student debrief.  Students learn how their patient's body, mind and spirit changed in the scenario.  Note in my poster below; I have incorporated this core value in my simulations. 
Another core value, Reflection, I added because each student must reflect what they learn in a simulation during debriefing about themselves, the patient, and did they address their patient's body, mind and spirit.  Here are similar questions asked after each simulation:  What did you learn in this scenario?  What did you learn about this patient's illness (body)? How was this scenario affecting the patient (mind)? Will this patient be able to recover (spirit)?
  CURA PERSONALIS- CARE OF THE WHOLE PERSON
BODY                                         MIND                                       SPIRIT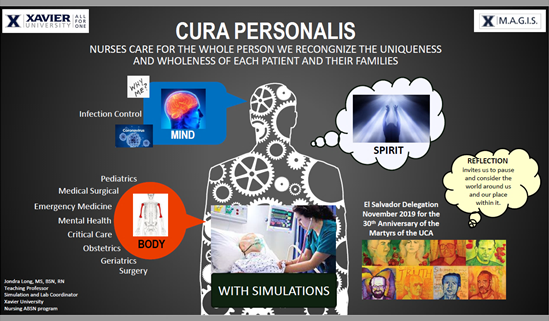 Below is a sample of the debriefing guides used in a simulation.  The values are at the end of each question as a reminder for the instructor debriefing the student.  It is in the new National League of Nursing (NLN) format in order to move to accrediting our lab.
Themes for this scenario:  BODY-MIND-SPIRIT (CURA PERSONALIS)
Instructors, we do not expect you to introduce all of the questions listed. The questions are to suggest topics that may inspire the learning conversation. Learner actions and responses observed by the debriefer need to be address specifically. This is a theory-based debriefing methodology (e.g., Debriefing with Good Judgment, Debriefing for Meaningful Learning, PEARLS). Remember to identify important concepts or curricular threads that are specific to our program.  Add how it affected the patient using "Cura Personalis", care of the whole patient - Body, Mind and Spirit.  In this scenario, questions highlighted in yellow are highly recommended.
How did you feel throughout the simulation experience?(Reflection)
Give a brief summary of this patient and what happened in the simulation. (MAGIS)
What were the main problems that you identified? (Body)
Discuss the knowledge guiding your thinking surrounding these main problems.(Nursing Process)
What were the key assessment and interventions for this patient? (Bleeding and pain)
Discuss how you identified these key assessments and interventions. (Body)
Discuss the information resources you used to assess this patient. How did this guide your care planning? (Spirit)
Discuss the clinical manifestations evidenced during your assessment. How would you explain these manifestations? (Nursing Process)
Explain the nursing management considerations for this patient. Discuss the knowledge guiding your thinking. (Mind)
Adding these questions and highlighting the Core Values, we are able to pull out and emphasize for the instructors the importance of our beliefs.  It has made it easy to transition into the Jesuit beliefs throughout my areas of nursing education.  They use this as a teaching guide to instruct our students in a holistic thought provoking mindset.

The book given to us in the beginning of this program was the Jesuit Education Reader that was helpful in understanding the principles and teachings behind our Jesuit Core Values.  My mentor would assign me chapters to read throughout the year and we would meet and discuss what they meant in my area of expertise.  Afterwards, Julie would share how she had used them in her practice.  Below is a picture of Julie and myself at the Montessori Christmas party that she invited me too.  The second picture on the right is one of their classrooms. I received the grand tour and learned more in one day about the Montessori classroom then I had ever known before.
The best part of the Ignatius Mentoring program is that you get a mentor.  My mentor was Julie Kugler-Ackley.  Julie is the Senior Teaching Professor and Field Experience Coordinator and Online Degree Program for the Xavier University Montessori Institute.   She has been supportive, inspirational, a wealth of knowledge and a true mentor.  We met regularly and several times met at the CTE lunch and learn meetings where I acquired several new teaching skills.  Julie is there when I need her and I know she will continue to answer my questions long after this program has ended.  It is truly a blessing to have Julie with her servant spirit.  A true example of the Jesuit values of Solidarity and Kinship as well as Service Rooted in Justice and Love.
Last November I was asked to be a part of the UCA Martyr Delegation from Xavier to El Salvador.  Attached is a small section of the article I wrote explaining my journey and the changes it made in my teaching philosophy.  Because of this amazing trip, I learned to listen closer to each individual's story.  The story of a person, or in my case students, opens a door to their soul from which their knowledge grows.  One's story will lead you through their personal journey and in some cases why they chose nursing. I have learned to reach out more, before a student reaches out to me.  Julie has encouraged me to share my experience with others.  The group of delegates, "The Eight" as we are known, have continued to meet and share our stories whenever possible. 

Below are snip-its of the article I wrote. 
A Nurse's View of the UCA Martyrs:  Close Up and Very Personal
By Jondra Long, MS, BSN, RN- Teaching Professor Xavier University ABSN Program

The night of the murders the cook and her daughter, Elba and Celina Ramos, only decided to stay at the UCA because their village had just been bombed.  Her husband, the gardener, asked if they could stay that night because he thought that they would be safer at the UCA.  On the night of the murders, the government soldiers surrounded the UCA.  The priests sensed that they had been plotting against them, which made this premediated murder.  That night, they dragged them out into the garden, tortured, and then killed the priests.  They also killed the cook and her daughter because the murderers did not want any witnesses of who carried out this crime.
But El Salvadorians do not have much but are willing to share with others what they have.  We visited homes and listened to the stories of the women and children in poverty there.  Issues they have with water rights.  Problems after the rainy season when their road washes out. How a local women feeds children and educates them in her home. (Pictures below)


Day 4 began listening to Rick Jones, Rosa Anaya and Paul Hicks and Herman Rosa speaking about the National Reality and the programs of the Catholic Relief Services.  That afternoon we listened to Jon Sobrino, SJ and Cardinal Michael Czerny, SJ speaking about the lives of the martyrs. 

Next, we toured the Museum of the Martyrs and viewed the rose garden where they were murdered.  As I stood in the museum for the martyrs looking at the clothes of these tortured servants of God staring at the bullet holes and blood on their clothes.  I looked over to hear the guide state that the bullets and guns used in the murders were from the U.S.  Why would we help these killers? I could not understand how the U.S. could give guns to a government that would use them to do this to men of God. It was at that moment I started crying uncontrollably.
Now, thirty years later I learn about this tragedy. Why now? I asked God, why did you bring me here?
The reason was the UCA students.
After spending a few days with the UCA Casa students, I quickly realized that the Salvadorian people are resilient.   They still have hope and believe in family.  They work hard to help each other.   We met Alana in the praxis site with Casa students in Tepecoyo that showed us her heart of love for her neighborhood children.  She has a place for the children in the village where she feeds and educates them.   We walked around the neighborhood up and down steep hills with washed out roads that were hard to maneuver.  The Casa students from this village came back and helped their family and neighbors.  One young man learning information technology set up a computer lab for them.  Ramon comes twice a week to educate the local children on the computers he has put together from broken parts of old computers so the local children can learn, because he did not have that opportunity. The joy in his face while telling us showed it all. You can see on this next picture, he was the second from the left with the big smile.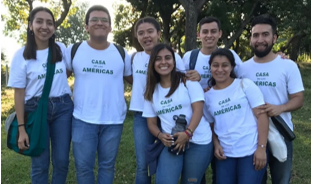 The trip to El Salvador was life changing for me and ingrained the Jesuit core values in me forever.
In summary, the mentorship program helped me grow and acclimate me as a professor. I met other new professors, by attending orientations, Manresa, and CTE classes throughout the year. The mentorship program met throughout the year to keep us on task and help us in this journey. Since coming to Xavier, I felt included in a higher calling. My goal is to lead a mission trip with nurses somewhere in the world where Cura Personalis will grow.  At Xavier University, we believe we are "ALL FOR ONE AND ONE FOR ALL"!  This is the true mission of Jesus!  I am so proud to be a part of this university.
Community Nursing Practicum (NURS 443)
Cecile Walsh, MSN, RN, CNS
Mentor: Ginger McKenzie, Ph.D. (Education)
In the Fall of 2004, being a member of the Ignatian Mentoring Program, I was given the challenge of integrating the Ignatian mission into a course that I would teach in the Spring semester. I chose the course NURS 443, Community Nursing Practicum. This course is unique to the university in that it is a "bridge" course. In the College of Nursing we refer to courses that segue a registered nurse (RN) without a college degree into master level courses as "bridge" courses. The typical student in this course has an RN license from a diploma nursing program or associate degree program. Often the student is middle aged as will be evident in the student profile that follows. I chose this group because the required course is offered before these students begin graduate work and therefore occurs early in their years at Xavier. I also chose this group because they are adult learners. Adult learners are always challenging and I believed that they may not have been exposed to the Ignatian mission.
As the syllabus states, Community Nursing Practicum focuses on health care management and various nursing roles within communities of increasing complexities. Nursing strategies aimed at disease prevention, promotion and restoration of health are applied to the management of identified community health problems. This course is a co-requisite with Nursing and Community Health (NURS 442). The course objectives involve using epidemiological methods to describe the state of health of a community; implementing problem solving processes to design resolutions for identified community health problems; enacting the role of a community health nurse in selected settings; and analyzing interpersonal communication patterns with various groups. In reality, the student chooses an aggregate within the community. Through an assessment process, the student determines a health care need within the aggregate. After research, the student develops a plan of care and implements and evaluates its effects. An additional requirement - due to the professor's philosophy- involves a service component. The aggregate must be chosen by the student on the basis of having unmet needs, largely due to financial limitations. Evaluation methods include participation in seminar discussion, practicum logs, and a written paper discussing the project.
So how might one integrate Ignatian mission into a community nursing course? NURS 443 was an ideal course in which to integrate a mission driven teaching component. Each student was working with a group in the community and the course had a service theme. A profile of the students helps to illustrate their receptivity to this project. For the Fall semester, NURS 443 consisted of 10 adult learners. They were all female ranging in age from 40-55 years. Their years of nursing experience ranged from 13-31. The students' areas of nursing expertise included emergency room, surgery, ICU, research, cardiac, pediatric, and oncology nursing.
The purpose of the mission driven teaching component was to familiarize the graduate student with the Ignatian way and promote an understanding of Ignatian values. Adult learning principles were utilized. The student was assigned to read "Cura What?" This booklet, written by Patricia Marik and Debra Mooney, is a graduate student's guide to understanding and living the Jesuit mission. When the student returned to seminar, each component of "Cura What?" was discussed. The components of the booklet cover cura personalis, discernment, finding God in all things, men and women for others, magis, and the service of faith and promotion of social justice. After self-reflection, each student shared how she integrates principles of the Ignatian mission into her life and her proposal to implement the mission in her project. The last aspect of this assignment entailed writing a short paper discussing the implementation of the mission.
The seminar discussion was enlightening. Author Debra Mooney was able to join the class for observation and input. The scholarly papers also offered insightful comments by the students. The following quotes are excerpted from the written papers and seminar discussion.
Integrating the Jesuit mission into my clinical experience and project was a natural fit. In my 30-years plus as a nurse I have implemented all of the Jesuit values outlined in "Cura What?" without even knowing they were Jesuit values.
In Cura Personalis it is clear that Xavier is driven to shape its students as a whole individual, not merely intellectually. This can be a difficult piece to integrate into my own life. I have always been the major money maker, taking care of the children and other family members while going to school. I often lose sight of taking care of my own self, body, soul and mind. However, after I made the decision to return to college, it has been extremely refreshing and supportive, that the Xavier staff respect and acknowledge my personal and work life. This environment allows graduate students to provide and care for either families as well as their education.
Discernment: As a nurse who cares for premature infants, there are often several possible courses of action, all of which are potentially good and you must choose the best option for each individual infant as what is good for one infant many not be good for another.
The community project practicum brought me much discernment. I could have made it easy on myself and chose a path that had already been taken, but in my heart, I felt pulled in a different direction. Deciding to start and implementing a support group for adolescents who self-injure was not an easy decision.
As a nurse, I believe I have a gift for seeing good (God) in all things and in all people. I believe all persons have some good in them. I believe God is always present with us in our lives; I also believe all things happen for a reason. Seeing the good in all persons is really a gift; a gift of patience and understanding.
I have always felt that challenged children, no matter the source of the difference, possess a gift from God. A child's gift from God to others may be simply that they enrich the lives of those with whom they come in contact thereby offering a glimpse of Christ known to be found in everyone.
Finding God in all things: a smile from a patient, a compliment from the family, or a satisfied feeling when I know I have done my best at the end of a very long day, even if I did not get everything done.
Men and women for others: I feel that nursing for me has always embodied this ideal and what nursing is all about: a mission and service to the community. I do not really think most individuals would continue to stay in this field just for a paycheck. The work is too difficult and demanding. There has to be something more spiritually and psychologically driving most individuals to stay in it.
Striving for excellence, or magis, is the foundation of my clinical experience. It is truly refreshing to discover that there are many new things to learn...even after age 50. The feedback I have received in class and in my log entries has helped me to think more about what I'm doing and how to do it. As I have challenged myself to think about my project, I have revised my plan several times in an effort to "strive for more."
I have been raised with many of the Jesuit values such as you must see God in all things and you cannot tolerate social injustice towards people. If you can bring about a change, do so in a non-violent way that brings God the Glory. I was raised in an activist household, every Sunday after church we would listen to Martin Luther King speeches and had to reflect on them. The Jesuit mission enforces many of these values to me and helps to bring everything in my life in perspective. We, as students, are here to learn at a scholarly level and also to gain understanding of how to serve the community better with our enhanced knowledge.
In conclusion, the assignment of integrating the Ignatian mission into a course was very beneficial to the student and the professor. During discussion all students agreed that the assignment should be included as part of the course in future years. The assignment instigated a self reflection by the student that would not have occurred otherwise.
Paper presented at the Nurse Educator Institute, Branson, MO, March 31-April 3, 2009 and at the Association of Community Health Nurse Educators National Conference, Chicago, IL, June 11-13, 2009.
---

To provide feedback, please email: jesuitresource@xavier.edu
Jesuitresource.org is developed by The Center for Mission and Identity at Xavier University with support from the Conway Institute for Jesuit Education. Learn more about Jesuit Resource.
---