Music
Quick Links:
Social Justice: Gender Equity in Concert Programming
Benjamin A. Chamberlain, D.M.A.
Mentor: James Wood, Ph.D.
Introduction
The Ignatian Mentoring Program facilitated dialogue with Dr. Wood and reflection on teaching, which led directly to changes in my programming for Xavier's Symphonic Wind Ensemble. I was aware of the gender equity issue facing classical music, but not until I examined our 2015-2017 repertory did I fully realize that I had a potent opportunity and responsibility to be part of a social justice solution. Xavier University shares with the Society of Jesus "commitment to a faith that does justice through . . . a creative engagement with culture."[1] I accepted this as an invitation to purposeful action, creating an approach to programming as an issue of social justice.
Read full text of "Social Justice: Gender Equity in Concert Programming"
---
Incorporating Discernment into a Music Course
Kaleel Skeirik, Ph.D.
Mentor: Maggie King, Ph.D. (Nursing)
Abstract:
A model of academic learning that uses music to link traditional academic content (intellectual primary and secondary source data plus critical analysis) to the process an individual uses in forming values and moral decisions made through the application of the Ignatian discernment process.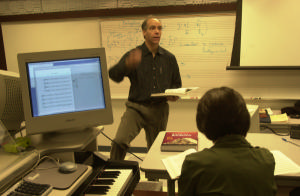 There is a long history that speaks to the power of music to move people, from the story of the Walls of Jericho in the Bible to the settings of Wilfred Owen's poetry by Benjamin Britten in his "War Requiem." Yet, all too often the music instructor, the published texts and the scholarly histories go out of their way to remain "scientific," adhering to the rigors of excellent musicological standards when teaching students about music.
Read full text of "Incorporating Discernment into a Music Course"

Back to Top
---

To provide feedback, please email: jesuitresource@xavier.edu
Jesuitresource.org is developed by The Center for Mission and Identity at Xavier University with support from the Conway Institute for Jesuit Education. Learn more about Jesuit Resource.
---