Biology
Ignatian Pedagogy: Integration of Life Science into K-8 Classrooms
Sara Baltz, MS Biology
Mentor: Hem Raj Joshi, MS, Ph.D. Mathematics
Prior to beginning the Ignatian Mentoring Program (IMP) I knew very little about Ignatian pedagogy. Upon meeting with my mentor and doing research, I discovered that the pedagogy builds upon what many of us already do as educators. For this program, I decided to focus on a non-major biology course I teach, entitled "Introduction to Life Science for K-8 Education Majors" (BIOL130/131). I feel that working with future educators gives me a special platform to model skills that I hope they gain as they venture into their own classrooms. Elementary and middle school educators play an extremely important role in developing young scientists and a scientifically literate public. I believe it is especially important that my students come out of this course having the skills to reflect on prior knowledge and newly gained insights to put them into action in their lives and future classrooms.
This course runs in the fall every year and is a 2-credit lecture and 1-credit lab class that introduces the basic principles of biology that any K-8 teacher should know. When I took over the course, I started out by not changing the format from the prior year's instructor. From that experience, I felt I had a good grasp of the goal of the course and the following year I began making changes and implemented two new assignments: (1) lesson plans and (2) a project based on "Ishmael" by Daniel Quinn. After some self-reflection and student feedback, I opted to keep the lesson plans, but due to time constraints I removed the Ishmael Project.
Now that I've gone through the IMP and learned more about Ignatian pedagogy, I believe that for subsequent years the Ishmael Project is worth implementing again, in some format. Details of the lesson plans and Ishmael project are provided below.
Expanding on Lesson Plans
One of my major goals in this course is to show students how to apply this course material to their lives by creating life science-based lesson plans for K-8 students. Each student brings a different level of experience to the table, so a novice has the ability to learn from older students and older students can gain a different perspective. My expectation is that regardless of student experience all of them will be able to walk out of my class with three separate lessons that they can add to their teaching portfolios.
To maintain consistency, students use the XU lesson plan template (provided by the Education Department) to complete their lesson plans. The lesson plans utilize the "Ohio New Learning Standards: Science Standards." The first lesson plan is done individually and focuses specifically on "science inquiry and application" standards and asks students to utilize the scientific method to create a lesson specific to the grade level they want to teach. Once they receive feedback, they are asked to create a second lesson plan in groups of 2-3 people with the same grade-level of interest. This lesson plan focuses on grade-specific life science topics, covered in BIOL130/131, using state standards. The third lesson plan is a non-traditional lesson where students work in grade-specific groups and create a field trip to the zoo to see how it is possible to teach beyond the classroom.
Expanding on Ishmael Project
Two additional learning outcomes for this course include being able to evaluate the validity of the theory of evolution as a unifying principle in science and to identify how biology relates to every day life and sustainability. To help students reach these goals, I have them read a piece of fiction, entitled "Ishmael" by Daniel Quinn. Even though this book is fictional, it is intended to make them think and reflect both intellectually and spiritually. Specific pages are assigned and due prior to in-class discussions. Upon completion of in-class discussions, students do a self-reflection. Once we have finished reading the book, students work as groups to design a project that focuses on sustainability and community outreach that is applicable to their own classrooms.
Student Feedback
To help me gauge how students responded to activities, assignments, and labs, I added two mandatory written questions on the CoursEvals starting in Fall 2016 for BIOL130/131. For this course I ask students the following two questions: (1) As I try to improve upon the course, I would like your constructive criticism. Please identify 2 activities/lessons, either in lab or lecture, you feel the class did benefit from and why I should keep them for future classes; and (2) Please identify 2 activities/lessons, either in lab or lecture, you feel the class did not benefit from and your reason why.
Thirty-one students responded in Fall 2016 and 39 students responded in Fall 2017. I have pulled out a sample of the feedback relevant to the Lesson Plans and Ishmael Project.
Feedback for Question #1:
I think the group lesson plan and Zoos are Classrooms activity benefited the class. I think you should keep these activities in the class because the group lesson plan allowed us to work with others on a lesson plan and get tips from an older student about how to write effective lesson plans. The Zoos are Classrooms activity allowed us to go in groups to the Zoo to see the different animal exhibits and apply them to objectives.
Group lesson plans; Learning and working with upperclassmen helped me tremendously
I enjoyed completing the partner lesson plan, as well as, the Zoo is a Classroom project. Each of these activities focused on the material while also emphasizing the skills required to teach concepts associated with biology as future teachers. They were fun to complete and I feel that I learned a lot from them.
I really liked the zoo project and I also liked the group lesson plans. I think the lesson plans were most beneficial in preparing us for teaching in the field.
I really liked the zoo project- field trips are something I have never talked about in any of my education classes before.
Well, I personally loved all of the Ishmael discussion. I just wonder if there's a better way to incorporate it into the course. I think it could also be related to teaching evolution in the classroom because I do feel as though the book deals with the origins of Christianity (i.e. Cain and Abel, etc.).
I found Ishmael to be a very unusual and interesting book. Even if students did not like it, I think it helps students view conservation and sustainability from a perspective they may not have thought of before. This book could also be useful to tie into future teaching for older age groups. I would keep this book in the course.
Feedback for Question #2:
Overall I enjoyed reading Ishmael, but I thought that it had little to do with the overall course. I thought it repeated a lot of other assignments that we had.
I think that the Zoos are classrooms and Ishmael assignments were good ideas, however I struggled to relate it to my future career of being a Montessori teacher. A lot of the material in the course I was uncertain how it would relate to teaching in the 3-6 year old environment. Any instruction on how I could use this in my future career would have been really helpful. I did really enjoy getting to do lesson plans that related to my age group of choice.
Although the "Ishmael" book was interesting, I did not feel that reading this book was necessary to understand the topic it sought to emphasize...I feel that I could have understood...the concepts that these projects/activities sought to teach without the stress of the extra work.
I did not think the Ishmael reading was beneficial. As a future educator I want to effectively teach science to my younger students and I found the Ishmael reading and assignments un-beneficial. I do think the sustainability group project was great. To me making the lesson plans, videos, or books, was something I could see myself using in my future classroom and actually found that helpful. I just think the book was not completely necessary and did not help me when creating the group project.
I think reading "Ishmael" was not the best use of our time to talk about the importance of conservation.
While Ishmael had a valuable lesson, it was very dry and added more assignments and stress to this course.
Conclusion
Asking the students for their feedback was invaluable. I received overwhelming support for keeping the lesson plans because students could see the direct relationship between those and what their personal goals are. There were a few students that were opposed to the zoo field trip for logistical or personal reasons.
Regarding the Ishmael project, I received more negative responses from students than positive; however, the most common feedback involved workload complaints or how the assignment was incorporated within the overarching course content. These are a few of the reasons I chose to eliminate the assignment during the 2017-2018 school year.
For future semesters, I'd like students to get more value out of the Ishmael project. Therefore, I plan to revisit and revise the course's schedule and the assignment itself. Typically, the concepts of ecology, sustainability, and conservation are covered towards the end of the semester, if time permits. If I start the semester focusing on the major themes of sustainability and evolution and intertwine them into the content regularly, students should be able to see the relevance of the assignment. Additionally, I plan on revising the assignment itself to focus on how to incorporate sustainability and conservation into K-8 classrooms.
The Ignatian Mentoring Program allowed me to see the importance of the assignments I have been trying to implement. The challenge now is refining them and implementing them with the best strategies possible.
Taking Time to Think: Bringing Reflection and Discernment into the Freshman Biology Laboratory
Heather Balyeat Ph.D.
Mentor: Rhonda Norman, Ed.D, LPCC-s, LICDI, CDFI
The Ignatian mentoring program gave me an opportunity to explore Ignatian pedagogy in an intentional way. I teach many freshmen in a difficult subject. Significant numbers of my students struggle, not just with passing, but also with making high enough grades to pursue their goals of medical school. Part of the reason I joined the mentoring program was in search of ideas that can help these students not just improve grades, but to also help them learn to deal with how their dreams might need to change. Working with my mentor, Rhonda Norman, I soon narrowed in on the Ignatian pedagogical concepts of reflection and discernment as a focus.
Rhonda shared with me that she incorporated reflection into her some of her counseling courses by requiring students to submit journal entries. These entries act as a form of self-care, helping students reflect on difficult cases, and to communicate these "softer" issues with their professor. She described how students learned to better deal with stresses by writing them down and processing them, as well as her ability to step in and give students additional support as needed.
This inspired me to begin to explore developing a Canvas based module that can be used in our introductory biology lab courses to help students practice the Ignatian values of reflection and discernment. I also gained inspiration from our science teaching book group led by the Center for Teaching Excellence. The modules would also incorporate a more deliberate exposure to learning skills and scientific thinking. By using Canvas, a course can easily modify the template as needed. I chose to develop this for lab because they have a little more time, and it will also reinforce some of the same skills and concepts students learn in their lecture course. The intent is that the reflection will take no more than 10-15 minutes a week for the students, with a few weeks requiring up to 30 minutes. Class time used will typically be no more than 5 minutes, with some exceptions.
I did pilot some of the material over the fall and spring. I started using exam wrappers and began providing more explicit instructions regarding the study aid materials I provided in class. I was satisfied with student reflection with the exam wrapper. I had the most engagement when students shared their plans for studying for the next test with another student. After years of suggesting it, I finally had a student tell me that the concept maps were really helping, so this made me hopeful that exploring this information more deliberately would help students navigate their first year successfully.
So far, I have been populating modules using materials I already provide and use in my course, while supplementing with further items as I find them. I was particularly pleased to discover information on self-compassion through an undergraduate student research project. Over the summer, I will flesh out the modules and work on the graphic design. By fall, I should be ready for a pilot project.
Each week will have an individual module. The module always has a reflection component. Students are asked to either purchase a composition notebook for their reflections, or to use a computer file. Their weekly reflections will be uploaded or read, and instructors will monitor on a regular basis to make sure they complete their reflection every week. Some modules will also contain material for students to explore and may require them to provide proof of their explorations. At the end of the semester, their reflections will either be part of their lab participation grade or part of their homework grade.
Module content is loosely divided into four areas: developing metacognition, exploring study skills and Xavier resources, discerning your future choices, and thinking scientifically.
This initial week is the start of introducing metacognition into the course. We are hoping to move them beyond the grade to thinking about what they are actually learning, and why it is important.
As students settle in, the next two weeks will focus on study skills and campus resources. Their study skills reflection will challenge them to compare high school to college, and how they might be different. We will follow up on this reflection after the first test and ask them to re-consider their study approaches. They are also challenged to find at least two people they can form a study group with, and actually talk to them.
These two modules contain video links (ASAP Science "9 Best Scientific Study Tips"), memorization tips, and advice on how to read a textbook. We will also consider different Xavier resources such as the academic support center, McGrath, success coaches, advisors, and instructors. They will be asked to screen shot their visits to these web pages and create a ranked list of places they will go in certain situations. Essentially, this reflection will be to create an action plan of what they will do when certain problems arise. They will be asked to share at least one plan with a fellow student during class.
We will wrap up the first month by considering the dreaded "What do I want to do with my life?" question. We will ask them to have multiple ideas. Biology has a Canvas page which explores various careers biologists can do, and we will send them there to explore. They will be asked to have at least two distinct career paths and explain what about those paths interest them.
At this point, students will have developed some routines in their study. The next rounds of reflection will focus on what they are currently doing. We will ask them to do a sleep journal, along with looking at how they are eating and exercising. We will challenge them to find their own research on how these habits affect learning. We may use the following quote to stimulate thought: "Judge your success by what you had to give up in order to get it."- Dalai Lama XIV
Another module will ask the students to consider where they find answers to their questions. Too many students turn to Google for their answers, rather using their own knowledge, their books, instructors or fellow student. This assignment will have them try to Google an answer, and then reflect on where they should turn first when answering questions.
Our first exam would be coming up soon, and an exam wrapper will be provided. Below is the version that I have been using.
When did you start studying for the exam?
How many hours did you spend studying for the exam?
What study techniques did you use?
Did you come into open lab? Did you talk to your instructor? Did you attend SI sessions? Did you participate in study group?
Did you answer the questions in the lab manual?
How do you feel about your performance on the exam?
What was the easiest part of the exam for you? Why?
What was the hardest part of the exam? Why?
What study technique do you think helped you the most? The least?
What will be your study plan for the next test?
Share your study plan with at least one other student.
This first exam is a rude awakening for many of them. So, for their next reflection we will ask them to find an instructor or staff member at the university and ask to share a story of how they dealt with failure.
After they explore the idea of coping with individual failure, we will ask them to explore the role of failure in science. Several quotes and possibly a story will be provided as source material for the reflection. For example:
"Every detection of what is false directs us towards what is true: every trial exhausts some tempting form of error"-William Whewell
"Every great improvement has come after repeated failures. Virtually nothing comes out right the first time. Failures, repeated failures, are finger posts on the road to achievement. One fails forward toward success." - Charles Kettering
Following this exploration will be more chances at metacognition. After seeing work done by Zenab Saeed, an undergraduate researcher who studied self-compassion for her research, I incorporated a unit on self-compassion into our modules. Self-compassion involves treating ourselves and our struggles the same way we would treat others in the same situation. For this module, they will visit the website set up by Dr. Kristin Neff, and work through one of the exercises in self-compassion.
Before students get really tired, we will look at the idea of motivation. We will consider a video on motivation and ask them to develop activities that can motivate them, whether it is music or exercise or volunteer work. These activities will be there for them when they hit the doldrums after Thanksgiving break.
The labs in this section also lend themselves with discussing scientific thought and approaches. There is one lab in particular that rarely gives perfect results. We will ask them to reflect what this means for experimentation. Was the problem with the experiment? The implementation? What does this tell you about working with living things and what must be done to have confidence in your results?
We will also do a retrospective reflection on how well they are keeping up with the study plan, and any changes they had planned to make to their daily lives (like sleeping more). We will again ask them to verbally share information with a fellow student on either what they have been doing, or what they plan to change.
Before the end of the year, there will be another exam and a writing assignment. The exam will have another exam wrapper. Prior to the writing assignment, we will ask them to reflect on how scientific writing is different from the research papers they completed in high school. On another reflection, we will ask them to reflect on their experience of writing a methods section and comparing it to the student samples they were shown.
After their writing assignment is graded, we will also have them do a writing wrapper. Some of the questions asked will be:
How much time did you spend writing?
How much time did you spend doing research?
Did you proofread your paper? Did anyone else proof your paper?
Did you talk to a librarian? Did you go to a science specific database?
Did you read the guidelines in your lab manual? Did you follow these guidelines?
What was the strongest part of your paper? Why?
What was the weakest part of your paper? Why?
What steps can you do take to improve your paper next time?
At this point, we will be approaching the end of the semester. We will have at least two more discernment modules. One concerns the content of the course-which parts of the biology did they like/dislike? We can then connect this again to future plans. This time, we will ask them to look for activities that they can do over the summer that link to activities they enjoyed as well as their eventual career. We will point out that January is the ideal time to start pursuing those opportunities. We will again refer them to the Biology Canvas site for ideas.
In addition, we will incorporate a module on how to approach the student evaluations. Students don't always have a good sense of how the student evaluations are used, and what kind of comments are useful. Particularly in multi-section lab courses where your instructor does not have control over the material, the students need a little more guidance on how to best evaluate their experience. The reflection will be the completion of their evaluation for the course.
The final reflection will involve discussing why we made them write the reflections, and explicit discussing Ignatian pedagogy and metacognition. We will ask them to reflect on both the information they learned in lab, and what they might carry with them.
Ideally, by the time they work through these units, students will hopefully have developed a more consistent practice of self-reflection and discernment. We hope that these habits will stay with them, and that they will have also developed a tool kit of study habits and resources that will lead them to graduation and beyond.
Acknowledgements: I want to thank my mentor, Rhonda Norman. Her insights into students and teaching were of great inspiration. I thoroughly enjoyed our coffee breaks, and ended up feeling much more integrated into our University community.
Challenging Students' Preconceived Notions on Evolution
Neema Nourian, M. Sci.
Mentor: Roy J. Cohen, Ph. D. (Chemistry)
When I was offered the opportunity to participate in the Ignatian Mentoring Program, I was, to be honest, initially hesitant to join the program, because at the time I was afraid that the goal of the program was religious indoctrination. This reservation stemmed from the fact that up until then I knew very little about Ignatian pedagogy. At the same time, this lack of knowledge, along with my inherent curiosity, eventually motivated me to join the program and learn more about Ignatian pedagogy.
As a result of participation in the program, reading multiple articles, and several meetings with my mentor Roy Cohen, I quickly learned that the Ignatian approach to education, and to life in general, can offer valuable practical wisdom, even for a non-religious person like me. Consequently, I decided to apply the Ignatian approach in the spring semester of 2009 to a course that I teach and coordinate every spring semester: General Biology II Laboratory (BIO 163; 8 sections; 140 students; 5 different instructors).

Incorporation of Ignatian Pedagogy in General Biology II Laboratory
The major topics covered in General Biology II Laboratory (as well as in the General Biology II lecture course that this lab course complements) are evolution, ecology, animal behavior, and taxonomy. These topics, especially evolution and ecology, are issues that go beyond the classroom. They are topics of discussion in politics, in the popular press, in social settings, in religious settings, and in family settings. Thus many students come to class with at least some preformed opinions on these issues. This fact makes the teaching of these topics even more challenging than they inherently are: How does one present the scientifically established facts in these areas, facts that are bound to be contrary to what some of the students personally believe, without insulting and/or alienating the students? I have been wrestling with this issue for almost two decades, and I believe that for the most part I have found a way to challenge students' beliefs in a non-confrontational manner. Nevertheless, I am always looking for more effective ways to accomplish this goal, and it is to that end that I (along with the other instructors teaching General Biology II Laboratory) will be applying the principles of Ignatian Pedagogy to this course.

I. Methodology
Since coverage of evolutionary principles inevitably crosses paths, by its very nature, with Biblical creationism and intelligent design, we decided to employ the principles of Ignatian Pedagogy to address, rather than to ignore, the relationship between these different points of view about the history of life on this planet. Furthermore, we wanted to identify any misconceptions students might have about the theory of evolution, and, finally, to determine how effective our coverage of evolution is in removing these misconceptions. To that end, we devised a set of 25 statements regarding Biblical creationism, intelligent design, and the theory of evolution and asked the students to evaluate the statements, once before our coverage of evolution in the course and again after we had finished covering evolution.
The 25 statements were as follows:
1. The fact that evolution is considered a theory by the scientific community indicates that evolution is an established fact.
2. The presence of gaps in the fossil record undermines the validity of evolution.
3. Believing in evolution demands that one reject the existence of a creator.
4. Evolution and the literal interpretation of Biblical creationism are incompatible.
5. Evolution is compatible with intelligent design.
6. Darwin was the first person in history to propose that living organisms undergo evolution.
7. Intelligent design is based on scientific evidence.
8. The proponents of intelligent design believe that the intelligent designer is God.
9. All organisms that exist today, including humans, share a common ancestor.
10. The theory of evolution can be scientifically tested.
11. Intelligent design can be scientifically tested.
12. Modern humans are the product of evolutionary processes, the same processes that have shaped all other living organisms.
13. Nearly all scientists accept the evolutionary theory to be a scientifically valid theory.
14. The available data are ambiguous (unclear) as to whether evolution actually occurs.
15. The age of the earth is less than 20,000 years.
16. There is a significant body of data that support the evolutionary theory.
17. The history of life goes back to more than 3 billion years.
18. The evolutionary theory generates testable predictions with respect to the characteristics of life.
19. The evolutionary theory generates testable predictions with respect to the origin of life.
20. The theory of evolution cannot be correct since it disagrees with the Biblical account of creation.
21. Humans exist today in essentially the same form in which they always have.
22. Much of the scientific community doubts if evolution occurs.
23. The theory of evolution brings meaning to the diverse characteristics and behaviors observed in living forms.
24. With few exceptions, organisms on earth came into existence at about the same time.
25. I am familiar with the tenets purported by intelligent design.
(Some of the above statements, as well as the grading system, came from Rutledge and Sadler, 2007.)
For the initial evaluation, students were given the statements on the first meeting of the semester (i.e., before coverage of evolution in the course). They were directed to read the statements and assign one of the following letter grades to each statement:
A = Strongly agree B = Agree C = Undecided
D = Disagree E = Strongly disagree
In accordance with principles of the scientific method and Ignatian Pedagogy, every step possible was taken to make sure that the answers students provided to the above statements were fear-free and truly based on what they already knew about evolution and how they genuinely felt about the theory of evolution. To that end, it was repeatedly emphasized to the students that the purpose of the survey was not to pry into their personal beliefs, but rather to find out how effective our coverage of evolution in this course is. Furthermore, students were assured that their names would not be used in the analysis of the results, and that any conclusions drawn from the survey would be based on class results, not individual results. Finally, students were repeatedly assured that their grade would not be affected in any shape or form by the answers they provide to the above statements. (And to make sure that students would not search the subject matter prior to their evaluation of the statements, the survey was conducted in the lab.)
The statements were given to the students and they were given as much time as they desired to complete the survey. Completed surveys were then collected and the answers were analyzed. Then once we had finished covering the topic of evolution in the course (five lab periods), students were given the same exact set of 25 statements and were once again asked to assign a letter grade to each statement. Completed surveys were collected again and the answers were analyzed. Finally, their pre-coverage answers were compared with their post-coverage answers to determine whether their knowledge and/or acceptance level of the principles of evolution had significantly changed as a result of our coverage of the evolution in this course (as well as in lecture, which took place simultaneously).

II. Analysis of the Results
This project constituted not only an application of the principles of Ignatian Pedagogy, but also a scientific study. As far as the scientific aspects of the project were involved, it was necessary not only to ensure that the conduct of the study and collection of data were scientifically sound, but also to make scientific analysis of the data possible. For that purpose each statement was assigned a numerical value. More specifically, statements 1, 4, 8, 9, 10, 12, 13, 16, 17, 18, 19, 23, 25 were considered to be true statements and the letters were given the following numerical values:
A = 4 B = 3 C = 2 D = 1 E = 0
On the other hand, statements 2, 3, 5, 6, 7, 11, 14, 15, 20, 21, 22, 24 were considered to be false statements and thus the following numerical value was given to each letter grade:
A = 0 B = 1 C = 2 D = 3 E = 4
Next, the numerical values of all the 25 statements from each student were added together to generate a grand total for that student. The grand total for each student was then used in the following scale and each student was placed, based on their grand total, in one of the categories listed below:
Very high knowledge and acceptance: 89-100
High knowledge and acceptance: 77-88
Moderate knowledge and acceptance: 67-76
Low knowledge and acceptance: 53-66
Very low knowledge and acceptance: <52
The above approach placed the entire student population (all the eight sections of this course) in the above categories, once before our coverage of evolution and once afterwards. Finally, the two sets of data (i.e., the pre-coverage and the post-coverage results) were subjected to a G-test in order to determine whether or not any change seen in the pre- and post-coverage results were statistically significant.

III. Results
The pre-coverage and the post-coverage results from all sections are shown in Table 1.

Table 1. Pre-Coverage and Post-Coverage Student Responses. Students in General Biology II Laboratory were given a set of 25 statements once before coverage of evolution and again after coverage of evolution. Students were asked to assign one of five pre-defined letters to each statement. The numerical sum of the responses by each student was then calculated and the student was placed into of the categories listed in the table. The table reflects the results of the two surveys for all the sections (a total of 137 students completed before coverage of evolution while a total of 131 completed the survey after coverage of evolution).
Knowledge/
Acceptance
Pre-
coverage
Post-
coverage
Change
Very High
3
13
333% increase
High
12
37
208% increase
Moderate
33
45
36% increase
Low
59
30
49% decrease
Very Low
30
6
80% decrease
As can be seen in Table 1, there was a significant (G = 48.135; p-value = 1.99E-10) increase in the students' knowledge of the principles of evolution, as well as in their acceptance of these principles, between the two surveys. The largest increase was seen in the "Very High Knowledge/Acceptance" (333% increase), followed by the "High Knowledge/Acceptance" category (208% increase). These significant increases were accompanied by significant decreases in the number of students who had shown a very low or low knowledge/acceptance of the principles of evolution (80% and 49% decreases, respectively). Therefore, the results showed that both knowledge and acceptance of the principles of evolution increased significantly among the student population taking General Biology II Laboratory, as determined by the comparison of the pre-coverage results with the post-coverage results.

IV. Conclusions
Two major conclusions can be drawn from the results of this study. First, the significant increase in students' knowledge of the principles of evolution indicates that our coverage of evolution in the lab (as well as in lecture) achieved its intended goal. Second, it can further be concluded that the inclusion of the principles of Ignatian Pedagogy was helpful in correcting misconceptions that students had about evolution.
The role that Ignatian Pedagogy played in this respect was two-fold. First, the very idea for undertaking this project was the direct result of my participation in the Ignatian Mentoring Program. My newly acquired familiarity with the Ignatian approach to education inspired me to incorporate this survey into the course as a means to discuss, in a non-controversial manner, the relationship between evolution, on the one hand, and creationism and intelligent design, on the other hand. Second, the principles of Ignatian Pedagogy played a crucial role in the selection of the statements that were included in the survey. Specifically, a number of statements were included that would relate the evolutionary theory with Biblical creationism and intelligent design, in the hope that these statements would help us identify and address any misconceptions students might have about the concept of evolution and how it relates to creationism and intelligent design. And based on the fact that not only knowledge but also acceptance of the principles of evolution among the students increased significantly from pre-coverage to post-coverage, it is reasonable to conclude that lessons learned from the Ignatian approach to education were helpful in correcting students' misconceptions about the relationship between the evolutionary theory and Biblical creationism and intelligent design.

Acknowledgements
I would like to thank my fellow instructors in General Biology II Laboratory (George Farnsworth, Nancy Matre, Howard Pecquet, and Kathy Tehrani) for their participation and help in this project. I would like to further thank George Farnsworth for his assistance in the statistical analysis of the results. I would also like to thank everyone in the Ignatian Mentoring Program for their help throughout the year. Finally, I would like to thank my mentor, Roy Cohen, for his invaluable help throughout the course of this project.

References
Rutledge, M., Sadler, K. (2007). Reliability of the Measure of Acceptance of the Theory of Evolution (MATE) Instrument with University Students. The American Biology Teacher, 69 (6), 332-335.
Sokal, R., Rohlf, J. (1995). Biometry. New York. W. H. Freeman and Company
Beyond the Book Report: Reflecting on Social, Ethical, and Environmental Issues in General Biology II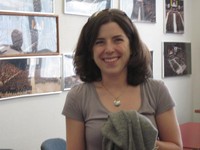 Ann M. Ray, PhD
Mentor: Thomas G. Merrill, D.M.A. (Music)
The course
General Biology II (GBII) is the second in a two-semester sequence of introductory courses required of all first year biology, natural sciences, and environmental science majors. This course satisfies core requirements for chemistry, physics, and math/computer sciences majors. This course provides a survey of evolution, population genetics, ecology, animal behavior, biodiversity, and conservation biology.
The students
In spring 2012, the enrollment in my section was 40 students, and the majority of the students were freshmen. All of the students in my section this semester were traditional-aged students.
The challenge
During GBII, it is necessary to cover a large amount of factual material to prepare the students for upper-level courses. Thus, there is little or no time during class meetings to reflect upon the moral implications of the topics that we cover, and students are not always aware of the relevance of GBII to the "real world". Moreover, previously I had believed that it would be a challenge to directly address Ignatian values/concepts during a science survey course without seeming artificial or preachy.
The proposed solution
I assigned a reflection essay to give students an opportunity to explore issues that accompany discoveries and events in the biological sciences. Moreover, this essay provided an opportunity to explicitly incorporate the Ignatian concept of reflection into an introductory biology class.
The assignment
Each student wrote a reflection essay on a topic related to the subject of his or her in-class presentation of science article from the popular press. The essay was to clearly identify and discuss one environmental, cultural, social, political, or moral issue related to the subject of the article, incorporating information from outside sources. The students were to identify two viewpoints, discuss similarities and differences, and defend their own position based on the evidence.
Each group of 3-4 students identified the "best" essay from the group and that essay was posted to Blackboard. To encourage the students in the class to read their peers' essays, I wrote one exam question based on material contained in each of the "best" essays.
From the syllabus
Reflection paper (30 points).
Because of time constraints, we often don't have time to discuss societal implications of the topics we cover in class. The reflection paper will give you an opportunity to explore some of the issues that accompany discoveries and events in the biological sciences.

Each student will write a 5-8 paragraph reflection essay on a topic related to the subject of his or her assigned group article. The essay should clearly identify and discuss one environmental, cultural, social, political, or (NOT and) moral issue related to the subject of the article, incorporating information from outside sources.

The essay is modeled on the "5 paragraph essay" that you all learned in high school. The essay can be longer, but it should not be shorter than 5 paragraphs.

Paragraph 1 should introduce at least two different (but not necessarily opposing) viewpoints regarding causes, or possible effects, or (NOT and) solutions to this issue. You should end the paragraph with a one-sentence summary of your position.

The next few paragraphs will explain the different viewpoints. Every factual statement must be followed by a citation of an appropriate source. At least one numerical statistic (from sources) should be included to support each viewpoint.

The last 1-2 paragraphs should synthesize the different viewpoints (how do they agree, how are they different, are they based on different information, do proponents of one viewpoint dispute the information on which the other viewpoint is based, etc.) and explain your position.

The essays must include a References section and in text citations in APA format.
Observations
Difficulties-
Most students did not reflect upon issues at all, and instead they completed a "book report": a summary of the popular science article.
Students were not adept at identifying appropriate source material, and as a result, essays contained many factual errors. I worried that posting these essays on Blackboard perpetuated misinformation.

For example, one "best" essay explored the morality of animal testing. The student derived all of his source information from the website of People for the Ethical Treatment of Animals (PETA) and did not present any alternate views.

The class was too large to give loving and meaningful feedback on each student's paper.
Positive outcomes-
Students were excited for an opportunity to examine science in the "real world". They seemed to enjoy the assignment.
Technical problems with the writing in the essays highlighted common misconceptions that students had about writing for science courses. Many students were not aware that there are different writing styles for different disciplines.

I began offering a "Writing Tip of the Day" during most of my lectures to address common problems.
I designed an ungraded, in-class group activity to give the students practice using in-text citations.
The assignment gave me the opportunity to discuss the difference between an analysis and a summary. I encouraged them to go "beyond the book report."
Selected titles of original articles and corresponding titles of reflection essays
Title, author, and publication date of original article from Scientific American
(brief summary of article)
Title of "best" student reflection essay
Founder Mutations
D. Drayna, 2005 (human evolution)
Discovering the Crux of DNA Profiling
Evolution of the Eye
T. D. Lamb, 2011 (evidence against the "irreducible complexity" of the vertebrate eye)
Real-world Applications of Evolutionary Biology
Saving the Honeybee
D. Cox-Foster and D. vanEnglesdorp, 2009
(Colony collapse disorder in honeybees)
The Effects of Pesticides
The Devil's Cancer
M. Jones and H. McCallum, 2011 (Contagious facial tumors in Tasmanian devils)
The Cost to Prevent Cancer
Just How Smart are Ravens?
B. Heinrich and T. Bugnyar, 2007 (Intelligence and learning in birds)
Animal Testing: Plausible Alternatives or Moral Rationalizations?
Halting the World's Most Lethal Parasite
M. Carmichael, 2010 (Recent efforts to halt malaria)
DDT and its Effects on the Environment

Conclusions
It seems natural to integrate the Ignatian concept of reflection into an introductory biology course, especially in a course where students struggle to find context for the course material. I will make some aspects of the reflection assignment permanent additions to my GBII syllabus, but probably not in the form described here.
In addition to the goal of incorporating reflection into the course, I had also hoped that the process of researching and creating the essays would make the students more knowledgeable and more willing to converse during in-class group presentations. Some students did integrate information from their essays into discussion; however, I did not see a noticeable difference in the quality of the presentations or discussion between this semester and semesters when essays were not assigned.
Many students struggled with content and format, which often obscured meaning in their essays. This may be a result of lack of experience of younger students. Older students may be more adept at constructing arguments, so perhaps a reflection essay is better suited for upper-class persons, rather than first year students.
Overall, the students chose appropriate topics that were pertinent to their anticipated career goals and personal interests. I would like to continue to invite students to gather information about controversial ethical, moral, and/or social issues to present and discuss within the context of the in-class group presentations; however, the essay format is a bit formal for GBII. A pared down version of this assignment, such as a guided reading exercise, could contribute equally to the course's learning outcome (e.g., integrating and applying concepts from a variety of biological sub disciplines to future educational and career goals).

Back to Top
---

To provide feedback, please email: jesuitresource@xavier.edu
Jesuitresource.org is developed by The Center for Mission and Identity at Xavier University with support from the Conway Institute for Jesuit Education. Learn more about Jesuit Resource.
---