Terms: A | B | C | D | E | F | G | H | I | J | K | L | M | N | O | P | Q | R | S | T | U | V | W | X | Y | Z
Jesuit Terms H
Heartland-Delta

The Heartland-Delta Conference is a consortium of the following eleven schools within the Association of Jesuit Colleges and Universities: Creighton University, John Carroll University, Loyola University Chicago, Loyola University New Orleans, Marquette University, Regis University, Rockhurst University, St. Louis University, Spring Hill College, University of Detroit Mercy and Xavier University. Sponsored conferences include the Magis National Faculty Retreat, Heartland-Delta Faculty Conversations, and the Heartland-Delta triennial.
About the Logo
Since the first Heartland-Delta gathering in Chicago in 1994, either a tree or a leaf has been the symbol of these meetings. The acanthus leaf was first used for the Heartland-Delta IV Conference; it captured well the spirit of the gathering and consortium. One leaf, with many irregular sides, shapes, and directions, yet it retains a central vein that nourishes its growth. The universities in the Heartland-Delta group are each unique. But at their core they are centered on, and grow from, the Jesuit vision of education that is more than 450 years old.



High Schools, Jesuit
Homepages
Back to top



Hiring and Mission
A Best Practices Approach
In order to assist university hiring committees and their chairs in addressing Jesuit, Catholic identity, departmental chairs, directors, and senior administrators at Xavier University were invited to offer comments that they have found helpful in guiding meaningful discussions with candidates during the interview process.
Questions and Comments from Chairs, Directors, and Senior Administrators
Back to top



Hopkins, Gerard Manley (1844-1889)
British Jesuit; poet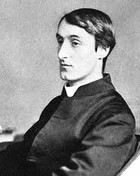 One of the great lyric poets of the English language, he reached and expressed a unique, Catholic, overwhelming vision of God. Convert from the Anglican Church to Roman Catholicism under John Henry Newman while at Oxford, he burned all his poems when he entered the Jesuits. While studying theology, at his superior's invitation, he wrote his greatest poem, "The Wreck of the Deutschland," a partly autobiographical ode commemorating the death of five exiled German nuns drowned at sea, exploring implications of the Incarnation and celebrating the mystery of faith, of knowledge reaching "through love" far beyond the natural limits of intellect ("What none would have known of it, only the heart, being hard at bay, / Is out with it!") His poems were not published until 30 years after his death and then had a major impact on 20th-century English poetry.
Read Gerard Manley Hopkin's God's Grandeur poem.
Humanities, The
Those branches of learning—and the methods of studying them—that derive in the West from the "classics" of ancient Greece and Rome, and more recently in the 15th and 16th centuries in Italy when Jesuit education and Jesuit schools were coming into existence. At that latter time, the umanisti and their schools were advocates for an education that fostered good, ethical living and good and engaged citizenship with a commitment to the "common good." This was in contrast to the professional, objective, or "scientific" education provided by the university.
Jesuit education over the centuries tried to achieve something of both traditions with its many "colleges" (equivalent to today's secondary schools and the first year or two of today's colleges or universities devoted to a broad liberal education) and the professional, specialized education of a much smaller number of universities-the original example being the Roman College, which later became the Gregorian University.
See "Eloquentia Perfecta"
See John W. O'Malley, "Jesuit Schools and the Humanities Yesterday and Today," Studies in the Spirituality of Jesuits (Spring 2015).
See "Liberal Arts Tradition, Education in the"


Hurtado, Alberto (1901-1952)
Chilean Jesuit; founder of El Hogar de Cristo; saint

Alberto Hurtado's father died when he was four, and his widowed mother was forced to sell their farm to pay off debts. From then on, Alberto, his mother, and his brother lived with various relatives; they had to move often. So he knew what it was like to be homeless and vulnerable.
He received a scholarship to attend the Jesuit secondary school in Santiago. Already as a teenager he gave his Sunday afternoons to visiting the poor in their slums, a practice that he continued for the rest of his life. He delayed his entry into the Society of Jesus in order to help his mother financially; he worked full time and still went to college. Then he interrupted his studies to go into military service. Finally, at the age of 22, he did enter the Jesuit novitiate. He finished his novitiate training in Argentina and continued to move around, to Spain until the Society was suppressed there, then briefly to Ireland, and finally to Louvain and to Drongen in Belgium, returning to his homeland only after 12 years away.
He taught, acted as director of Catholic Action, gave retreats, and continued to keep in touch with the poor. On one retreat for women, he spoke so movingly of the hard lives of homeless people that the retreatants asked, "What can we do?" And what followed was the beginning of the movement El Hogar de Cristo, which spread all over Chile and eventually to other parts of South America. Hogar means "hearth" or "home," and so these homeless poor were welcomed into "Christ's Home."
In addition to his direct work with the poor, Alberto published three books—On Unions, Social Humanism, and The Christian Social Order—and started a monthly periodical Mensaje ("Message") that continues to this day. With his canonization, people saw a ratification of his life that combined teaching and writing with ministry with the poor.
---
JESUIT A TO Z: An expanded version of the publication "Do You Speak Ignatian?"