Montessori Education (MEd)
---
Graduate
Program Details
The on-campus Master of Education in Montessori Education (MEd) prepares instructors to teach multiple subjects within the Montessori method of education, from practical life and art to math, science and history. Xavier's on-campus MEd in Montessori Education program is based on a strong foundation in the knowledge of child development and grants licensed teachers an American Montessori Credential and Ohio Pre-Kindergarten or Kindergarten to grade 3 licensure.
Admission
Applications are accepted throughout the year from students with a bachelor's degree and a solid academic background. You may begin the program in the summer, fall, or spring term.
To apply for official acceptance as a degree-seeking student, submit the following application materials to the Office of Graduate Admission:
The graduate application form.
One official transcript sent directly from the college/university to graduate services, of all previous undergraduate and graduate course work.

Official test scores from the Graduate Record Exam (GRE). If you have previously taken the GRE and want to have your scores sent to Xavier, please contact GRE at 1-888-GRE-SCORE.

Three letters of recommendation.
A professional resumé.
Personal statement.
In addition, applicants may be invited to attend a personal interview with the director of Montessori education.
Applications are processed immediately upon receiving all of the necessary materials, and you will be notified of your status as soon as possible. The admission committee considers all of the information contained in the admission application, including prior grades, test scores, and evidence of potential for success in graduate study.
TEST WAIVER OPTION
Applicants to Graduate Programs in the School of Education Must Have:
Undergraduate degree from a regionally accredited university AND
Admission test score
Test score may be waived under one of the following conditions:
State licensed teacher
Pursuing a M.Ed. or M.S.Ed. without licensure (if undergrad GPA is 3.0 or higher)
Pursuing a principal or administration license
Pursuing a second license or endorsement
Pursuing a Montessori teaching credential only
*International students may have additional application requirements. See International Graduate Admissions for more information.
For questions regarding the application process, e-mail the Office of Graduate Services at xugrad@xavier.edu.
Curriculum
No state certification or Montessori certification is granted. For American Montessori Society (AMS) and Ohio Early Childhood Licensure see Licensure/Credential Curriculum.
REQUIRED CORE COURSES
Total Hours: 33
EDFD 500: History and Philosophy of American Education............ 3cr.
EDSP 505: Foundations in E.C. Special Education............ 3cr.
EDFD 505: Organization of Education Systems in the United States............ 3cr.
EDFD 507: Educational Research............ 2cr.
EDFD 508: Educational Research Paper*............ 1cr.
EDME 551: Montessori Education: Philosophical Approach............ 3cr.
EDME 563: Early Cognitive Development............ 3cr.
EDME 550: Methods of Observation............ 3cr.
Additional Montessori Coursework............ 12cr.
*The research paper should be completed in the area of early childhood education and an approved copy of the completed paper submitted to the director of the program for the departmental library.
An additional 12 hours of Montessori courses are also needed.
Sample Courses
EDME 551 - Montessori Education: Philosophical Approach: This course allows students an in-depth study of Dr. Montessori's pedagogical philosophy. Topics covered include: Montessori theory from infancy through adolescence, cosmic education, and spiritual education.
EDME 550 - Methods of Observation: The student will learn to observe the normal development of children from ages 2 1/2 to twelve years of age.
EDME 563 - Early Cognitive Development: This course introduces candidates to early childhood development. Content includes basic developmental theory as well as current research in development and the application of theory in developmentally appropriate classroom curriculum development and instruction.
Tuition and Fees
Take the Next Step
Loading...
---
Pioneers in Montessori Education
Xavier established the first graduate Montessori teacher education program in the nation in 1965 and has been a national and global leader ever since. Xavier now offers graduate and undergraduate degrees in Montessori, teacher licensing and credentialing programs, a Lab School serving preschool through age 14, and up-to-date faculty research on Montessori methods.
---
---
Onsite Montessori Lab School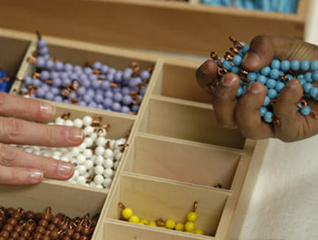 The on-campus Montessori Lab School for children ages 3-14 continues to add grade levels and classrooms and has a large observation room where students can view classroom activities. Some Montessori courses are taught in the lab school classrooms, providing hands-on experience for students.
---
---
Field Opportunities for Montessori Program Students
All students seeking licensure in Montessori Education are required to participate in a practicum in an accredited American Montessori School. Xavier has long-term partnerships with over 50 regional school districts where students are placed for field experiences and student teaching.
---
Montessori: From Child Care to Dementia Care
Kathleen Farfsing could not believe what she was hearing. The workshop on how Montessori techniques open windows in the minds of people with dementia made so much sense, but it brought her so much pain as she recalled how her father declined rapidly in his failing state and then was gone forever. I just sat in the back and cried, she says.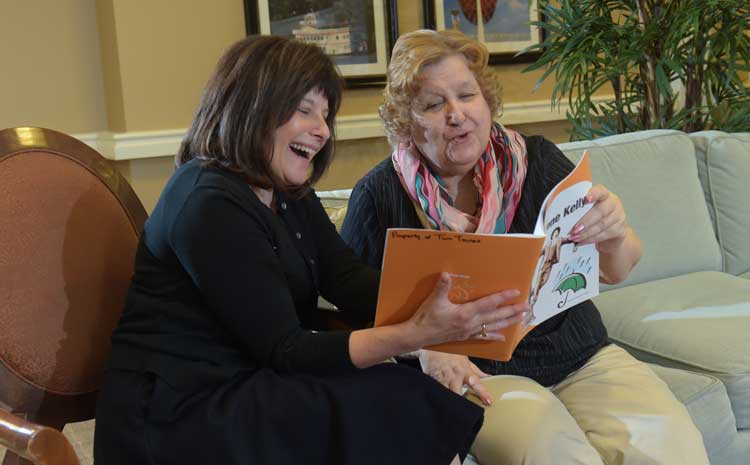 Montessori Education (MEd) Program at Xavier University
The Xavier University Montessori teacher education programs grant an American Montessori Credential and Ohio Pre-Kindergarten or Kindergarten to grade 3 licensure. The graduate program in Montessori education is based on a strong foundation in child development and prepares the student with an understanding of Dr. Maria Montessori's philosophy in light of the education of the past and present. The on-campus and online programs are affiliated with the American Montessori Society and accredited by the Montessori Accreditation Council for Teacher Education.
Xavier University's College of Professional Sciences prepares undergraduate and graduate students intellectually, morally and spiritually for careers and professions of service. CPS challenges students to strive for academic excellence and life-long learning through promoting collaboration and community partnerships, and incorporating research, scholarship and innovation.
Xavier University is a private university located in Cincinnati, Ohio, providing a liberal arts education in the Jesuit Catholic tradition. Founded in 1831, the University is the sixth-oldest Catholic university in the nation. It has been ranked among the top 10 master's-level universities in the Midwest by U.S. News & World Report for the past two decades. The Princeton Review names it one of the "Best 385 Colleges in America."
Additional Resources