---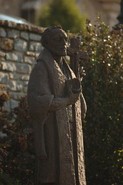 Native like Ignatius of the Basque territory of northeastern Spain, Francis became a close friend of Ignatius at the University of Paris, came to share Ignatius' vision through making the Spiritual Exercises, and realized that vision through missionary labors in India, the Indonesian archipelago and Japan.
"It is not the actual physical exertion that counts towards one's progress, nor the nature of the task, but by the spirit of faith with which it is undertaken." 
-Saint Francis Xavier
---
Finding God in All Things
All things must come to the soul from its roots, from where it is planted.  The tree that is beside the running water is fresher and gives more fruit.
- St. Teresa of Avila 
God communicates with us by way of all things. They are messages of love.
- Ernesto Cardenal
To have dominion over all creation does not imply unrestrained exploitation. We are to treat creation as the Creator would, not from our own selfish consumption but for the good of all creation.
-Peter-Hans Kolvenbach, SJ, Former Superior General
---
A year of daily reflections for each month. 
The Examen, a prayer of awareness that Ignatius of Loyola taught in his Spiritual Exercises, helps one notice God's presence in our daily lives.
This adaptation of the Daily Examen helps one reflect on their experience with diversity with five points for spiritual thanksgiving, grace, and introspection.
---
Featured Resource
"St. Ignatius Loyola" brochure
This brief biography by George Traub, S.J. and Debra Mooney provides an easy-to-read description of St. Ignatius' life. It is illustrated with original sketches by artist Holly Schapker.
---
St. Francis Xavier: A Contemporary View of His Life and Work
by Debra Mooney, PhD
Stay Connected