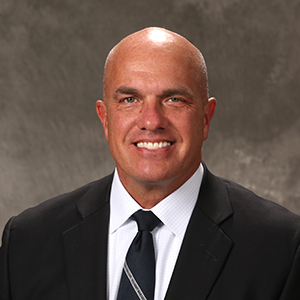 Paul W. Fellinger, Jr.
Director, Student Veterans Center
Paul W. Fellinger Jr. graduated from Xavier University in 1990 and was commissioned into the Infantry. His first duty assignment was as a Platoon Leader and Company Executive Officer in the 3rd Battalion (Mechanized), 15th Infantry Regiment at Fort Stewart, Georgia. Following the Infantry Advanced Course, he was assigned to the 2nd Battalion, 325th Airborne Infantry Regiment, 82nd Airborne Division, Fort Bragg North Carolina where he served as an Assistant Operations Officer and Company Commander. During command, he deployed to Haiti in support of the United States Support Group – Haiti. Following command, Paul served as Small Group Instructor at Fort Benning, Georgia and an Assignment Officer at the Human Resources Command, Alexandria Virginia. After graduating from the Command and General Staff College, he was again assigned to the 82nd Airborne Division where he served as a Battalion Operations Officer and Executive Officer in the 1st Battalion, 325th Airborne Infantry Regiment during Operation Iraqi Freedom 1. Subsequently, he served as a Troop Commander in the Asymmetric Warfare Group deploying several times in support of Operation Enduring Freedom. In 2008, he assumed command of 1st Squadron (Airborne), 91st Cavalry, Schweinfurt Germany and again deployed in support of Operation Enduring Freedom.  After attending the United States Army War College, he assumed command of the Garrison at the Presidio of Monterey, Monterey California. Paul retired in September 2016 as a Colonel and currently resides in Northern Kentucky. Paul currently serves as the Senior Advisor to the Xavier University Student Veterans Center.