I didn't do very well in high school, will I be able to get into Xavier?
Each student-veteran is admitted on a case-by-case basis. When deciding to admit a student-veteran, our admissions counselors evaluate high school transcripts and college transcripts, but also take into consideration military training and life experience. Additionally, the Veterans Advisor and Director of Xavier's Student Veterans Center personally meet with each student-veteran to get to know more about his/her goals and experiences.
Do I have to take an entrance exam?
No. Student-veterans seeking undergraduate admission are not required to take an entrance or placement test when applying to Xavier.
What transcripts do I need?
In order to be admitted to Xavier University you must obtain the following transcripts:
High School or GED

Any college-level completed (prior to applying or being eligible for VA educational benefits)

Military Service

Student-veterans seeking college credit for military training should provide their Joint Services Transcript to Xavier. Credit will be awarded based on recommendations from the American Council of Education.

Veterans of the United States Air Force should provide transcripts from the Community College of the Air Force.
You must submit all official transcripts with original seal unbroken to Xavier before you will be admitted.
Am I able to apply for grants and scholarships if I am using VA education benefits?
Yes. All students can apply for financial aid by filling out the Free Application for Federal Student Aid (FAFSA). This aid can be for grants, loans and/or work-study.
Which VA education benefit covers all of my tuition and fees at Xavier?
If you are 100% eligible for the Chapter 33 Post 9/11 GI Bill, you qualify for the Yellow Ribbon Program which covers all tuition at Xavier. If you don't know if you are 100% eligible, visit the VA website to view the criteria for eligibility for the Yellow Ribbon Program. Student-veterans under Chapter 31 VOCREHAB are also covered for all tuition and fees by the VA.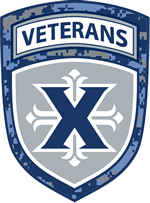 Contact Us
Call: (513) 745-3620
Location: 1001

Francis Xavier Way

Hours:
Monday-Friday
9:00 a.m.-5:00 p.m.
Fax: (513) 745-3055