We're glad you're interested in attending Xavier University.
Apply Now
Undergraduate and Graduate Programs
Undergraduate Programs
Xavier offers 90 undergraduate majors/concentrations and 55 minors to 4,540 students with a 12:1 student-to-faculty ratio and opportunities to study abroad on six continents.
More on undergraduate programs »
Graduate Programs
Adults choose Xavier's graduate programs to prepare for career advancement or career change as well as for personal growth. They stay at Xavier because of the quality education, individualized attention from faculty and staff, and the convenient, adult-centered environment.
More on our graduate programs»
Class Options
Day
Daytime classes offer the best selection of degree programs. Student-veterans interested in completing a degree mostly during the day can select any major from Xavier's list of more than 70 academic degree programs.
Evening
For many of Xavier's adult students who work, or those with availability only during the evening, the Evening Programs option is ideal.
Summer
The summer is a great time to catch up or get ahead on courses needed for a degree. Xavier offers five summer sessions, plus a special two-week intersession.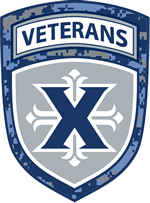 Contact Us
Call: (513) 745-3620
Cell/Text 513-374-4563
Location: 1001 Francis Xavier Way
Hours:
Monday-Friday
9:00 a.m.-5:00 p.m.
Fax: (513) 745-3055