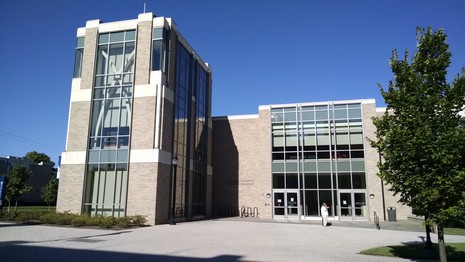 The Student Veterans Center strives to provide veterans of Xavier University a safe, studious, and recreational setting. Located on campus at the Conaton Learning Commons in room 529, the Student Veterans Center offers veterans a space of their own where they can print off papers, work on assignments, or have a cup of coffee and friendly conversation.
The Center is a place to unwind, connect with fellow veterans, and have access valuable resources for student veteran success. Veterans Affairs has comfy chairs for relaxing, desks for schoolwork, computers and printers available for use, as well as conference tables and offices for group projects.
The Student Veterans Center has a dedicated staff of veterans and serves only veterans, active duty military and military dependents. The Center's staff helps veterans through every step of the education process all the way to graduation, assists with employment, and stays in touch after they become Xavier alumni.
The Student Veterans Center has multiple resources available on-site to both veterans and dependents including financial aid and planning, career counseling, and psychological assistance. In addition, a member of the Veterans Administration has an office within the Center.
Feel free to call us or visit if you have the opportunity!
Contact Us
Call: (513) 745-3620
Cell/Text 513-374-4563
Location: 1001 Francis Xavier Way
Hours:
Monday-Friday
9:00 a.m.-5:00 p.m.
Fax: (513) 745-3055