Theology
Undergraduate Program (BA)
Embrace humanity's experience of God—including the Jesuit commitments to faith, peace, social justice and inter—religious dialogue—and discover how it's expressed through traditions, doctrines, and rituals around the world. Join a broad conversation and graduate with a deeper understanding of your own beliefs, as well as others.
Sample Four-Year Theology Course Sequence
Sample Courses
Xavier is known for providing an education that's both challenging and personal. Here are some courses that are part of the Theology major at Xavier:
The Christian Tradition I (THEO 209) - Examines major theological themes of the Christian Tradition from its beginnings until the 15th Century. Blends theological analysis with intellectual and social history.
Intro to Christian Scriptures (THEO 328) - An introduction to the literature of the New Testament, its interpretation, and theological import. The student will acquire tools for the critical analysis of Scripture as well as explore the Christian Bible's historical, sociological, and cultural contexts.
Christian Doctrine Today (THEO 290) - A study of contemporary systematic issues or figures.
Christian Ethics (THEO 303) - Introduction to the methods and central questions of Christian ethics.
100% of Xavier Theology graduates are employed, enrolled in a full-time graduate program or volunteering within 6 months of graduation.
100%
of Xavier Theology graduates are employed, enrolled in a full-time graduate program or volunteering within 6 months of graduation.
STAND OUT THAT'S THE XAVIER DIFFERENCE
CHANGE THE WORLD
Help shape the community by partnering with local organizations, like Pax Christi, Habitat for Humanity and St. Vincent de Paul. Or participate in service-learning opportunities in India, Nicaragua, Ghana and Over-the-Rhine in Cincinnati.
GAIN EXPERIENCE
Small class sizes allow you to ask the right questions and get the attention you need to succeed and learn. On top of that, we'll help develop your resume by connecting you with local mentors, community engagement opportunities and internships.
LEARN ABOUT YOURSELF
Gain a basic understanding of the Hebrew and Christian scriptures and relate it, in a reflective and constructive way, to your life experiences and the challenges confronting today's world. Discuss and learn more about the world's diverse faiths and other socially significant issues in light of the Jesuit tradition.
Xavier by the numbers
21
AVERAGE SIZE OF CLASSES
75,000+
XAVIER GRADUATES ACROSS THE GLOBE
93%
OF SENIORS RATE THEIR EXPERIENCE AS GOOD OR EXCELLENT
20+
RELIGIONS REPRESENTED ON CAMPUS
The Xavier Experience. There's Nothing Like It.
Play Video
CAREERS
AFTER GRADUATION
In addition to entering graduate and seminary schools, graduates of Xavier's Theology program have gone on to accept jobs as
Teachers
Religious teachers
Ministers
Writers
Medical administrators
Director of Volunteer Services
Youth Faith formation directors
University programming
Related Stories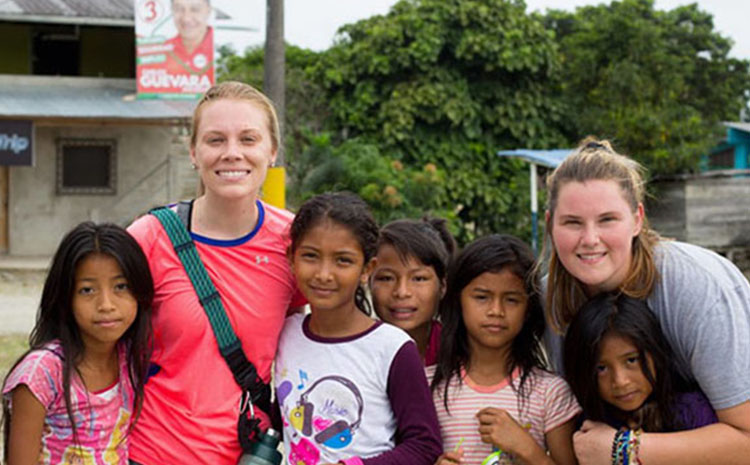 'Dream of the Details': 2018 Grad Kellie Goff is Making a Difference in Ecuador
Kellie Goff (Communications, Theology, '18) is following her dreams of being a foreign missionary in the Amazon jungle of Ecuador.
Xavier is in the heart of Cincinnati