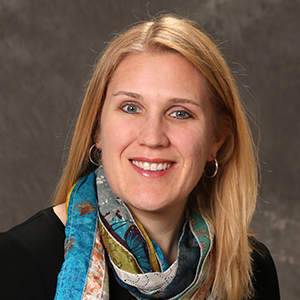 Lisa Jutte, PhD, AT, ATC
Department Chair / Professor, Department of Sport Science & Management
Athletic Training Program
(She, Her, Hers)
Lisa S. Jutte serves as the Chair for the Department of Sport Science & Management and Professor in the Athletic Training Education program. She received her bachelor's degree while majoring in both Athletic Training and Biology at Hope College, Holland, MI. She became a Certified Athletic Trainer in 1998, and went on to receive a master's degree in Athletic Training from Indiana State University, Terre Haute, IN, in 1999. She then served as an Assistant Athletic Trainer, working with a variety of sports, at both King's College, Wilkes-Barre, PA and Colby-Sawyer College, New London, NH. In 2005, she received her PhD in Exercise Science with a concentration in Physical Medicine and Rehabilitation from Brigham Young University, Provo UT.
Dr. Jutte has taught both undergraduate courses in exercise science and athletic training, as well as graduate courses in both athletic training and sport performance.  She has lead the Department of Sport Science & Management's study abroad in Australia program since 2013.
She is passionate about engaging students in scholarly activities that result in conference presentations.  She seeks to improve athletic training health care with her scholarship related to therapeutic modalities.
Degrees
Ph.D. in Exercise Science Brigham Young University
M.S. in Athletic Training Indiana State University
B.A. in Athletic Training & Biology Hope College
Publications
Jutte LS, Paracka DJ.* Effects of the Seven Consecutive, Systematic Applications of Cryotherapy with Compression. Journal of Sports Rehabilitation. 2022;31(4):414-419. Doi: 10.1123/jsr.2021-0208
Chapter 9 – Cryotherapy and Thermotherapy – In Therapeutic Modalities in Rehabilitation. 6th edition. New York, NY: McGraw Hill Education, 2021
Chapter 3 - Evidence-based Healthcare. In Foundations of Athletic Training Prevention, Assessment, and Management. 7th edition. Baltimore, MD: Lippincott Williams & Wilkins; 2021.
Draper DD, Jutte LS, Knight KK. Therapeutic Modalities The Art and Science. 3rd edition. Philadelphia, PA: Lippincott Williams & Wilkins; 2020
*indicates student co-author