Angela Staubach, class of 2001, receives the Magis award at the 2009 Commencements.
---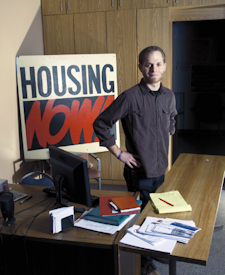 Josh Spring, serves as Executive Director for the Greater Cincinnati Coalition for the Homeless. He coordinates fifty organizations working with the homeless residing in the Hamilton County (Cincinnati) area. The position fulfills a passion of Josh's to work and empower those in society who are downtrodden and voiceless, and affords him the opportunity to assist those in need by providing resources so that they in turn can help themselves. Josh graduated in 2007 with a Bachelor in Social Work and a minor in Gender and Diversity Studies.
---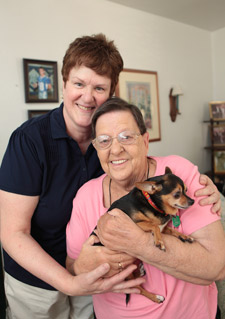 Bonnie Pollard, after 23 years of working in dental offices, decided to pursue her dream to become a social worker. She completed her Bachelor Degree in Social Work at Xavier in 2004 and a Master degree at the University of Cincinnati in 2005, and upon graduation, was hired as a PASSPORT care manager for the Council on Aging of Southwestern Ohio (COA). Bonnie provided testimony to Ohio's State Legislatures regarding the effect of proposed cuts to the PASSPORT program.
KEY ACHIEVEMENTS
Joseph Herbers was awarded a scholarship during his senior year from the Association for Professionals
in Aging in Cincinnati. He was the department's 2010 Charlotte Towle Award recipient and graduated with his BSW from the University Scholars Program with minors in both Peace Studies and Gender and Diversity Studies. He also served as a student member of the department's
Social Work Month Student/Alumni Event Panel, Baby Boomer Alert: Gray is Here to Stay, speaking about
his experience as a traditional age student in a field placement with older adults.
Amanda Kazmierski received the National Association of Social Workers (NASW) regional award in 2009 for BSW Student of the Year in recognition of her outstanding academic and internship contributions. With minors in
criminal justice as well as in gender and diversity studies, she graduated with honors with her BSW degree in social work. She achieved advanced standing in graduate school and pursued her MSW degree.
Amanda Stahl completed her senior research project regarding disability issues on campus. Her research was
accepted and presented to the 23rd National Conference on Undergraduate Research held at the University of Wisconsin in 2009. After graduating with her BSW in 2009, she accepted a position with the Jesuit Volunteer Corps.
Angela Staubach, who graduated in 2001, received the Magis award at Xavier's 2009 commencement from
President Mike Graham, S.J. Magis is the Latin word for more. It is also the continuous quality improvement
term traditionally used by Ignatius of Loyola and the Jesuits, suggesting the spirit of generous excellence in
which ministry should be carried on.