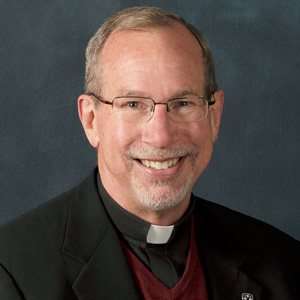 Michael J. Graham S.J.
President
Michael Graham, S.J., assumed the presidency of Xavier University in 2001. In 2019, he became the longest tenured President in the history of Xavier University, surpassing Paul O'Connor, S.J., who served for 17 years from 1955-1972.
The impact of President Graham's academic and community-based vision for Xavier is far reaching. Xavier has been listed among the nation's top 10 Midwest Universities by U.S. News & World Report, since Graham began his presidency. Academic programs established under his leadership include master's programs in Coaching Education and Athlete Development, Health Economic and Clinical Outcomes Research and Customer Analytics.
His passion to connect and collaborate with local and regional communities inspired him to establish the Community Building Institute as well as the Eigel Center for Community Engagement at Xavier. In 2017 Graham was asked to chair the Cincinnati Preschool Promise Board of Directors, a voter-approved initiative to ensure that quality preschool is available and affordable to all children living within the Cincinnati school district. It's one of many ways he has extended his and Xavier's reach into critical issues that impact the Cincinnati community.
The Edward B. Brueggeman Center for Dialogue was established during Graham's tenure and positions Xavier as a pre-eminent place for interreligious discourse, thought and action. Xavier's partnership with the cities of Norwood and Cincinnati resulted in University Station, a mixed-use development with a goal to revitalize the surrounding community. Likewise, Xavier's current affiliation with TriHealth will bring a multi-use academic, health and recreation facility to campus in the near future.
Graham's commitment to Xavier's Jesuit heritage and spirituality can be found in the Ruth J. and Robert A. Conway Institute for Jesuit Education, which assists faculty in transforming students, and in numerous programs based in the Center for Mission and Identity that engage faculty and staff in Jesuit heritage and values.
Graham's passion for Xavier is 24/7. He lives on campus in a residence hall where he frequently invites his "hall-mates" to dinner and presides over the 10:00 p.m. Sunday Mass, one of the most popular student gatherings on campus.
Born in Cedar Rapids, Iowa, Graham entered the Society of Jesus in 1978 and was ordained a priest in 1988. He earned a PhD in American Studies from the University of Michigan in 1983 and also holds degrees in philosophy and psychology. Graham came to Xavier in 1984 when he joined the Xavier faculty as an assistant professor of history. He left Xavier to pursue his Master of Divinity from the Weston School of Theology, which he earned in 1988.
In 1989, Graham returned to Xavier and in 1994, was appointed Vice President for University Relations. In 1999, he became the Executive Assistant to President Jim Hoff, S.J. and began preparing for his role as President. During these tenures, he oversaw a broad range of University activities including a $125 million capital campaign, at that time the most successful fundraising campaign in Xavier's history.
As a parish priest active at both Good Shepherd Catholic Church in suburban Cincinnati and with Xavier student groups, Graham carries out his Jesuit pastoral activities as a celebrant for weddings, baptisms and retreats as well as weekly Sunday worship.
In addition to Cincinnati Preschool Promise, Graham currently serves on the Center for Holocaust and Humanity Education and for the Association of Catholic Colleges and Universities, Gonzaga University in Spokane and St. Xavier High School in Cincinnati and he is on the Association of Jesuit Colleges and Universities (AJCU) Board of Directors and the Big East Council of Presidents.