2017
Albers/Logan Memorial Garden
The W. Bonvell Garden surrounding Albers Fountain on the Academic Mall will serve as a place to honor and remember Xavier Community members that have passed on. Schematic designs were on display in the McDonald Library on May 10, 2016 for community feedback. The project has been submitted for permit and it's scheduled to start in the Spring of 2017.
Buenger Hall
This project entails renovations to the building, which will include the replacement of antiquated HVAC equipment. All dorm rooms will receive a new fan coil unit and a new energy recovery ventilator "ERV" unit will be installed on the roof to recycle tempered air with the code required fresh air minimums. Interior finishes associated with this work will include new ceilings, lighting, painting and carpet in public corridor areas.
CLC "The Faves"
"The FAVES" is a new student run food service business on the 4th floor of the Contaton Learning Commons which was formerly the X-Spot. The scope of this project entails new cabinetry and a triple-bowl sink. This is another convenient dining option for the student's convenience.
Fire Alarm Panel Replacements
The scope of this projects includes replaceing the main fire alarm panel in the following buildings: Albers Hall, Edgecliff Hall, Lindner Science Building, Hailstones Hall, McDonald Library, A. B. Cohen Center, Elet Hall, Joseph Hall, Alumni Center, Campus Services Building and O'Connor Sports Center.
Logan Hall HVAC
The options for this project are to replace or upgrade the existing heating, ventilating and air conditioning system inside the Science building for better air flow.
Schmidt Hall - 2nd Floor Finishes
This project entails upgrading the finishes on the 2nd floor of Schmidt Hall which includes replacing the noisy fan coil units in the Conaton Board Room and new finishes in the areas of the President's office and Sullivan Conference Room.
Schott Hall - Masonry Restoration
This project entails masonry restoration to the outside of the building which includes cleaning, caulking, replacing missing bricks and ledge angles if/where necessary.
2016
Albers Hall
HVAC improvements: Added exhaust fans on 1st and 2nd floors for additional ventilation.
Albers Hall - Exterior Building Cleaning
Brick and stone repair and cleaning will take place for Albers Hall during the Spring of 2015.
Albers Hall - HVAC
HVAC upgrades including new air handling unit and new VAV boxes in ceilings. Scheduled for Summer of 2015.
Albers Hall - Lab Tops
Replacing laminate counter tops with epoxy resin tops in lab spaces.
Fenwick Floors and Exterior
The scope of this project is to polish all of the stained concrete floors within the dining hall during the Christmas holiday break.
Hailstones Alarm - HVAC - Exterior Leaks
The scope of this project entails replacing the fire alarm panel as well as upgrading the HVAC in select offices. The exterior leaks were repaired over the summer of 2016 and the remainder of the work is scheduled to be complete by mid-January, 2017.
Husman Hall - Windows and Elevator
Replace existing windows and elevator with an upgraded version. Scheduled for Summer, 2016.
Kuhlman Hall - Remaining HVAC
Replace HVAC units above ceilings in public areas. Scheduled for Summer, 2016.
Kuhlman Hall - Phase III
The two 7-story elevator cabs will be modernized with a new gear-less machine, new cab interiors, hoist-way frames, call buttons and improvements to the elevator machine room to meet current building codes.
Manor House Renovation
Upgrade carpet, paint, bathrooms, piping, kitchen cabinets, new HVAC, roofing and windows. Scheduled for Summer, 2016.
McDonald Library Renovations
Addition of a maker space studio on 1st floor at the main entry and expand archives area on the third floor.
Schott Hall - Phase I
Creation of additional offices for Admissions and Financial Aid on the first and second floors.
2015
Alter Hall Transformation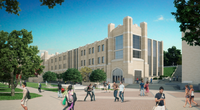 Alter Hall - Xavier's Academic Heartbeat.
Architectural Award
The recent Alter Hall transformation was featured in the Learning By Design magazine's Spring 2016 Architectural Awards Showcase issue as a Grand Prize winner in the College/University category. This is a juried award showcasing the most effective learning spaces from across North America. Projects are evaluated for being functionally designed to meet the educational program, supporting and enhancing 21st century learning, reflecting the needs of the community it supports, for innovation in architecture and interior design, and by helping to reduce the carbon footprint through the adoption of sustainable design measures. Visit the Grand Prize Award link here to read more.
Background
Historically, Alter Hall has been the central classroom building for Xavier University in the 20th century. For the past 50 years, nearly every Xavier student and faculty member has passed through Alter. Positioned on the Academic Mall and adjacent to Bellarmine Chapel, Xavier envisions a revitalized facility that will be positioned to contribute to teaching and learning deep into the 21stcentury. As such, it is a place for collaboration and discovery, supporting the core curriculum, enabling cross-disciplinary partnerships, and making visible Xavier's distinctive Honors Program.
Program Need
Xavier's primary academic space need is a portfolio of flexible classroom environments. These learning spaces will accommodate a range of disciplines, curricula, and pedagogies. These high quality environments will be sized to meet future learning style demands and potential enrollment growth. Critical to the success of the classrooms are informal learning environments that provide break-out and small group collaboration opportunities. Building on the success of Conaton Learning Commons and Smith Hall significant learning is taking place outside the classroom, and group project work will prepare students for the workplace. The Honors Program teaching spaces will showcase best practices at Xavier and remain flexible for other uses. The overall goal is to have excellent space utilization for scheduled classes and become available for teamwork during open scheduled times. Importantly, the building will house the Dean of the College of Arts and Sciences, providing an identity and University presence.
Design
Alter's design agenda is multifaceted. The exterior facades will be redesigned creating a dialog with the Academic Mall and the Hoff Quad. The interior will exhibit a forward looking vocabulary featuring the activities of the faculty and students and making the work visually accessible. Overall, the design must be an overt teaching tool supporting Xavier's commitment to sustainable environments. The design of the building will engage with participants in communicating building performance metrics and incentivizing conservation habits. The goal for the project is to attain a LEED Gold rating. The landscape components of the project will include the St. Ignatius Steps, connecting the Hoff Quad with the Academic Mall.
Financial Plan
The total project cost for Alter Hall will not exceed $18,000,000.
Schedule
The project will be completed for the 2015 fall semester.
Summary
The Alter Hall project will meet the campus master plan framework that was developed in 2006. The project will be coordinated with its surrounding context, including Hailstones Hall, and any potential change to Hailstones in the future. The University has formed an ART (Alter Renovation Team) comprised of faculty and staff. The ART has been diligent in articulating a project vision and shepherding each aspect of the project through schematic design. Additional campus community input will continue to positively influence the project though the fall of 2013.
Bellarmine Gallagher Xavier Yard
Site enhancements to begin Spring of 2015 which include going from a double path to one sidewalk and an amphitheater seating/teaching area around the Gallagher area. The circle in front of the Bellarmine Chapel area should be completed in mid-August.
Bellarmine Painting & Soffit Repair
Exterior building repairs to soffit overhangs. Remove tectumn panels and install EIFS.
Center for Innovation & Engineering
The Center for Innovation is currently located in one room in Schmidt Hall. In order to expand to serve faculty and staff and offer revenue generating training and consulting work, space in the Xavier Field Office will be renovated to accommodate this Center. Selective demolition and minimal renovation, including dry wall and paint to existing temporary offices, will result in open work areas and a training classroom.
Center for Veteran's Affairs
Relocating from 1415 Dana Avenue to 5th Floor of Conaton Learning Commons.
Cintas Center
Interior caulking and painting.
Cintas Center
Interior re-caulking and painting.
Cintas Center - Main Court
Totally sanded down, repainted, and added Skyline Feature.
Cohen Chiller Replacement
Replaced chiller in A.B. Cohen Center in Summer of 2015.
Commons Apartments: Braille Signage & Painting
This project will consist of removal of existing bulletin boards for all apartment suites and replacement with an ADA compliant braille room number sign/bulletin board. In addition to the apartment suites, stairways, exits, common areas, and wayfinding braille signs will also be added. Patching and painting will be done as required.
Dana Avenue Properties Demolition
Demolition of structures on properties recently acquired by Xavier University: 1701 Dana Avenue, 1711 Dana Avenue, 1745 Dana Avenue, 3665 Clarion Avenue, and 1758 Cleneay Avenue.
Edgecliff Hall
Exterior restoration of the entire building which included cleaning, tuck-pointing, caulking and sealing.
Gallagher Student Center - Theater
Repairs to theater seats. Scheduled for May 11, 2015 - May 14, 2015.
Hinkle Hall Renovation
95 offices, 3 conference rooms, and all public spaces in Hinkle Hall received upgrades over the summer of 2012. This included new office paint and carpet, hallway floor tile, and all woodwork was sanded and varnished. Faculty packed up their offices for a 7 phase renovation. Stairs, lobby, and faculty lounge were also upgraded.
Husman Hall
Husman Hall received a major mechanical and architectural renovation during the summer of 2015.
Mechanical improvements will result in energy savings. An energy recovery ventilator which was added, utilizes the temperature of the building exhaust air to temper outside air being brought into the building, and all heating/air conditioning units were replaced with new high efficiency units.
Fire alarm systems were upgraded to meet current codes, with smoke detectors in every living space and mass notification capabilities.
The building also uses less energy for lighting. Living quarters now have low energy use LED light fixtures. Common spaces have occupancy sensors for lights.
The architectural improvements included new finishes and furniture throughout public areas, and a complete makeover of the lounges and Recreation Room.
All students' suite entry doors have been improved with convenient all-card access hardware. Lounges, restrooms, and two entire suites have been redesigned to provide full wheelchair accessibility.
Husman Hall Roof Replacement
Remove and replace roofing system.
Joseph Hall
We plan to replace deteriorating hot and chilled HVAC water piping, which will necessitate new ceilings and painting of walls.
Kuhlman Hall Renovation - Phase II
The Summer of 2014 architectural renovation to Kuhlman Hall includes new flooring and painting throughout the public areas of the building and a complete make-over of the lounge areas. The following replacements were made in the dorm rooms: Sink vanities, heating/air conditioning units, painting, LED lighting, doors and key card entry hardware.
Lindner Hall
Exterior restoration of the entire building which included cleaning, tuck-pointing, caulking and sealing.
Logan Hall 101 Lab
Renovation of Logan Hall classroom 101 with a new fume hood and a lab teaching space.
Logan Hall Fire
Replaced dryer that caused the fire in Logan Hall's mechanical room. Insulated ceiling and painted walls.
O'Connor & Fieldhouse
Paint interior steel over pool.
O'Connor Sports Center
Structural steel repairs and ceiling replacement in the natatorium area during Spring/Summer 2015.
Schmidt Comptroller Area
Upgrade finishes which include replacement of carpet and new paint.
Site
New sidewalk.
Tennis Courts
Renovation of Tennis Courts. New asphalt and drainage to meet NCAA Division I standards.
The Commons Fire
Due to fire damage, we replaced appliances and cabinets in the kitchen along with painting the entire apartment.
University Communications
Minor renovations in the Alumni Center to consolidate University Communications employees. Also, relocate photo studio and create a collaboration space.
Village Townhouses
Structural stabilization will include under-pinning to stabilize building.
Wayfinding - Phases 2 and 3
Installation of vehicular directional signs, pedestrian directional signs, parking and regulatory signage as well as campus maps and kiosks.
2013
Please click on FY/14 Renewal and Replacement Projects to view a campus map of current R&R projects for 2013-2014.
1019 Dana Avenue
Full demolition of eight bathrooms. Installation of new floor joists, toilets, sinks, shower stalls and ceramic tile on walls and floors.
Basketball Court Fencing
We will construct an ornamental fence with brick piers, retaining wall, and card reader turn styles.
Cintas Classrooms
Xavier University is expecting a record incoming Freshman class for Fall of 2013 and is constructing four classrooms in the Cintas Center. The area that was formerly occupied by the Dining Hall will be converted to state of the art teaching space. Classrooms will be scheduled by the Registrar for all majors.
Cintas Exterior Restoration
Cleaning, ceiling and recaulking the south elevation of the exterior of the Cintas Center.
Cintas Floor
Totally sanded down, repainted, restripped and resurfaced.
Cintas Kitchen Renovation
With the construction of a new 700 seat dining hall in Bishop Edward Fenwick Place, the 400 seat dining hall in the Cintas Center is obsolete. Part of this space has been converted into classrooms, but the kitchen space will need to be renovated to serve Cintas Banquet Facilities and suites for games.
Corcoran Soccer Field - 2013
Removal of six HID lights and light poles. Installation of four new poles.
Edgecliff Piano Lab
Renovation of Room 204, including finishes and music equipment.
Earth Tubs
New composting equipment for Xavier University's food waste and yard waste.
Joseph Hall Montessori Expansion
Fireproofing the deck, installation of new ceilings, installation of new fireproof doors with card access and installation of shaft walls.
Kuhlman Hall
A Mechanical renovation to Kuhlman Hall will include the addition of a new Energy Recovery Ventilator which will solve negative air pressure problems, and utilize the temperature of the building exhaust air to temper outside air before entering the building, resulting in energy savings. Fire Alarm systems will be upgraded to meet current codes, including smoke detectors in every living space and mass notification capabilities. Existing public area lighting will be replaced with high efficiency light fixtures, and occupancy sensors. The air and light work above ceilings will mandate that corridor ceilings get replaced with new. It is also anticipated that mobile phone antennas will be installed on the roof by an outside vendor during the period of mechanical renovation. A more detailed Architectural Finishes renovation to the interior materials is anticipated in following years.
The food service operator is changing. Renovations will include updating finishes to give this space more of a casual sports bar atmosphere. Specifics include the removal of wallpaper, the addition of more televisions and sports club memorabilia, new lighting and a new menu.
---
2012
Please click on the following link to view a campus map of 2012 projects: 2012 Renewal and Replacement Projects.
Asphalt Paving
Resurfaced O'Connor A, B and C, South, Elet, Joseph, and Alumni parking lots. Resealed the Sycamore parking lot.
Corcoran Soccer Field - Turf
Replaced 12 inches of stone under the existing turf for proper drainage. Installed 96K square feet of field turf.
Corcoran Soccer Field - Sidewalk
Dug out old blacktopped sidewalk and installed Allen block retaining wall. Poured new concrete sidewalk.
Gallagher Student Center
The Gallagher Student Center is nine years old and has been operating a 24/7 schedule for the last few years. As a result, the building is in need of restoration.
Cleaned, caulk, tuck point and sealed Gallagher tower front and back of the building. Replaced vista wall doors with new Kwaneer doors.
Hinkle Hall Renovation
95 offices, 3 conference rooms, and all public spaces in Hinkle Hall received upgrades over the summer of 2012. This included new office paint and carpet, hallway floor tile, and all woodwork was sanded and varnished. Faculty packed up their offices for a 7 phase renovation. Stairs, lobby, and faculty lounge were also upgraded.
Cleaned the stone entrance way.
Replace EIFS (dryvit) on stairwells
O'Connor Sports Center - Parking Lot
Had to grind down 2 inches of black top and resurface it with 2 inches of black top for positive drainage on 3 parking lots.
Residence Hall Chapels
The chapels located within Kuhlman Hall and Buenger Hall have been refreshed with some new finishes including paint, carpet, and furniture.
Schmidt Hall 3rd Floor Renovation
Renovation of the Senior Vice President and CFO office area and Budget office. New location for the Vice President for Financial Administration. Relocation of copy room and kitchenette. New conference room for the division and building use. New carpet and paint finishes in existing office areas.
Schott Hall Parapet
Grind out joints and tuck points on interior and exterior parapet wall next to the cell tower.
Walk of Champions
Removed curb and blacktop. Reinstalled concrete walk-way, grass pavers, and landscaping.
Wayfinding - Phase 1
Replacement of building identification signage throughout campus.
---
2011
Academic Mall Piping
The Academic Mall Piping project entails replacement of all hot water (heating) and chilled water (cooling) piping along the length of the Academic Mall. The project began and continued while classes were in session and was scheduled to be completed by August 1, 2011.
McDonald Library Renovation