Recycling
Building Services collects recycling items and manages this process with their vendors. They recycled 57 TONS of cardboard in 2014 which was collected from Xavier's campus. During the summer of 2012, 9,400 pounds of mattresses from Buenger Hall were recycled with the assistance of Nationwide Mattress Recycling.
Light bulbs are handled by another arm of Physical Plant but they are recycled also. Document destruction bins should be requested through the Office of Purchasing if you require secure disposal of documents that can be recycled.
Please check out:
Xavier is Composting!
Recycling do's and dont's at the following link: Recycling

Unwanted items can be donated to great causes during Muskie Move-Out.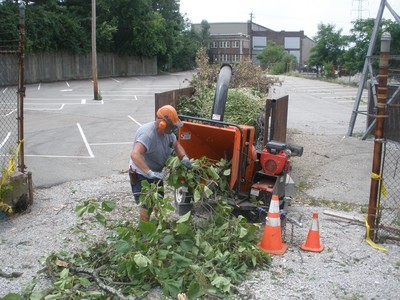 Rex chipping brush into the recycling dumpster.
There are hundreds of recycling locations on Xavier's campus. Whether you're in the buildings or walking outside, there is always a recycling can close by. Our goal is to match every trash can with a recycling can and we are well on our way to achieving this with over fifty recycling cans outdoors alone. Paper, bottle and can recycling bins are located in the hallways of every residence and academic buildings.
Additionally, the Gallagher Student Center has recycling locations for ink cartridges, cell phones and textbooks. Our charity box for donations to The Society of St. Vincent de Paul is located behind Husman Hall near the C-1 parking lot year-round as an opportunity to reuse gently used items rather than throw them away.
In addition to recycling, replace wasteful plastic bottles with reusable bottles. The water bottle fillers in Gallagher eliminate the need to purchase bottled water and it saves money and the environment!

Request a Recycling Bin
Call Physical Plant at 513-745-3151 to request a recycling bin for your office!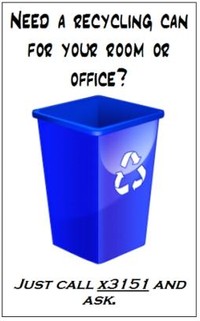 Not Sure What Can Be Recycled?