Pavement Maintenance
The Physical Plant is responsible for the maintenance, repair, and aesthetics of all exterior hardscape on campus.
Maintenance is provided on hardscape items including:
Benches
Bike Racks
Bollards
Crosswalks
Existing signage
Flagpoles
Handrails
Masonry and concrete work
Outdoor Fountains
Parking Lots

Pavers
Poles and chains
Sidewalks
Stairs
Storm drainage and other structures
Tables
Pavement Maintenance
Pavement maintenance is the key to pavement system preservation. An effective pavement system preservation program integrates many maintenance strategies and treatments. There are three types of pavement maintenance:
Preventive Maintenance: Planned strategy of cost-effective treatments to an existing Pavement

system and its accessories that preserves the system, retards future deterioration, and maintains or improves the functional condition of the system.

Corrective Maintenance: Performed after a deficiency occurs in the pavement system, such as moderate to severe heaving, ravelingbor extensive cracking. This may also be referred to as ?reactive? maintenance.
Emergency Maintenance: Performed during an emergency situation, such as a severe pothole or trip hazard that needs repair immediately. This could also include temporary treatments that hold the surface together until a more permanent treatment can be performed.
There are no clear boundaries between when a treatment is preventive versus corrective, or corrective versus emergency. All types of maintenance are needed in a complete pavement system preservation program. However, emphasizing preventive maintenance may prevent or prolong the need for corrective maintenance.
Preventive maintenance is completing the right repair on the right Pavement system at the right time.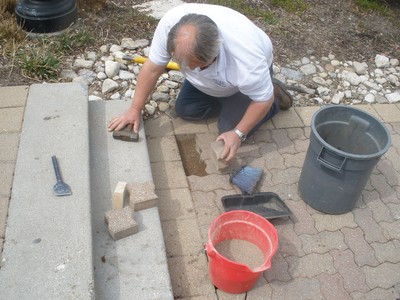 Bill Baldwin repairing pavers at the Residential Mall.