Building Management Systems
Operations reduces energy consumption campus wide through the careful adjustment of each building's schedule by utilizing a campus computerized building management system.
Temperature and ventilation problems or needs during normal working hours can be reported to the Physical Plant Office at 745-3151 or via an email. In an effort to conserve energy, some heating and air conditioning systems may be scheduled to be off at certain times after normal working hours. Should it become necessary to modify schedules to accommodate special needs or changes to schedules, please contact the Physical Plant Office at 745-3151 or email plant@Xavier.edu.
Suite Temperature Control
Please review the following document for tips on temperature control: Dorm Temperature Control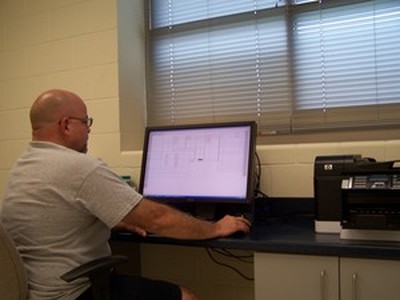 Don Reichman programming the energy management computer that controls the heating and cooling systems.