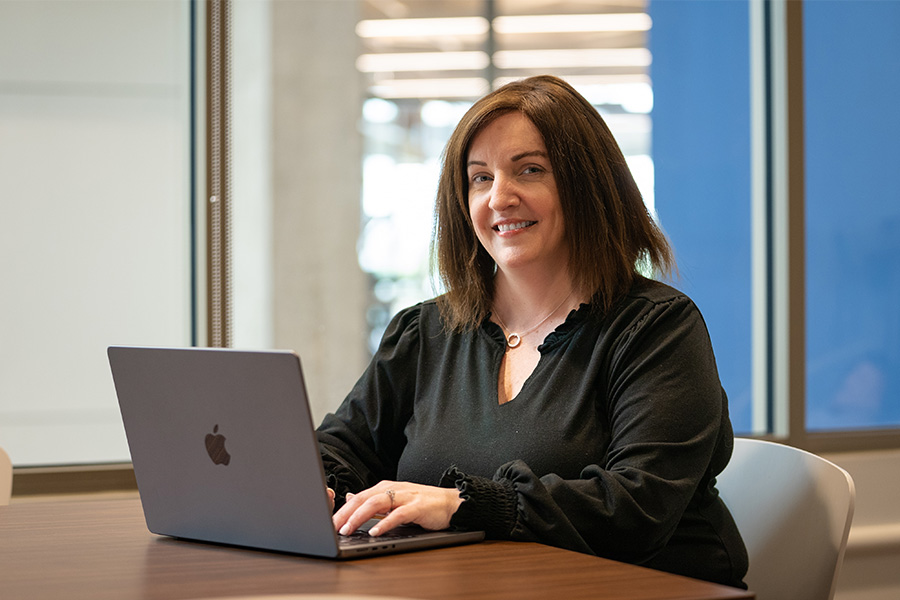 Faculty Spotlight: Terri Enslein, ED.D. MSN RNC-OB CNE - Nursing
May 24, 2023
Her husband likes to call her an eternal student.
"He's not wrong," said Terri Enslein, ED.D. MSN RNC-OB CNE.
Originally from Cincinnati, Enslein earned degrees from Northern Kentucky University, Miami (Oh.), Wright State, and Ball State. It was that passion for learning that ultimately introduced her to what she's doing now.
Enslein was preparing for her Medical College Admission Test (MCAT) and looking forward to applying to medical schools when one of her friends invited her to shadow her aunt, a certified nurse midwife.
"And I thought, 'Why not? It's a good way to get in and see some different things,'" Enslein said. "That was it for me. I changed my major to nursing within a week of that experience."
It was challenging. Enslein loved the autonomy of obstetric (OB) nursing, but even more, she loved the connection she was able to form with patients.
"You're there for what is quite possibly one of the best days of their life," Enslein said. "It forges a bond and you don't come across that very often."
Since then, Enslein has turned the passion of her nursing career into a teaching career at Xavier University as an Assistant Professor in the College of Nursing and the Director of all graduate programs within the college. For a few years, Enslein stayed home to take care of her kids. Prior to that, she was a labor and delivery and NICU nurse.
As their kids started to get older, Enslein knew she "didn't want to do holidays, nights, on-call, weekends … it's not working well with the family," she said. "I knew I wanted to do something different." A friend that Enslein had worked with previously told her she was teaching full time and that there was an opening to teach OB.
"I had literally never considered it," said Enslein. "I guess I'll explore it."
Within that first quarter of teaching, Enslein was hooked. She registered for her master's program.
"I took one year off in between that and my doctoral degree and the rest is history," Enslein said. "I started teaching full time in 2012."
There's balance to her life and her schedule, and Enslein is still part of a unit when she's checking up on her students at the clinical site. Enslein has been at Xavier in the College of Nursing full-time since 2016. The opportunities to engage with her students both in and out of the classroom make her position so appealing.
"I'm fortunate — OB is a fun topic," Enslein said. "There's a lot you can do with it. It's something generally people are pretty drawn to but I think one of the best things about it is people have strong feelings one way or the other. Either they love it, or they hate it, or they're terrified about it, or they're not interested. But it's that strong feeling that you can work with either way."
One of Enslein's favorite experiments with her students involves the cardinal movements of labor – the subtle mechanisms or maneuvers that a fetus will make through the birth canal during delivery.
"So we learn about it but then to apply it, I actually have two different sized hula hoops connected by fabric – kind of a pseudo birth canal that I carry to the classroom with me and I have the students crawl through it and mimic the cardinal movements of labor," Enslein said. "It's hysterically funny – a little rebirth for them, but it definitely helps it stick in their minds."
Enslein also incorporates the community into her teaching approach, and in addition to benefiting the community, it offers real-world experience to her students, and helps make them better nurses.
Hamilton County has historically had an issue with infant mortality.
"At one point, Hamilton County had the highest infant mortality rate in the United States, which is astounding," said Enslein. "They have made great strides through Cradle Cincinnati.
"That's our backyard, right? We're in Hamilton County. We can't ignore that. So I literally introduced it to the curriculum because this is what we're doing. We're helping deliver life. We shouldn't be losing that much life. Let's talk about why and what we can do to change it."
Enslein has implemented a number of projects surrounding this important topic. Prior to the COVID-19 pandemic (Enslein's working now to reinstate this community project) her undergrad students worked with a community partner of Cradle Cincinnati, called Healthy Moms and Babes.
It's a bus that travels around Cincinnati, staffed with a nurse and medical supplies and serves the underserved populations in Cincinnati, those who might not have access to antenatal care, prenatal care, during pregnancy care, and even postpartum and newborn check-ups. They also offer pregnancy testing and STI testing. For Enslein's students, part of their clinical hours were spent on the bus with that nurse, helping serve those populations.
Enslein's graduate students worked with Cradle Cincinnati to help educate the community on safe sleep practices for infants. They also developed a course for Cincinnati Public Schools in Hamilton County, to help educate kids before they have families as a way to help improve the infant mortality rate.
"It was fantastic," said Enslein. "The students created pamphlets that we printed. We dispersed those to all the nursing offices and all the CPS schools."
Most recently, Enslein had her students communicate with midwifery students in Finland.
"The purpose is Scandinavia — Norway, Sweden, Finland, Denmark, and Iceland — have the best infant mortality rates in the world," said Enslein. "I wanted to initiate a dialogue between my students and those students so they could learn from each other."
Her students will then take that information and use it to make actionable recommendations to Cradle Cincinnati about what they learned. The area where Enslein truly gets to see her students grow and develop into nurses is during their clinical rotations, which largely occur in acute care settings like hospitals.
For undergrads, they'll have their very first clinical in a long-term care setting to get them acquainted with doing a patient assessment and vital signs.
"Doing a community-based clinical in OB is not common," said Enslein. "In fact, I'm not sure if any of the other schools in our area are doing anything like that. Having them go out with Healthy Moms and Babes, to my knowledge, is not really being done in this area."
During the clinical phase is where Enslein sees the lightbulb go off.
"You do get some of those lightbulb moments in the classroom," she said. "But it's really in the clinical setting where it all comes together.
"You can read about labor, but reading about it and learning about it in a classroom, and going out and actually watching one and helping participate, it's night and day."
This is the merger of Enslein's career as a nurse and her career as a teacher. It's the blend of the two that helps her impart wisdom and understanding to her students.
"I always tell them, I'm a nurse and I've been a nurse for a long time," said Enslein. "We're all on the same path. We're just at different stops on that path. It's my job to help get them to where they want to go on the path and help them be successful."
Enslein was never a student at Xavier, but having taught at the University for as long as she has, she's quick to share her love for the place and its people.
"The Ignatian values are lived every day. And they permeate every aspect of life at the University," said Enslein. "It's just so much a part of life at Xavier."