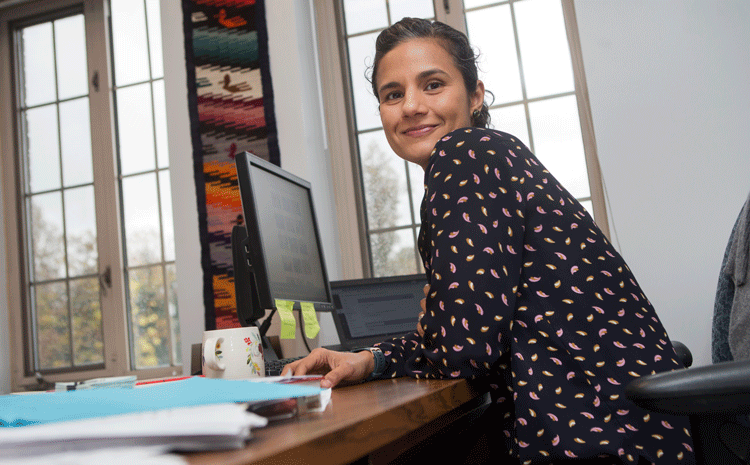 Faculty Spotlight: Stacey Raj, Psychology
Dec 4, 2019
Engaging Students in Research Helping Families of Children with Traumatic Brain Injury
Stacy Raj, PhD, always knew she wanted to be a psychologist so she can help children and families with unique needs and challenges. But taking what she called "the scenic path to academia" from her home country of Malaysia, she also knew it would be a long road before she would be in a position to really make a difference.
She worked in child protection in Malaysia, the United Kingdom, and the United States for some time between her undergraduate and graduate work. Now a licensed clinical psychologist specializing in children and families, she is delighted to be at Xavier where she is able to share her passion for psychology with Xavier students interested in developing their own research and clinical interests.
"I have always enjoyed working with children and families, particularly those with unique needs such as families of children with physical and behavioral health issues," she said. "I had always recognized that not everyone has the same resources and support, and they need help to be good parents."
Since coming to Xavier in 2017 with master's and doctoral degrees in clinical psychology, Raj, now an assistant professor, has been introducing her undergraduate and graduate students to her clinical and research interests in supporting parents and caregivers. She's currently involved in research at Cincinnati Children's Hospital Medical Center focusing on children who have experienced traumatic brain injuries.
"The study involves developing an intervention to support parents in the acute phase following a child's brain injury," she said. "We know that the first days, weeks and months can be a very challenging time for families, and our goal is to provide parents with a range of resources to set their family on a positive path to recovery."
She and her colleagues have developed a web-based intervention, Road-to-Recovery, that provides education on brain injuries, as well as modules targeting a range of issues that may be relevant to caregivers such as self-care, positive parenting, marital communication, working with the child's school, and managing guilt and grief. They are currently writing up the results of their research into the feasibility of the website for parents who were recruited into the study. 
Along the way, two Xavier students—one undergraduate and one graduate—signed up to participate in the research project.
"We interviewed parents of children with brain injury and leaders in the field," Raj said. "The first three months post-injury is the most stressful time for families, so we designed the site to be used on mobile or tablets. It's called Road to Recovery. If people use it and find it useful, we will make it available to the public."
Amalia Guzmán, a junior psychology major on a pre-med track, helped Raj recruit participants to use the website and now is working on data collection and analysis. They met when Raj gave a presentation to a Xavier psychology honors group, and Amalia came up to her afterward and asked if she could help with the project.
Amalia plans on specializing in pediatric cardiothoracic surgery and thought the Road to Recovery project would teach her about psychology research that also merged aspects of medicine. It didn't matter that she was not in any of Raj's classes. Amalia needed the experience, and Raj needed the help.
"She started in fall 2018, and now we are meeting to finish up the data collection and determine next steps," Raj said.
Amalia said she has gained valuable experience about the research process—entering data, working with calculating and scoring data, and seeing what it reveals.
"For my goal of pursuing medical school, I feel the project has taught me a lot about how to be part of a clinical study, how to work with participants, how to handle data properly, and how to work with publications," she said. "I feel I have gained valuable skills in working as a part of a team on clinical research and learning how the process works."
Graduate psychology student Beatriz Rodriquez is also helping Raj with the research study. She began working with Raj in 2017. Both students are on a poster that will be presented at the Society of Pediatric Psychology conference in 2020. And both have also been recognized for their research abilities and potential, which makes Raj proud that she can help Xavier students learn and accomplish their goals while also pursuing her own professional goals of supporting children and families through research.
"That's the most wonderful thing about what I do," Raj said. "One thing I enjoy is when my students do fantastic things."