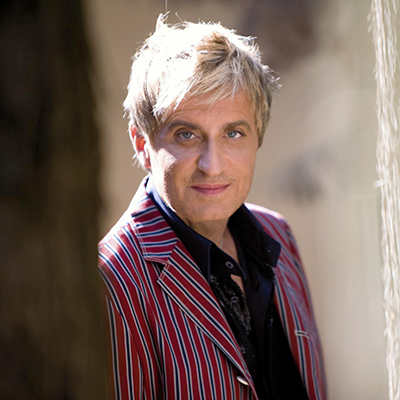 Years Performed: 1989, 1992, 1994, 1995, 1996, 2008 (benefit concert)
One of today's most sought-after soloists, Jean-Yves Thibaudet has the rare ability to combine poetic musical sensibilities with dazzling technical prowess. His talent at coaxing subtle and surprising colors and textures from each work he plays has led The New York Times to exclaim that "every note he fashions is a pearl ... the joy, brilliance and musicality of his performance could not be missed." Thibaudet, who has performed around the world for more than 30 years and recorded more than 50 albums, has a musical depth and natural charisma that have underlined his career.
After appearing at the Hollywood Bowl, Tanglewood, and Ravinia, Thibaudet begins his 2012-2013 season playing Gershwin for the opening of the New Jersey Symphony's season. Thibaudet will tour Europe with Kammerorchester Basel, followed by a recital tour in the US performing an all-Debussy program at Lincoln Center, in Cincinnati, La Jolla, San Francisco, and Houston. After engagements with the Deutsches Symphonie Orchester Berlin and at the Lucerne Festival performing both Ravel concerti with the Chamber Orchestra of Europe, Thibaudet will play Saint-Saëns' Piano Concerto No. 5 with the Boston Symphony and then with the Oslo Philharmonic and the Helsinki Philharmonic Orchestra. In the new year, Thibaudet will continue his season with the New York Philharmonic playing Grieg's Piano Concerto and Saint-Saëns with the Colorado Symphony; perform Messiaen's Turangalila with the Seattle Symphony and the Bavarian Radio Symphony Orchestra; Liszt Piano Concerto No. 2 with Bergen Philharmonic and Ravel's Piano Concerto in G major with the RAI Orchestra in Torino and the Castilla y Leon Symphony Orchestra in Valladolid. After playing an "Age of Anxiety" Bernstein tour in Spain with the Deutsches Symphonie Orchester Berlin, Thibaudet will appear with the Philadelphia Orchestra at their home and at Carnegie Hall. Thibaudet will open the season for Sao Paolo State Symphony, then play James MacMillan's Piano Concerto No. 3, a work Thibaudet premiered in 2011, with the Radio-Sinfonieorchester Stuttgart and go on to perform Liszt with NDR Sinfonieorchester, Orchestre Philharmonique de Radio France and with the Royal Flemish Philharmonic. April brings an exciting three-week long residency in Thibaudet's native town, Lyon, with the Orchestre National de Lyon, including performances of the MacMillan and Gershwin piano concerti as well as a recital and various chamber music concerts. Thibaudet will finish the season playing Saint-Saëns with the Los Angeles Philharmonic and Chicago Symphony and MacMillan with the Nashville, Atlanta and Indianapolis Symphonies as well as the National Symphony Orchestra.
Thibaudet builds seasons around composers, delving into their repertoire with unmatched passion and depth. Much of the 2011-2012 season was centered on Liszt, Ravel and Saint-Saëns, whose works he performed with the Philadelphia Orchestra, Wiener Symphoniker, San Francisco Symphony, Hong Kong Philharmonic, Orchestre Philharmonique de Monte-Carlo, and the San Diego Symphony, among others. On tour, Thibaudet performed a program of Liszt lieder and Brahms lieder with mezzo-soprano Angelika Kirchschlager, including a stop at New York's Carnegie Hall. Thibaudet was also on tour with a Liszt solo recital, to honor the 200th anniversary of his birth. After performances with the New York Philharmonic for its PBS-televised New Year's Eve Gala and with the Orpheus Chamber Orchestra, Thibaudet continued his season with Debussy recitals in Germany, Asia and France, celebrating the 150th anniversary of the composer's birth.
Jean-Yves Thibaudet has released over 50 albums, which have won the Schallplattenpreis, the Diapason d'Or, Choc du Monde de la Musique, a Gramophone Award, two Echo awards and the Edison Prize. In 2010, Thibaudet released his latest CD, Gershwin, featuring big jazz band orchestrations of Rhapsody in Blue, variations on "I Got Rhythm" and Concerto in F live with the Baltimore Symphony and music director Marin Alsop. On his Grammy-nominated recording Saint-Saëns, Piano Concerti Nos. 2&5, released in 2007, Thibaudet is joined by long-standing collaborator Charles Dutoit and the Orchestre de la Suisse Romande. Also released in 2007, Thibaudet's Aria'Opera Without Words features transcriptions of arias by Saint-Saëns, R. Strauss, Gluck, Korngold, Bellini, J. Strauss II, Grainger, and Puccini; some of the transcriptions are by Mikhashoff, Sgambati, and Brassin, and others are Thibaudet's own. Among his other recordings are Satie: The Complete Solo Piano Music and the jazz albums Reflections on Duke: Jean-Yves Thibaudet Plays the Music of Duke Ellington and Conversations With Bill Evans, his tribute to two of jazz history's greats.
Known for his style and elegance on and off the traditional concert stage, Thibaudet has had an impact on the world of fashion, film and philanthropy. His concert wardrobe is by celebrated London designer Vivienne Westwood. In 2004, Mr. Thibaudet served as president of the prestigious Hospices de Beaune, an annual charity auction in Burgundy, France. He had an onscreen cameo in the Bruce Beresford feature film on Alma Mahler, Bride of the Wind, and his playing is showcased throughout the soundtrack. Thibaudet was the soloist for the Oscar- and Golden Globe-award winning soundtrack to Atonement and the Oscar-nominated Pride and Prejudice. Even more recently, Jean-Yves recorded the soundtrack of the 2012 film Extremely Loud & Incredibly Close, composed by Alexandre Desplat. He was also featured in the 2000 PBS/Smithsonian special Piano Grand!, a piano performance program hosted by Billy Joel to pay tribute to the 300th anniversary of the piano.
Jean-Yves Thibaudet was born in Lyon, France, where he began his piano studies at age five and made his first public appearance at age seven. At twelve, he entered the Paris Conservatory to study with Aldo Ciccolini and Lucette Descaves, a friend and collaborator of Ravel. At age fifteen, he won the Premier Prix du Conservatoire and, three years later, won the Young Concert Artists Auditions in New York City. In 2002, he was awarded the Premio Pegasus from the Spoleto Festival in Italy for his artistic achievements and his long-standing involvement with the festival. In 2007, he was awarded the Victoire d'Honneur, a lifetime career achievement award and the highest honor given by France's Victoires de la Musique. The Hollywood Bowl honored Thibaudet for his musical achievements by inducting him into its Hall of Fame in 2010. Previously a Chevalier dans L'Ordre des Arts et des Lettres, Thibaudet was promoted to the title of Officier by the French Minister of Culture in 2012.