Cincinnati Contemporary Jazz Orchestra, Featuring Maria Schneider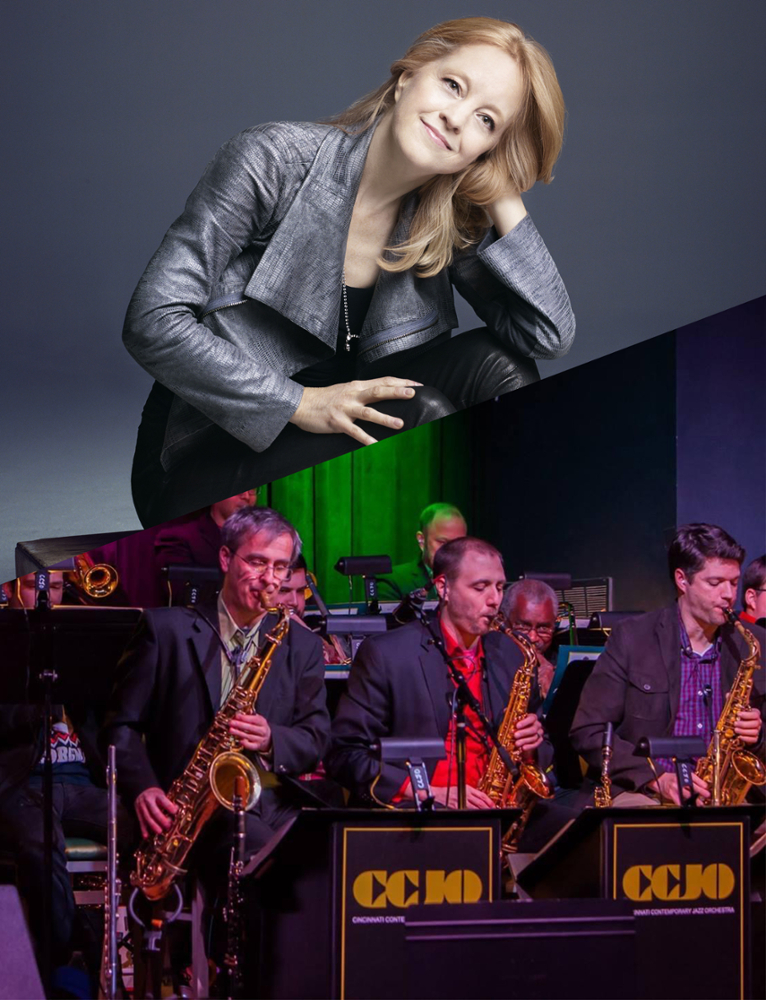 Coming April 28, 2023
Purchase Tickets
CCJO Website
Maria Schneider Website
"Her latest album, some 10 years in the making, shows just what a supple and powerful instrument a jazz orchestra can be."  — The Telegraph
Maria Schneider's music has been hailed by critics as "evocative, majestic, magical, heart-stoppingly gorgeous, imaginative, revelatory, riveting, daring, and beyond categorization." Blurring the lines between genres, her varied commissioners stretch from Jazz at Lincoln Center, to The Saint Paul Chamber Orchestra, to the American Dance Festival, and include collaboration with David Bowie. She is among a small few to receive GRAMMYS in multiple genres, having received the award in jazz and classical, as well as for her work with David Bowie.
With her first recording, Evanescence (1994), Schneider began developing her personal way of writing for her 18-member collective made up of many of the finest musicians in jazz today, tailoring her compositions to the uniquely creative voices of the group. They have performed at festivals and concert halls worldwide, and she herself has received numerous commissions and guest-conducting invites, working with over 90 groups in over 30 countries.
---
Founded in 2012, the 17-piece Cincinnati Contemporary Jazz Orchestra performs contemporary repertoire, focusing on the works of living composers and arrangers, and other notable composers of the postwar period. CCJO has performed with Grammy Award-winning trumpeter Lew Soloff, NEA Jazz Master Saxophonist Jimmy Heath and Grammy-nominated trumpeter Wayne Bergeron, and has partnered with Jazz at Lincoln Center, Carmine Caruso International Jazz Trumpet Competition, Memorial Hall Signature Series, It's Commonly Jazz, Friday Fusion in Washington Park and the Cincinnati Chamber Orchestra. It regularly presents concerts dedicated to works of individual composers such as Pepper Adams, Duke Ellington, Miles Davis, Gil Evans, Joe Henderson, Dave Brubeck, Wynton Marsalis and Charles Mingus.

CCJO musicians have performed, toured and/or recorded with many of the top names in jazz and commercial music including Ray Charles, the Woody Herman Orchestra, Manhattan Transfer, Wynton Marsalis, Michael Feinstein, Fred Hersch, Conrad Herwig, the Temptations, Arturo Sandoval, Tony Bennett, the Jimmy Dorsey Orchestra, Bootsy Collins, Clark Terry, the Tommy Dorsey Orchestra and the Glenn Miller Orchestra. Many of the ensemble's members also serve on the music faculties of prominent area music schools, including Butler University, The College-Conservatory of Music at the University of Cincinnati, Miami University, Northern Kentucky University, Xavier University and the University of Dayton.