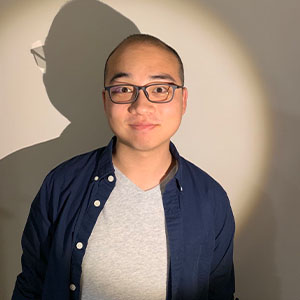 Yunze Mu
Adjunct Instructor, Music in Film, Music Department
Yunze Mu is a composer and music programmer. He received a DMA (Doctor of Musical Arts) in Composition at the College-Conservatory of Music, University of Cincinnati where he studied computer music with Mara Helmuth and taught introductory courses in electronic music. Mu holds a bachelor's degree in electronic music production from Central Conservatory of Music, Beijing, China. His music has been performed at numerous events and conferences such as ICMC, SEAMUS, NYC Electronic Music Festival and venues in China, Poland, France, Chile, Ireland, United States, and Korea.
Yunze Mu explores music based on narrative structures that are supported by insightful treatments of timbre, and unique stage designs. Born in China, Mu frequently incorporates elements of traditional Chinese music into his work.
Mu is also interested in creating collaborative projects with film producers, choreographers, and commercial musicians. He has composed for various commercial films, short films, and dance and commercial pieces that have won numerous awards including: Grand Jury Prize in DOC NYC 2019, best international short film at Glendale film festival 2016, Cannes Film Festival finalist in section Un Certain Regard, among others.
He also devotes himself to LGBTQ rights, particularly in China. Mu has both composed and performed for the Beijing Queer Chorus which is the first publicly performing LGBT+ choir in Mainland China, and one of the first two Asian choirs attending international LGBT choral festivals.