SPIRIT CELEBRATION
Mass of the Holy Spirit
&
Light Refreshments

Tuesday, September 12, 2017
11:30 a.m. - 1:00 p.m.
On the Xavier Yard*
University President Michael J. Graham, S.J., invites students, faculty, staff, and friends to celebrate the beginning of the academic year. To do so, the President, with support from the Faculty Committee and the University Staff Committee, has announced that classes and meetings will be suspended and offices will be closed from 11:30 a.m. until 1:00 p.m.

This is an opportunity for the Xavier community, composed of people of a variety of faith traditions, to gather together and be united in thought and common prayer seeking God's blessing on the new year.
Presider: Rev. Michael J. Graham, S.J.
Welcome by Faculty Committee Chair
Blessings by Xavier Faculty/Staff who are ordained ministers of various faith traditions
Music by University student choirs
Reflections by Fr. Graham on the vision and hopes of the year
Gifts of our Ignatian Heritage Banners carried by various students.
Light, cool refreshments served after Mass.
History --- In keeping with a long tradition dating from the founding of the great European universities in the 16th century, Catholic high schools and universities celebrate the Mass of the Holy Spirit to mark the beginning of the academic year. In fact, within Jesuit circles the practice dates to the first Jesuit school in Messina, Sicily in 1548. It has been celebrated at Xavier since 1840 - when Fr. John Elet, S.J., the first president, presided – relatively recently as "Spirit Celebration" along with a festive communal gathering.

*Bellarmine Chapel if inclement weather
CLICK HERE to read the homily from the Spirit Celebration offered by Fr. Micheal Graham.
CLICK HERE to see and hear John Larocca, S.J. consider the relationship between the Mass of the Holy Spirit and the Jesuit mission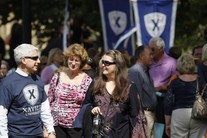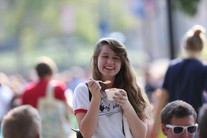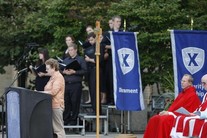 Questions should be directed to Brother Darrell Burns burnsd1@xavier.edu