This program is designed for those who have graduated from AFMIX
and want to continue to reflect on aspects of our mission and identity at Xavier.
While each session is hosted by an AFMIX graduate for AFMIX graduates,
all of the Xavier community is welcome.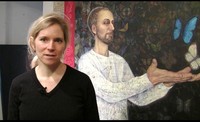 REGISTRATION FOR LUNCH WITH THE ARTIST
Thursday, September 6, 2012
12:00-1:30 p.m.
Center for Mission and Identity in Fenwick Place

Join us as Holly Schapker (Xavier class of 1992) discusses her artwork that is displayed throughout the Center for Mission and Identity titled: "Adsum: Contemporary Paintings on Ignatian Spirituality."