Time to Think:
Mid-Career Faculty Reflect on the Ignatian Tradition at Xavier University
Goal: The Time to Think Program supports and encourages mid-career faculty reflection on the three primary spheres of professorial activity (teaching, scholarship, and service) within an Ignatian academic context. The Program incorporated two primary models: partnered conversation and small group sharing, including an overnight retreat midway through the program. Participants were encouraged to reflect on their past experiences as academics as well as to envision and create future goals for themselves. The conversational community developed over the course of the academic year of the program was intended to serve as a longer-term supportive context once participants have completed the Program.

Participants: Twenty four faculty participated in the 2009-10 Time to Think Program, representing all three colleges of the University. Because the Program is limited to principal faculty with more than five years of teaching experience at Xavier, the first cohort represented approximately 15% of those eligible for the program university-wide. Participation was voluntary and a professional development stipend was offered to each participant.

Program Framework: After an initial orientation meeting, program participants chose conversational partners from among the participant pool and were given accesses to reading resources in Jesuit mission and identity. They were instructed to reflect on how their professional growth had been impacted by being a part of a University community in the Ignatian/Jesuit tradition and to have conversations in which they could review and reflect on their teaching, scholarship and service. Each conversational pair could determine the structure and framework for this reflection, but they were asked to honor each of the three major spheres of their academic work: teaching (content and method), scholarship (research and writing interests, how they have changed and evolved, and how they support and/or are supported by the University's mission), and service with a goal of meeting six times over the course of the first semester. These first semester conversations provided time for participants to engage and apply Ignatian principles of discernment to their career paths - e.g., In the context of many options, all of which are good: what opportunities do I want to pursue at this moment? What have I learned about what is stimulating and life-giving with respect to areas of research and teaching? What do I want to continue to do? What do I want to stop doing?

In the second semester, participants spent time in small group reflections on Ignatian pedagogy and on how their teaching and research engage the "service of faith and promotion of justice" and the cura personalis or care of the whole person. Participants selected readings from the program bibliography as a basis for these small group conversations.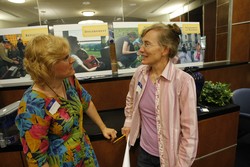 A highlight of the program was the January overnight retreat held off campus in cabins at a local state park. This venue provided time for more in-depth reflection, through experience with the daily Examen, and deeper fellowship among participants.

Toward the end of the second semester, faculty were asked a series of questions about how Ignatian principles influenced their teaching and research, and their oral answers were collected and edited into a DVD. The 'time to Think: Faculty Reflect on the Ignatian Tradition, was first previewed at the Center for Mission and Identity's annual Celebration of Excellence on April 8, 2010.

Outcomes: In addition to creating the DVD, at the end of the year-long Program, faculty members had several luncheons in which they reflected on how their professional aspirations had changed shape over the course of the year. Many were incorporated into a Discernment Group that will continue the reflective conversations and advise the newly-formed Conway Institute for Jesuit Education. Several of the program's conversational pairs have continued to meet.

Highlights:
Interest in the 'time to Think' Program was overwhelming. The program was originally budgeted for up to 14 participants, but 24 people asked to participate. Further, the program had a specific appeal to mid-level faculty, some of whom had not engaged mission and identity work in a sustained, intentional way. While many program participants had a great deal of experience in programming sponsored by Xavier's Center for Mission and Identity, fully a third of the cohort had never participated in any major offering sponsored by the Center.
Faculty commented that the Program supported their engagement of the University's mission and identity, gave them opportunities to enhance and discuss their pedagogy and incorporate more deeply Ignatian principles and values, and enhanced their sense of belonging within the University community.
Several conversational pairs established in the first semester continue to meet for mission-based conversations over the next academic year.
A number of Program participants will form the bulk of the membership of Discernment Group III, a group of faculty who will serve as advisors and strategists in conjunction with the University's new Conway Institute for Jesuit Education - an idea originating from discussions at the Program's winter retreat.
Former Director for Faculty Programming, Gillian Ahlgren, and incoming Director for Faculty Programming, David Burns, will be participating in the Lilly Regional Conference on mid-career faculty discernment, "Wanting Something More: Reflecting Upon the Callings if Mid-Career Faculty", at Wittenberg University in fall 2010.